'I don't want to be normal.'
'I have worked so hard to get people to notice me that if they are noticing me now, I am very happy.'
'If they are saying anything -- good or bad -- I am fine with it.'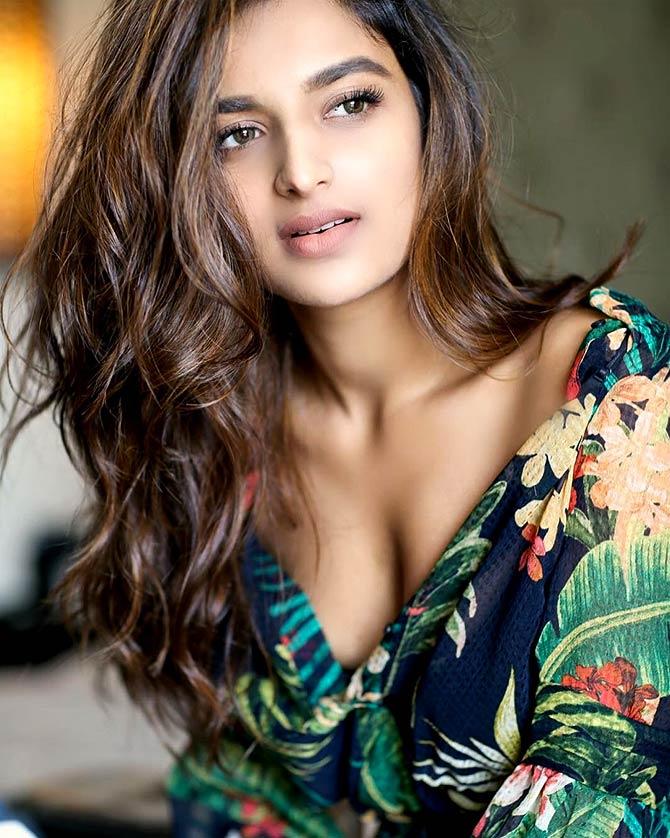 Ambitious.
Full of life.
Loves to talk!
Three descriptions for Nidhhi Agerwal, who stars opposite Tiger Shroff in Munna Michael.
The Bengaluru native, who moved to Mumbai two years ago, says she's been feeling the jitters ever since she signed the film.
"I am a very extreme person," she tells Rediff.com's Jahnavi Patel.
"Either I want this world where there is so much stress and pressure or I want to live in a jungle where there is peace of mind, without any network or social media," she says.
She doesn't like repeating clothes, but admits that she is repeating the outfit she is currently wearing -- blue denims with a yellow crop top with bell sleeves.
She has been giving interviews for some time now, but doesnt feel tired or bored.
"Actors don't like promotions, but I love it because I feel someone is actually interested in knowing me! she exclaims.
"I feel good when I see someone from fan clubs on Instagram make a card for me," she adds.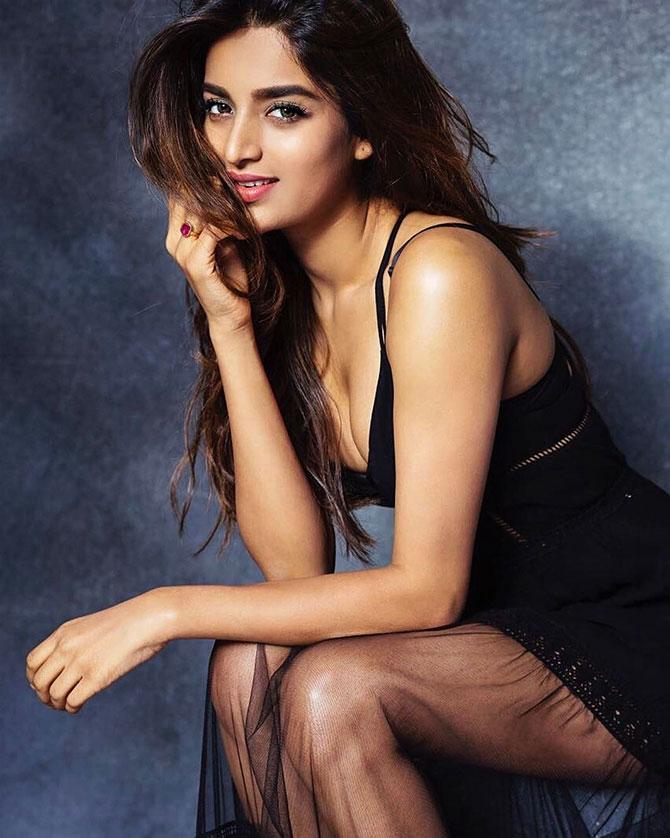 Tell us more about yourself.
I wanted to be an actor since childhood, but I didn't know how I would become one.
I used to watch television the entire day and want to be on screen.
I used to dress well at the airport, thinking that if someone sees me, they will come up to me and say they want to cast me in a film. (smiles)
I would have nice profile pictures -- full portfolio type! -- thinking that a director will see me and offer me a film.
But aisa toh kabhi hota nahi hai.
People around me told me to try modelling. So I started modelling. I started getting offers for Kannada films.
Then I shifted to Bombay, and trained in acting here.
I am a trained ballet dancer; I have learnt it for seven years.
I have learnt Kathak and belly dancing too.
There was a dance audition and I got selected.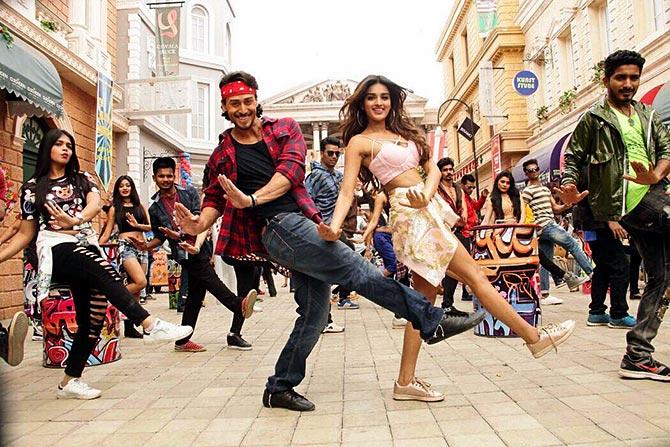 Was it difficult to convince your parents?
My father has a tyre business.
I did not have to convince my parents at all.
I told them, 'Dekho, main toh jaa rahi hoon. If you want to support me, it's okay. If you don't, that's also okay.'
They told me, 'Itna drama mat karo. We will support you.'
So luckily, my family has been very supportive.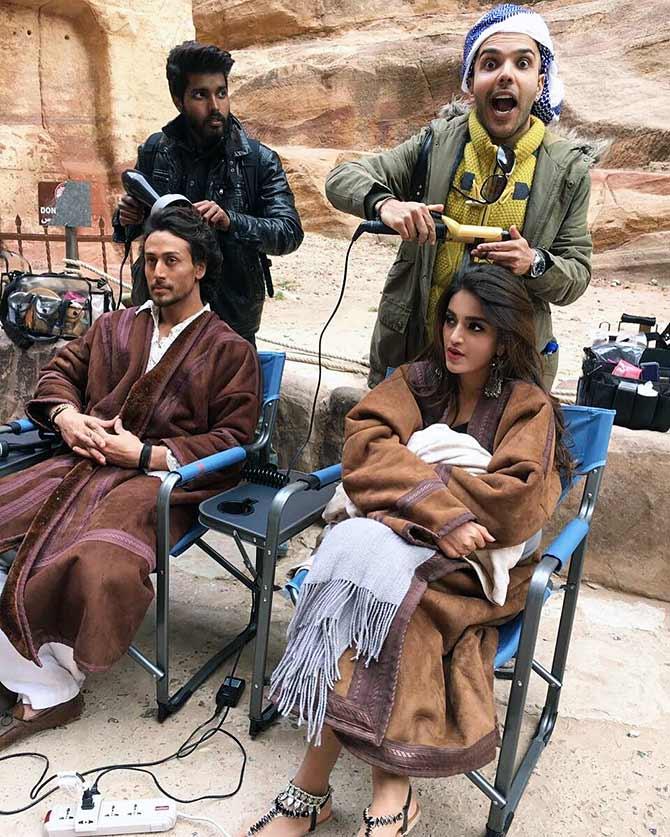 Was it easy for you to match steps with Tiger?
It was very tough because Tiger is very different.
Ballet is very slow, but Tiger is very fast, so the styles are different.
But if you learn any form of dance, it becomes easier to catch the other dance styles because you get the rhythm and body language of a dancer.
I did a lot of rehearsals.
The steps for Ding Dang are not very difficult, but still I rehearsed a lot.
If there had been any other actor, I wouldn't have rehearsed this much.
How was it working with Nawazuddin Siddiqui?
I used to observe him to know his secret. What does he do before a take? Does he do some exercise?
But he does nothing.
Even when we do scenes with him, he is hundred percent there and doesn't do anything extra.
He is very soft spoken.
The camera loves some people, he is one of those.
Were you nervous during your first scene with him?
I had over prepared for that scene, I knew what to do in every second of it.
Thodi izzat rakhi thi mujhe apni. (laughs).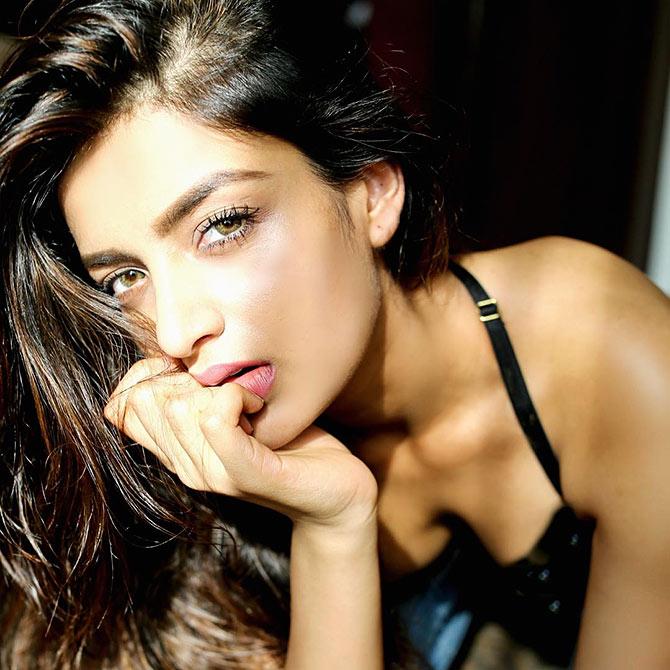 Are you nervous about the film?
Honestly, it has still not sunk in.
When I see my poster, I go like, 'Oh my God! I am on a poster!'
When I see my song, I go like, 'Mera gana hai!'
I am a normal girl from a normal family.
For me to come here and see this day... my dream of becoming an actor was almost impossible but it has been fulfilled. It means a lot.
How much has life changed?
First, nobody would care about what I wore or where I went. That has changed.
It makes me conscious about repeating my clothes.
Sometimes when I wear something to the gym, I cannot repeat it even though I love it.
So what happens about the clothes that you wear?
I have a younger sister, so we exchange clothes.
Do you think actors are constantly under scrutiny and so cannot live normal lives?
I don't want to be normal.
I have worked so hard to get people to notice me that if they are noticing me now, I am very happy.
If they are saying anything -- good or bad -- I am fine with it.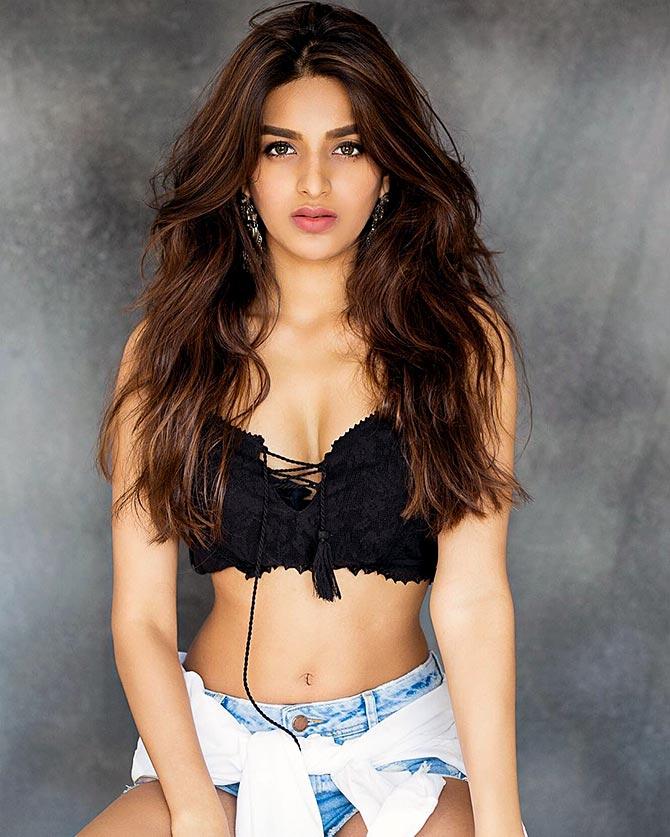 Who are your favourite directors?
Sanjay Leela Bhansali and Imtiaz Ali.
Which actresses inspire you?
Deepika Padukone has inspired me a lot.
Her sister (Anisha) was in my school, and in my (school) bus.
Sometimes Deepika would come to pick her up.
I would see her and feel, 'This girl is so beautiful, I wish I can be like her.'
Sometimes I used to see her at the school's annual day and all and would always notice her.
Some people, like my make-up artist, tell me that sometimes I pose like her.
Maybe it is because I watch her so much.
Have you made friends in Bollywood?
No.
Not even Tiger?
Tiger, of course.
He has helped a lot. He is my friend and guru.
The first day I went on set, I didn't know anything.
I haven't done any advertisements nor worked as an AD (assistant director), so I don't know about 'facing' and 'mark'.
Tiger taught me all this.
Like, they used to say, 'Now Jimmy Jib shot.' I didn't know what that was.
I used to ask Tiger and he would make me understand.
Who is your favourite actor?
Ranbir Kapoor.
But I want to work with everybody.
In an interview, Swara Bhaskar said it is very expensive to be an actress. What do you think?
I told you about the clothes na. I have to buy so many clothes now! (laughs)
I haven't started earning that much. My parents pay my rent, but I try and pay the other expenses myself.
I have signed a few brands, so when I do shoots with them, I get paid pretty well.
One day, I want to able to buy a house, a car, lots of things...
Now, it is not possible. ;Baad mein.
Photographs: Kind courtesy, Nidhhi Agerwal