Other composers tried their luck with Paisa Yeh Paisa, but Director Indra Kumar wasn't happy with the outcome.
'"Induji asked us to try and we are glad we did because the song has turned out too good!"'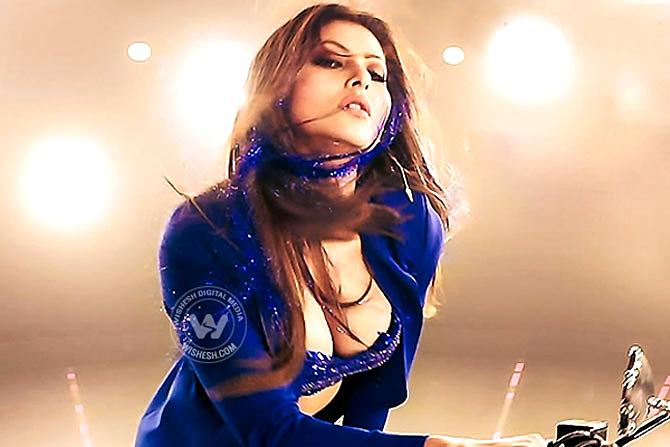 Remixes are here to stay, and Gourov Dasgupta and Roshin Balu know it only too well.
The composers, better known as Gourov-Roshin, have remixed some old hits, and made them popular all over again.
Their latest songs were in Indra Kumar's Total Dhamaal, and had the entire cast dancing to chartbusters like Paisa Yeh Paisa and Mungda.
Gourov is from Kolkata while Roshin is from Kerala.
Music was a big part of Gourov's childhood -- his mum headed the Elvis Presley Club in Kolkata -- but he wasn't musically inclined initially.
When his parents divorced, he dropped out of school and ran away from home at 16.
And that was when he started taking life seriously.
"I decided to play the guitar for the Cyanide Angels, a heavy metal band in Kolkata. By the time I was 18, I had won an award for the best guitar player," Gourov recalls.
At 22, he went to Chennai and started teaching music there. He was also composing music by then.
Two-and-a-half years later, he came to Mumbai with Rs 3,500 in his pocket.
He landed a job at a radio station, at a monthly salary of Rs 40,000.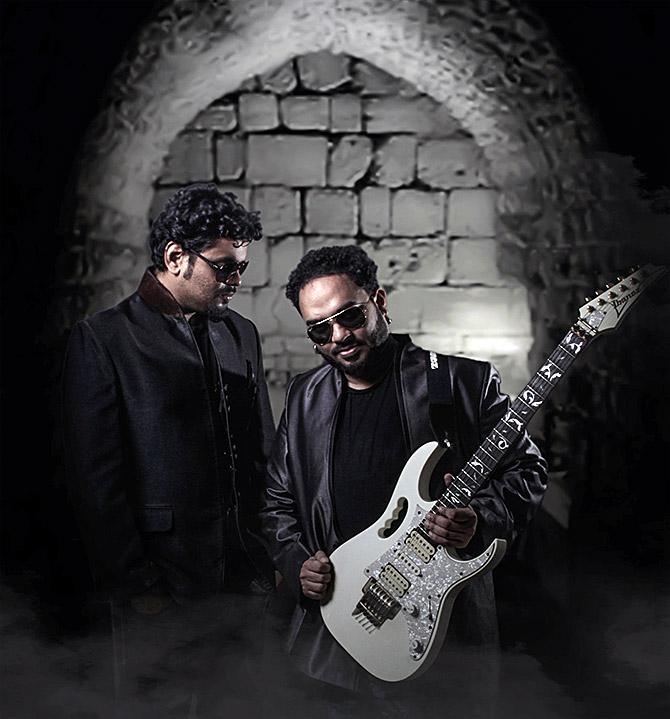 Roshin Balu's father Balu Master owned a music institute in Thalassery, Kerala.
Even though his father was a Carnatic music teacher and singer, Roshin believes he didn't learn much from his dad.
He did a degree in sound engineering, and got a job in Mumbai. His job of sound designer fetched him a monthly salary of Rs 10,000.
Gourov and Roshin met each other through Amit, a common friend, and rented an apartment in the city.
Since all three -- Gourav, Roshin and Amit -- enjoyed music, they would jam and produce music till dawn.
Gourov and Roshin hated the corporate life, and after a year, they decided to quit.
Since they hadn't saved adequately, they lived on vada pav and chai. "Those days were fun," says Gourov.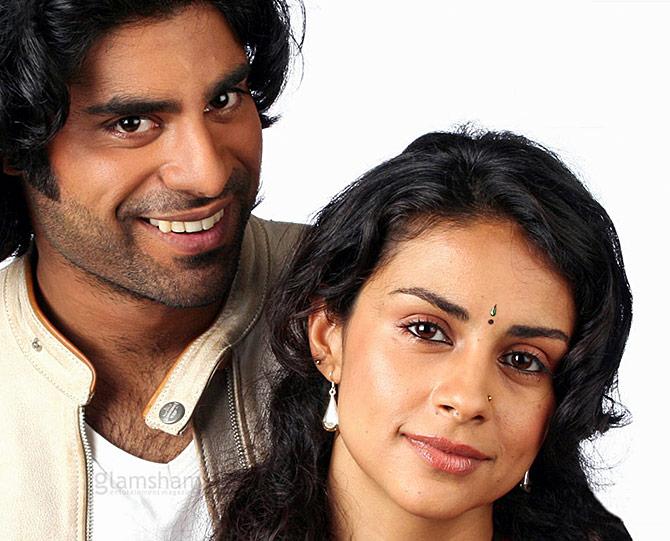 They started making the rounds of producers's offices to showcase their music.
One day, they met Producer Atul Panday who was making Sikander Kher's debut film, Summer of 2007.
"Atul was very nice and he paid us a lot of money," Gourov, the chattier of the two, says. "He probably paid us more than what people paid those days. But that was the only time he paid us! We did two more films with him, but never got paid. Still, we love him!"
Around the same time, they met Sanjay Gupta, who had just finished shooting Dus Kahaniyaan and wanted 10 songs for his film.
Gourov and Roshin scored five of them, including the title track.
"We managed five songs in seven days. That's the fastest we have done and Sanjay Gupta was impressed. Dus Kahaniyaan released before Summer Of 2007. People liked the music. We got nominated as well," Gourov says.
They went on to do the Neil Nitin Mukesh starrer Aa Dekhe Zara, the Sanjay Dutt starrer, Knock Out and the Lara Dutta starrer Chalo Dilli.
But they realised the time wasn't right for them, and they stopped working in Bollywood in 2011.
"People were freeloading on us. Plus, there are a lot of shady people in this business. Cheques would bounce and films would not release," Gourov explains.
"If a film doesn't release, the composer doesn't get paid in full even though he has done his job," reveals Gourov. "You are paid only after the film releases."
"We got dejected and so, we started doing advertisements, which gives you good quick money," he adds.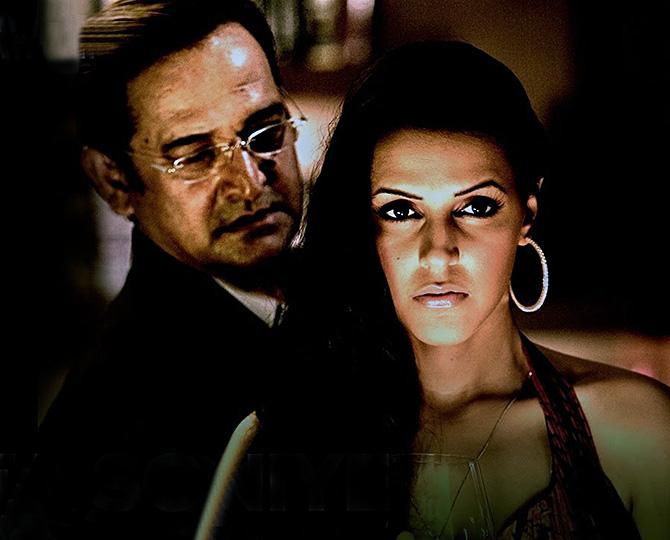 The composers returned to Bollywood with Sanjay Gupta's Kaabil in 2017.
"Hrithik (Roshan) is very close to us; we have done the music for his fashion brand HRX and some ads as well," Gourov says.
They remixed two of Rajesh Roshan's old hits, Sara Zamana and Dil Kya Kare, in Kaabil.
"Sara Zamana does not start the way the old song starts. We haven't just added extra beats and a new voice, we have recreated a whole new song," Gourov insists. "No matter how great job you do, there will always be some people who will tell you that it's bad. I respect everyone's opinion."
Sara Zamana became a hit.
The duo followed it up with Hawa Hawa in Mubarakan.
Things started looking up, and they went on to do films like Force 2, Tum Bin, Wajah Tum Ho and Commando.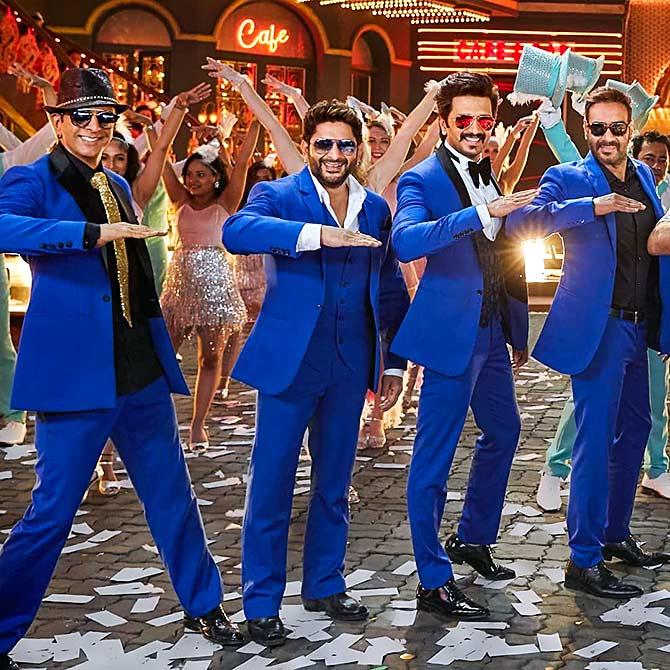 They composed the entire soundtrack of Total Dhamaal.
Gourov-Roshin were working on a song for Total Dhamaal for a long time, but the music label asked them to remix Paisa Yeh Paisa instead, as it went with the film's theme.
Initially, they refused.
Other composers tried their luck with Paisa Yeh Paisa, but Director Indra Kumar wasn't happy with the outcome.
"Induji asked us to try and we are glad we did because the song has turned out too good!" exclaims Gourov.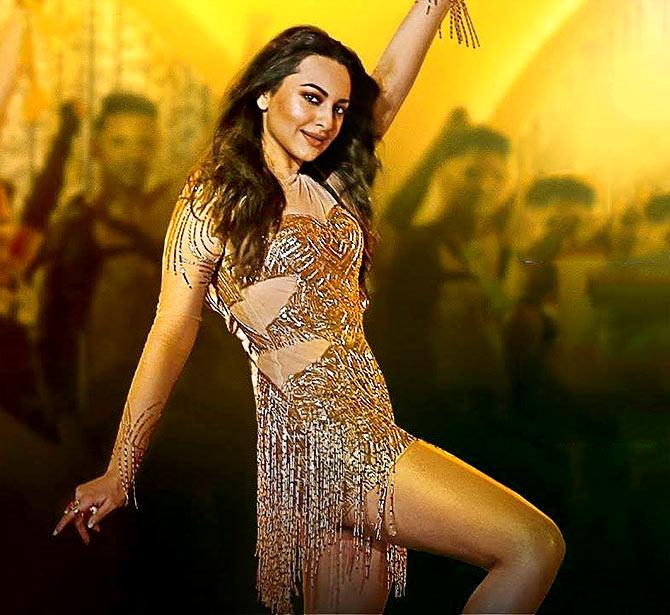 Next up, was the Mungda remix.
The composers had already create a song, Mood Swings, and the lyrics were Munde Da Mood Swing Kare.
"We had worked on it for months, but it probably did not fit into the situation. So Ajay (Devgn) sir wanted to remake Hai Hai Yeh Majboori (from the film Roti Kapada Aur Makaan)," he says.
Gourov and Roshin started working on that song and it was finalised.
"But just before going for the shoot, Induji came and said, 'Why don't we try Mungda?' I was like, Seriously? He told us to try it, and if it did not work out well, we would go with Hai Hai Yeh Majboori," he says.
The remixed Mungda did not sit well with the song's original composer Rajesh Roshan and singer Usha Mangeshkar.
"We have worked with Rajesh Roshan on Sara Zamana and Dil Kya Kare; we had recreated his old songs for Kaabil. He is a legend. He congratulated me when I called him, but after that, we heard that he was not happy."
"Everyone is entitled to their opinion, everyone gets hurt when their songs are recreated. I can understand that sentiment and respect it."
"But today's kids don't know these songs and have opened up to them. The song has become a superhit," he adds.
Sonakshi Sinha, on whom the song has been picturised, was also criticised as audiences felt she could not match up to Helen, who featured in the original song.
"I think Sonakshi has done a great job," says Gourov. "People will write crap. At the end of the day, my producers were happy."
Would they be okay if their songs get remixed?
"Yes, we are used to this trend," says Gourov.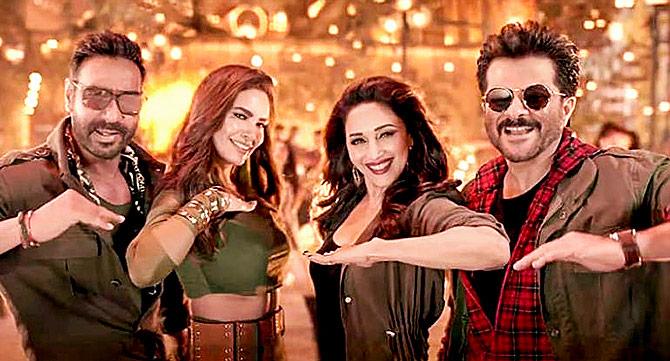 Gourov has a bone to pick with the use of multiple composers in a single film.
"It is really sad," he says, shaking his head. "If the producers want a sad song, an item song or a romantic song, they go to different composers according to their strengths. The producer wants the best and one person is not good enough to deliver everything."
"It's like a fish market. Maybe the producers have difficulty trusting one composer with the entire album, especially the new ones. I think it is important to have faith."