'It's frightening to hear what Tanushree Dutta has to say,' says Anushka Sharma.
Video: Hitesh Harisinghani/Rediff.com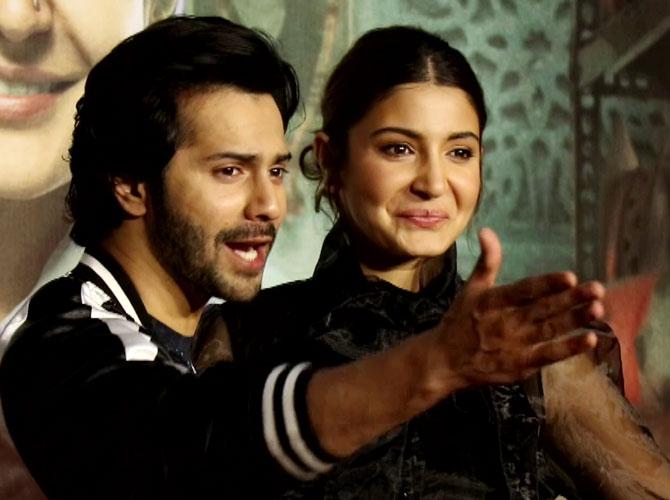 'Na toh mera naam Tanushree hai aur na hi Nana Patekar. Kaise uttar doon aapke sawal ka? (My name is not Tanushree. Neither is it Nana Patekar. How can I answer your question?)'
'I am not aware of this incident. First, let me understand what is happening... I am sure the legal team will handle it... I am not aware of what is going on.'
'Without knowing the veracity or the details it is not right for me to comment on it. But I would like to say that whenever something like this does happen, it's a really sad thing. Now whether this has happened, that is for people to investigate.'
Clearly, Amitabh Bachchan, Salman Khan and Aamir Khan did not wish to step anywhere near the too-close-to-home cesspool stirred up by Tanushree Dutta's accusations against Nana Patekar.
But their younger counterparts, Anushka Sharma and Varun Dhawan, who are celebrating the success of their latest release, Sui Dhaaga, took the time out to share their views.
"It's very frightening to know the details that have come out," says Anushka, before she made a request
"It is our duty collectively -- the industry, the media, the people, everyone -- to respect the woman when she is speaking, to hear her out and to not get into value judgements, character analysis and all those other sorts of things that have been happening..."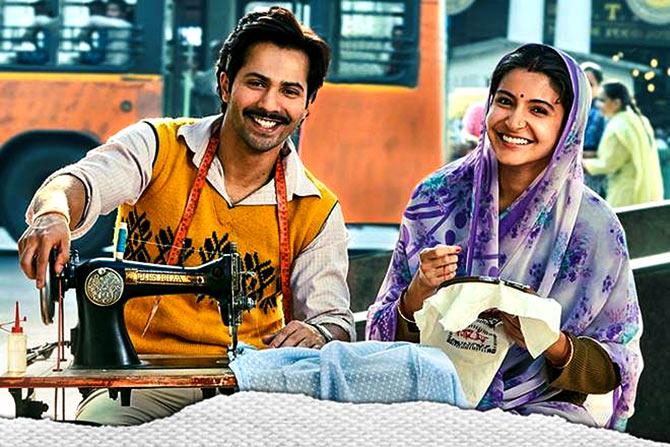 Varun Dhawan has not shied from commenting on the issue either.
A few days ago, he said, 'We have to make our industry safe for women, men and children... Agar koi insaan bol raha hain khulke iske baare mein (If someone is speaking openly about this), we should hear that person out. It takes great courage to talk like that... I applaud that courage.'
Varun regrets the fact that it has taken 10 years for people to react; Dutta had first spoken about being harassed soon after the incident took place in 2008 but did not get any support at the time.
"It happened in 2008 and we are reacting to it in 2018; it's not a good sign," says Varun. "If something like this happens on my film's set, I'll personally make sure to prevent it."
Anushka was later asked if it was wrong to taint Dutta's image by posting pictures in certain outfits.
Without mincing words, she replied, "Let's all be collectively responsible for something like this. When something like this happens, it's the environment that is to be blamed, not a particular person. Environment breeds people to do the wrong thing."
"... We should stop questioning 'Why is this happening so late?' That's also not right. If justice hasn't been served, it can happen anytime."
Watch the video below to find out what else they had to say. Do comment on the message board to let us know if you agree with their views.
Varun also spoke about the success of Sui Dhaaga. 'It's special for me, people are walking up to me and telling me how much they loved my character of Mauji and bless me. This is new to me. Normally, people come up to me for selfies,' the actor said.
Varun and Anushka are happy that the film has earned Rs 59 crores (Rs 590 million) so far.
'My character is very different from who I am and still people say I am their Mamta,' Anushka added, 'I like that appreciation.'
With inputs from PTI