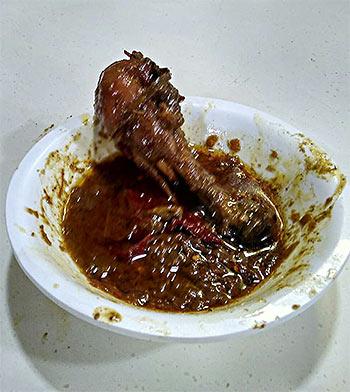 One of Sanjay Dutt's biggest fans will serve his restaurant's signature dish on February 25 to celebrate the star's release from prison.
The 40-square feet Noor Mohammadi restaurant, on busy Mohammad Ali road in south Mumbai, is abuzz with excitement.
Curious passerbys wonder what the commotion is all about while media photographers try to capture the moment.
The restaurant's owner Khalid Hakim chats with the media as he greets customers with a big smile.
A signature dish called Sanju Baba Chicken takes place of pride on the counter for all to see.
The occasion is to celebrate Sanjay Dutt's release from Yerwada prison on February 25.
And to celebrate the occasion, Khalid will serve the Sanju Baba Chicken dish, pictured here, free to anyone, who visits his restaurant from noon onwards on February 25.
"I'm very happy my hero is finally coming out of jail. He is a free man," says Hakim.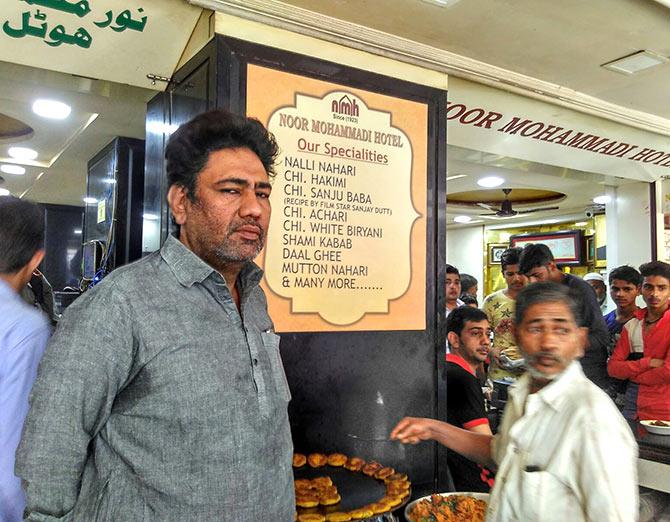 IMAGE: Khalid Hakim at the Noor Mohammadi restaurant. Photograph: Syed Firdaus Ashraf/Rediff.com
Dutt introduced the dish to Hakim seven years ago.
Hakim's association with Dutt goes back to 1986 when the star inaugurated the family room in the Noor Mohammadi restaurant.
"I approached him and requested him to inaugurate the family room in our restaurant. He said he had never cut a ribbon before. I told him I had also never asked anyone to cut a ribbon before," Hakim recalls. "We instantly developed a rapport and since then have been friends."
Dutt was introduced to Hakim by his cousins Najam and Arif, his mother Nargis' brother Anwar Hussain's children.
"I was very surprised to know that Sanjay Dutt had eaten our famous Nali Nihari dish. He said he loved it so much, he would take some home too," remembers Hakim.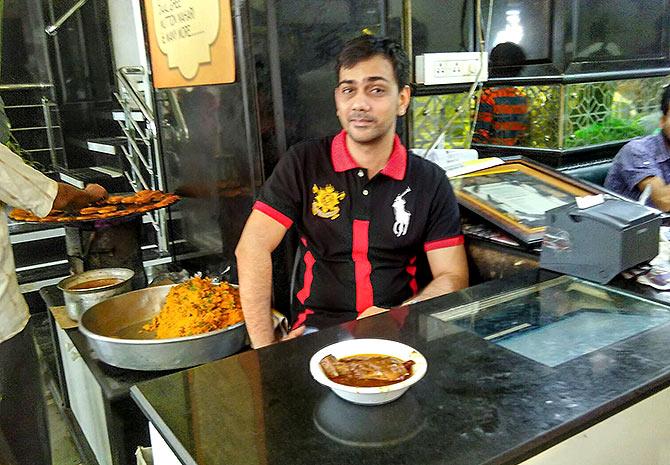 IMAGE: Khalid's brother Rashid Hakim. Photograph: Syed Firdaus Ashraf/Rediff.com
Hakim says he has been a big fan of Dutt since he watched the actor's debut film, Rocky, in 1981.
"I got the same chain suit stitched that Sanjay Dutt wore in the film, and I would wear it often," he says.
Hakim has not missed a Sanjay Dutt movie, right to his last release, PK.
"I met him when he was not married. Even I was not married. We were young and developed a friendship for life," he says.
Hakim boats that one will not eat a dish like Sanju Baba Chicken anywhere in India.
"It's a big thing that a star gives a restaurant a recipe and his name to that dish. I want to celebrate his happiness and that's why we will serve this dish free on February 25," he says.
When was the last time Sanjay Dutt visited his restaurant?
"I had organised an Iftaar party five years ago. He had come then."
"Sanjay Dutt is a big-time foodie and loves to taste different kinds of food," he adds. "Sanju Baba Chicken is a big hit item on our menu. On weekends, we sell about 100 plates."
Priced at Rs 70 for half a plate, Hakim says he keeps it cheap for a reason.
"Sanjay Dutt's fans are the masses. He is loved in multiplexes, yes, but his fans are more from single screen theatres. They are not rich. That's why I felt this dish should not be expensive," he says."
Bollywood singers Lucky Ali, Adnan Sami and Daler Mehndi also eat at the restaurant and know that their voices won't be affected, Hakim says.
What about today's leading men? "The new heroes don't look like men," says Hakim. "Sanjay Dutt is a real man. Check Sanju Baba's style of walking, his dialogue delivery. No one can match it even today."
What did he feel when Dutt was arrested?
"We did not serve Sanju Baba Chicken on the day he was arrested. I felt like discontinuing the dish, but did not do so because his fans come from far-flung places like Thane and Bhiwandi."