'A production designer could earn Rs 10 lakh per film. It could be Rs 70 lakh for an established designer.'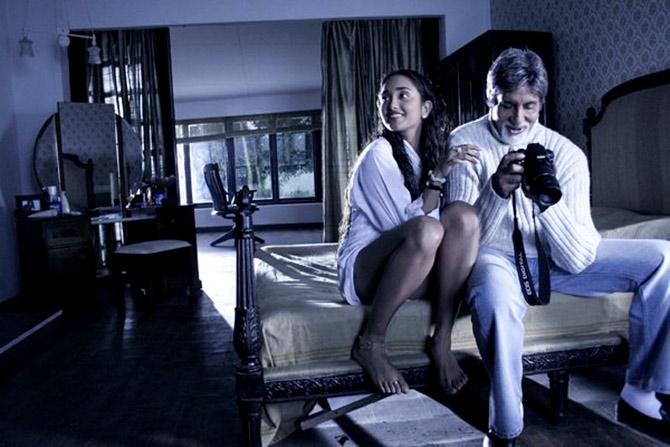 IMAGE: Jiah Khan and Amitabh Bachchan in Nishabd.
What exactly does a production designer do in a film?
What's the difference between an art director and a production designer?
And how does one become one?
Production Designer Aparna Sud, who has worked in films like Neerja, has all the answers.
Hailing from Shimla, Aparna has worked in the film industry for 14 years. She tells us that a production designer's job is quite lucrative -- one can earn as much as Rs 70 lakh (Rs 7 million) per film.
"I was sad that the plane from Neerja was not picked up by anybody. I requested the government to place it in a park so that kids could play in it. There are so many kids who don't get to fly by plane. They could have seen how an actual plane looks," Aparna tells Rediff.com's Patcy N.
How did you become an art director?
I had no clue what art direction was.
I did an interior designing course along with my graduation in Chandigarh.
I have a cousin, who is well established in Mumbai. He brought me and two of my sisters here.
One of my sisters was working as an animator with Rohit Valsa, who is a big name in animation. He knew my (former) bosses Pramod and Vinod Guruji well and that's how I got my first job.
I met Guruji on the sets of a song from Dil Ka Rishta where Aishwarya (Rai) was dancing between the clouds. It was pretty.
I started working with him and was paid Rs 6,000. After that, I did Dhoom and some ads with him. Also, a television show, Dhadkan.
I did Baghban as a set dresser with somebody else.
How did you work with Ram Gopal Varma?
Ram Gopal Varma is known for giving breaks to newcomers.
He heard my name somewhere and gave me a call.
He wanted me to do a song called Khabardar - Maut Ka Zayeka from Darna Zaroori Hai with Priyanka Kothari and Mohit Ahlawat. I was asked to make waterfalls.
He was very happy with my work, so he offered me his next three films the same day -- the new Shiva with Mohit Alhawat and Priyanka Kothari, Darling and Nishabd.
That's how I started on my own.
I have only worked with bound scripts. So it's easier.
In my first two, three films, I could not understand anything.
I would read the script and not understand what was happening.
Ram Gopal Varma doesn't answer questions if you are stuck, but the DOPs (Director of Photography) were helpful.
There were always discussions on the sets with other crew members and while they were talking, I would realise what skipped my mind and what mistakes I made.
Those films were my learning ground. I did eight films with him, including Phoonk, Rann, Agayat and Buddha Hoga Tera Baap.
After that, I shifted to Sanjay Gupta and did his story in Dus Kahaniyaan, two songs in Pankh, Remo D'Souza's Faltu and ABCD, Ajab Gazab Love and a lot of ads.
Tevar was the worst experience of my life. There was such unpleasantness on the sets.
I thought it may be worth it once I watched the film, but that was also very bad. I wasted one- and-a-half years of my life on that.
Heartbeats is a Hollywood film and it happened because of ABCD. It's one of my best experiences. It was on schedule, and in half a month, it was ready.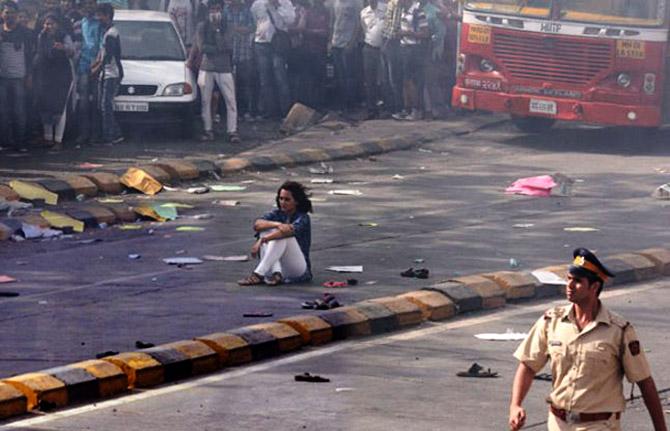 IMAGE: Sonakshi Sinha in Akira.
What is the difference between an art director and a production designer?
There is a huge difference. Internationally, the production designer is very hands on with everything.
S/he takes care of the entire look of the film, including costumes, make-up and locations.
In India, the concept of production designing is not well defined. The production designer is like a glorified art director.
We have started working on the look of the film now. So we get to read the script and give our opinions though the final call is always the director's.
I thought Neerja was a sad film, so I thought a colder tone would be good.
I didn't want any warm colours and thankfully Ram (Madhvani, director) followed it.
We add a lot of colour to happy musicals.
When one sees warm colours like red, yellow and blue, one gets a happy feeling.
For example, Revenant is a cold film, so Leonardo DiCaprio wears blacks. It adds a colder look to the film.
If you put a girl in a red costume in that cold atmosphere, dancing happily, it would change the whole thing.
Like, if someone is wearing a red sari in a snowy area and the wind is blowing, it's a happier setup.
So we sit with the costume designers and give them the colour palette of the film.
We also sit with the make-up artist. Sometimes, they listen, sometimes not.
It is very difficult to deal with them because they have their own identities and don't think they are working under us.
Look-wise, it worked for ABCD, but not for Akira. I was not happy with some of the colours we used in Akira.
What should one do to become a production designer?
One needs to study interior design or architecture or have a fine arts background. Studies are important.
After that, you start assisting either a set decorator, an art director or a prop master.
In the first year, an assistant gets paid Rs 10,000 per month. After three months, there's a hike in the salary.
After a year's job as an assistant, you can charge Rs 80,000 per month.
How much does a production designer earn?
It starts from Rs 10 lakh (Rs 1 million) per film. It could be Rs 70 lakh for an established designer.
I'm not paid Rs 70 lakh yet; you need at least eight years of experience for that.
One gets about Rs 50,000 to Rs 1 lakh a day for an ad shoot, but usually, it is a package.

IMAGE: Creating the plane in Neerja.
Your most challenging work till date was creating the plane for Neerja.
That was crazy!
Every morning I would reach the sets and wonder when it would get over.
It took 47 days to make the plane. After that, I did not want to see the plane anymore, I was so tired!
We made it from scratch. We made everything functional in the plane, as Ram wanted everything to work -- from the overhead compartments to the seats, the sink and even the toilets!
While I was making it, I used to be worried because it looked like a whale to me.
I was scared until two days before it got complete. I came to the sets in a rickshaw and the driver told me, 'Achcha plane yahan se bhi take off karta hai.' That sentence relaxed me.
I am very critical about my work so I never fully appreciate it. After watching Neerja, I felt the seat covers could have been better.
How do you feel when the sets are torn apart after the film is completed?
I would feel bad earlier, but not anymore. It had a purpose and then that purpose gets over and it is gone.
But I was sad that this plane was not picked up by anybody.
I requested the government to place it in a park so that kids could play in it.
There are so many kids who don't get to fly by plane. They could have seen how the actual plane looks.
I called so many people, I contacted an NGO. They sent 100 children, who had never seen a plane, to visit it.
They have an ugly plane in a park in Juhu (north west Mumbai); this plane could have replaced that.
But the government did not do anything. I even wrote to Narendra D Modi on the Web site where you can approach him. I guess he did not see my message.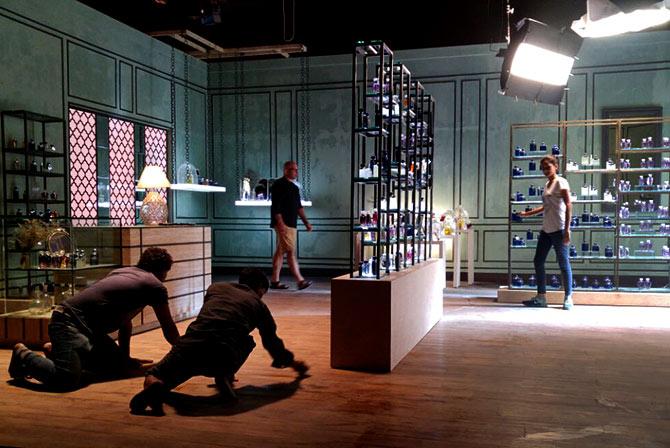 IMAGE: The Titan ad set, which Aparna Sud designed.
Have you been inspired by other films?
Most of my inspirations are from paintings. We copy a bit from international films too.
I had copied a wallpaper in Nishabd from an English film, I don't remember the name.
I have been inspired by The Grand Budapest Hotel. That's my favourite film.
Wes Anderson is my favourite director; I would work for him free!
In India, I like the work of Sharmistha Roy, Suzanne Caplan Merwanji and Sabu Cyril.
I love the sets of Mughal-E-Azam and Bajirao Mastani.
It's difficult for me to watch a film -- while watching Inception, I was just looking at the backdrop! I had to watch the film again to know the story.
Likewise, with Bajirao Mastani. I kept looking at the background because the sets were stunning.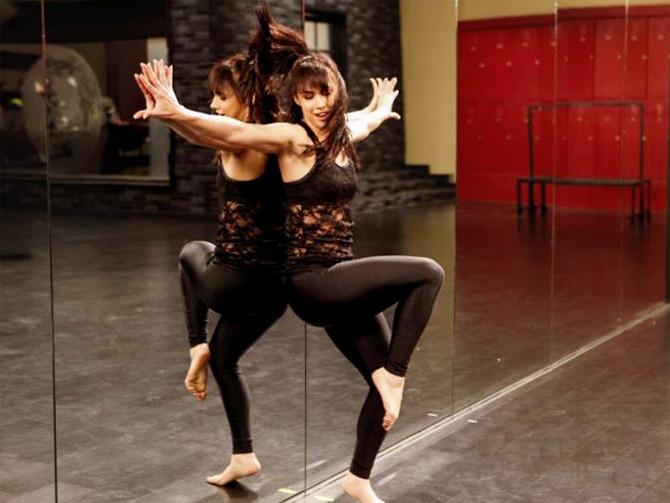 IMAGE: Lauren Gottlieb in ABCD: Anybody Can Dance.
Where do you shop for your sets?
I shop all over.
If I am putting up a middle class house, I go to D-Mart (the upermarket chain). Mumbai has limited stores, but we have lots of prop shops, where one can rent stuff.
Many of these have things from all over the world. In fact, you will get the best prop shops in Goregaon (north west Mumbai).
I reuse stuff in my ads, especially, if we don't have a (big) budget.
How do you decide on the budget of the sets?
We decide on the budget after going through the script and its requirements. We make a list of all the sets we require -- where the action sequences have to be done, and where you have to break a lot of things... we can't do it in real locations, we have to make sets.
After that, we plan the costing and tell the director-producer the budget. Once we give that, we have to stick to it.
Have you ever overshot your budget?
Yes, all the time, because the director's demands never end! Then, you have to start saying, 'No'.
Initially, I used to put money from my pocket, but now I tell my directors, it is not in the budget.
Some producers are good like Fox Star Studios. They will consider extra requirements.
I did not have budget problems with Ram Gopal Varma either.
We get scripts well in advance to work on. Like, I got the Neerja script six months in advance.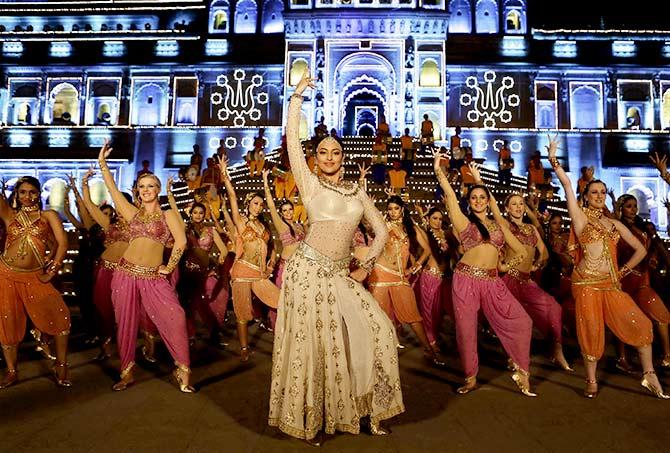 IMAGE: Sonakshi Sinha in Tevar.
Which is the biggest budget you have worked on?
Tevar and A Gentleman.
Sets-wise, the plane in Neerja was the most expensive set I have created.
Any film you wish you had done?
Barfi! and Rajkumar Hirani's films.
I have worked with him on ads. I have asked him to consider me when he's doing his next film.
I also want to work with Zoya Akhtar, Imtiaz Ali, Anurag Basu, Vishal Bhardwaj and Sanjay Leela Bhansali.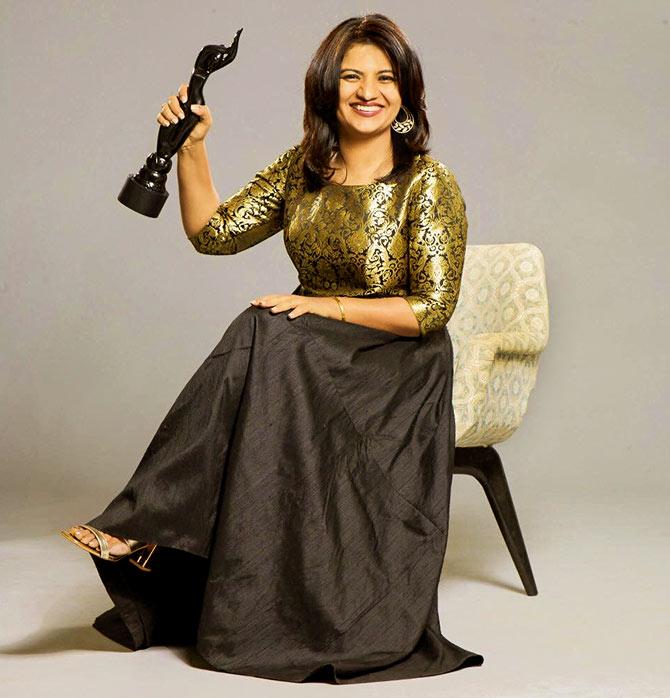 IMAGE: Aparna Sud with her first Filmfare for Neerja.
Is it easy to survive doing just one film?
I do more ad films, as feature films are very time consuming.
If I don't get call for an ad every 10 days, I get paranoid. I think they have forgotten me!
Ads are my better and butter; films are the cheese on top.