'If Nutella is missing anywhere in the world, you'll probably find it in Ranveer's house!'
'He loves food!'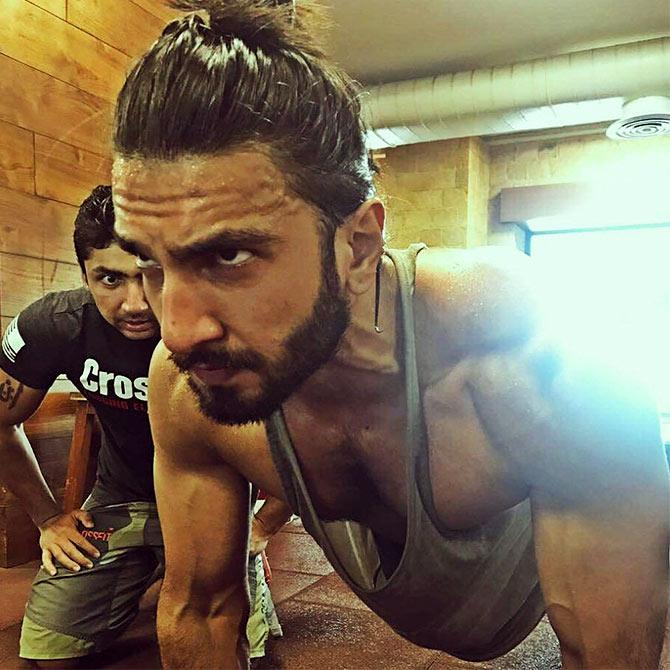 IMAGE: Mustafa keeps a close watch on Ranveer. Photograph: Kind courtesy AKRO/Instagram
Like Ranveer Singh and Hrithik Roshan's chiselled bodies?
Meet the man responsible for them: Fitness trainer Mustafa Ahmed.
Mustafa -- who works out of his gym, AKRO, in Bandra, north west Mumbai -- tells Rediff.com's Jahnavi Patel how he gets Bollywood's biggest stars to look as good as they do.
How did you become a celebrity fitness trainer?
I moved to Mumbai six years ago.
I have always played sport, especially cricket. Then I had a bad back injury.
We didn't have good coaches. I used to bowl very fast, so I would bend my back.
Eventually, my back gave up. It became so bad that the doctor told me to forget playing any sport.
I got really depressed, and lost interest in everything.
Luckily, I had the Internet, so I started reading and educating myself.
I started understanding the anatomy of the body, how it functions.
I used to work in an MNC, and was doing well.
One day, I helped a lady in a gym. Nobody was helping her before because she was about 45, 50 years old. I asked if I should train her. She said yes.
I trained her for about a month.
One day, she gave me a card. She had written: 'In the past 10 years, my husband and I had never a romantic moment in terms of going out and having a meal. A week ago, my husband told me I haven't looked so pretty. We went out for dinner. You have a gift and you are born for this.'
Those were strong words and it moved me.
This was in 2006. I was earning a salary of Rs 1 lakh. But I quit and joined a local gym to coach people for Rs 10,000 a month.
I would wake up at 4:30 am, open the gym, train people, do my workouts in the afternoons, manage my meals and shut the gym by 10 pm. That was my routine for a long time, and I was very happy.
Then, I got a job at an international chain of gyms called Fitness First.
That's where I met my wife; I used to train her.
She got placed in Mumbai and I came here because of her.
I got an opportunity to meet Hrithik (Roshan) through a friend who had trained him.
My wife kept pushing me, asking me to keep in touch with him because nobody was training Hrithik then.
I asked this friend if I would have a chance. So he said, 'Of course, let me see what I can do.'
It was a killing two month wait.
I kept following up and finally, I got a message that Hrithik wanted to meet me.
One thing led to another, and that's how our journey started.
IMAGE: Do the dab! Photograph: Kind courtesy Ranveer Singh/Instagram
How did you get on board with Ranveer?
I used to go to a gym where Ranveer would come with his trainer.
One day, I was training. He saw me and complemented me. After that, I saw him from time to time.
Then I think he was looking for a trainer, and his team suggested my name.
He decided to meet me. But it took about two, two-and-a-half months before we met because he was preparing for Padmavati.
He was in this zone where he didn't want to meet anybody and was completely isolated.
Did you expect to train celebrities?
I was excited, I won't lie about that.
I was young, so I used to think that this is what it would take for people to see my potential. I was very keen on proving myself.
So I always thought it was a big deal.
I never thought I'd train Hrithik Roshan or that I'd get to train Ranveer Singh.
How to stay fit with your busy schedule? Mustafa shows us how. Video: Afsar Dayatar/Rediff.com
Were you given a brief before training them?
Oh yes!
When I met Ranveer, he was in the Padmavati get-up.
He called me 'sir', which was funny!
He asked me what the look should be, what I thought.
Because of the way he was looking, I told him that in terms of physicality, we should go for a look like Khal Drogo from Game Of Thrones. He said the same name at the same time.
In Hrithik's case, we were working on Kaabil. We put on weight because he wasn't supposed to look ripped since he played a blind guy.
But we had to be careful about how he would put on weight and what exactly the look should be like.
IMAGE: Mustafa accompanies Hrithik and his sons Hrehaan and Hridhaan on vacation. Photograph: Kind courtesy Hrithik Roshan/Instagram
How easy or difficult is it to train celebrities? Do they come with baggage?
I wouldn't say that. I have realised that it's not easy being who they are.
I have trained Hrithik for two years now; it is not a client and trainer relationship. It has become a very warm relationship.
I am close to Hrithik's family. We have travelled together.
There have been times when he has gone on vacation with his kids and has asked me to come.
I can see the stress that's there with their work. I don't call it baggage; it's just not easy.
It's not difficult working with Hrithik and Ranveer.
In these two years, Hrithik came late thrice, and that was because of traffic. He apologised five times from the second he came in!
He could have walked in casually and started working out, but he apologised and explained why he was late.
If they are having a bad day, does it reflect when they work out?
If they are having a bad day, they would probably find solace in their training time because that's when they can be at ease.
I will have to work with the mindset. If I know he has had a bad day or facing any issues, I have to make the best of him.
With Hrithik, there have been times when we've chatted for an hour, and then started the workout.
I always tell them that if you're mad, angry or too happy, let's use that to work out.
When you set a routine for them, do you follow it too?
Absolutely. That's one of the best reasons why it has worked so well with Hrithik, Ranveer and me.
When I met Hrithik, he was in a lot of pain -- there was a knee injury, a back injury and a shoulder injury.
He had not bent his knee for a dance move or anything for two, two-and-a-half years.
I could relate to that as I had had an injury too.
I tell everyone I work with that you cannot ask somebody to do something you haven't experienced.
I can only put somebody through my routine because I know what it's going to take for them to do it.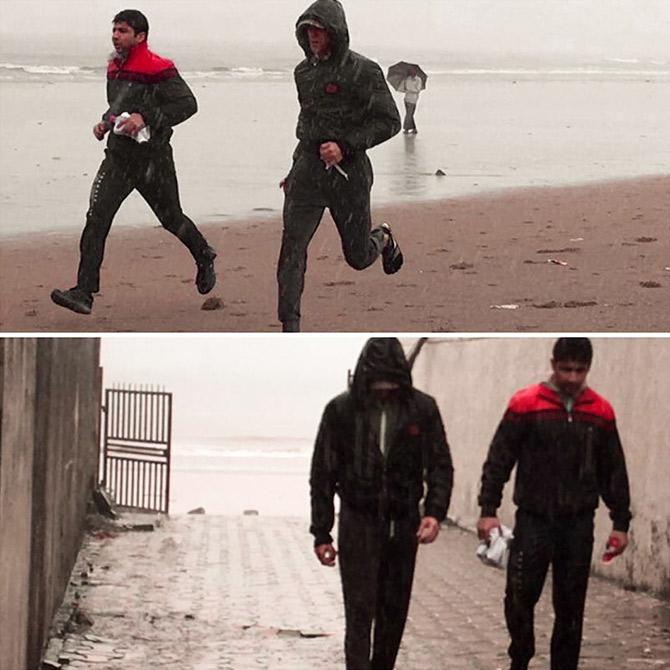 IMAGE: 'Can't run. Why? Cause it's raining. That's an excuse! When it rains, you reign.' Photograph: Kind courtesy Hrithik Roshan/Instagram
Are they lazy?
I wish. It would have made my life easy sometimes!
No, they are not. You may have seen Ranveer's energy; Hrithik is no less.
I am yet to see someone who is as disciplined and organised as him. I will get two calls from different people (from his team) saying this is the time he plans to train. It's that precise.
There can be days when they are tired, but not lazy.
I have never seen them make an excuse just to take things easy.
With Ranveer, I have to put a leash on him sometimes because his warm-up is like a workout.
Ranveer can lighten the place up; he has an insane amount of energy.
How flexible are they?
Both are very flexible.
Hrithik is insanely flexible.
When I met Ranveer, I wouldn't lie, he had issues.
Actors have to look a certain way for a movie, but with both of them, my thing was, I don't care how great you will look, I care about how great you will feel. That's my method, as a trainer.
Ranveer needed to focus on stretching. He loves weight training.
If you see him in Padmavati, the way he moves... he says he's never been this injury-free.
He says, 'I wake up and I feel great.'
What misconceptions do people have about gyms? Video: Afsar Dayatar/Rediff.com
Do they have a specific time to train?
No. Ranveer's schedule is insane. The kind of life he leads and the way his work is, we may hope that he gets done by 7 pm, but we will start at 11 pm. You can't do anything about it.
Hrithik, yes, he likes to be specific. But then again, there are times when things change because of his shoots.
Initially, I used to get irritated because my time would go for a toss. But this is the price for this kind of opportunity.
Do you accompany them on their shoots?
Yes, especially if there is action or dance.
Ranveer is very sweet. He says, 'No, no, sir, you don't have to come today.' But I have an assistant who will be there and shadow Ranveer!
I like to be there and it makes a difference.
When I went for the HRX shoot with Hrithik, he sent me a message after it was done, saying, 'This was all because of what both of us have done.'
So getting those messages are the perks.
Ranveer has told me that my presence makes a difference to him. It boosts his confidence.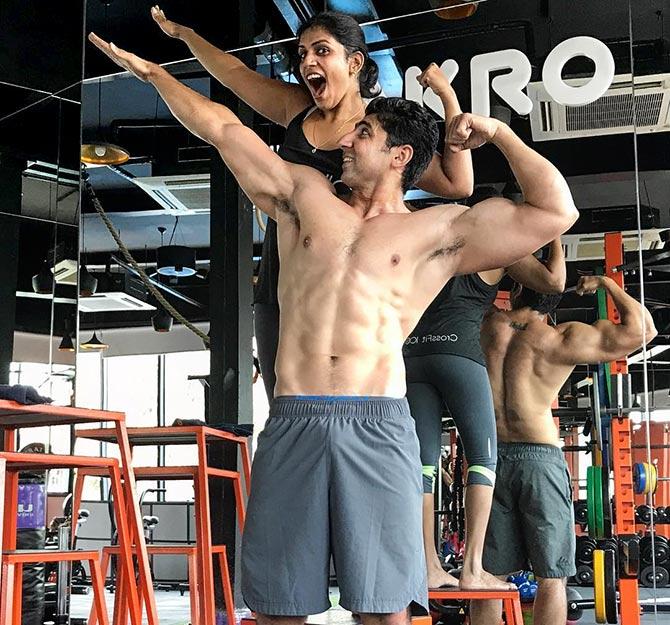 IMAGE: Mustafa and his wife Radhieka's Titanic pose! Photograph: Kind courtesy Ranveer Singh/Instagram
How long did it take you to get Ranveer in perfect shape?
We got there in probably 6 to 8 weeks.
Our biggest challenge was sustaining it because we didn't expect a delay in the shooting schedule.
But I always say that you don't train for a role; you train to be fit the year round.
Sustainability is one of the biggest challenges because the schedules are all over the place. Travelling was also an issue. We had to constantly see what we had to work on.
Is there a lot of pressure on you when you have to make them look a particular way?
I don't take it that way.
When you are driven, you aren't scared.
It was an opportunity for me to show what I could do.
More importantly, it was about Ranveer feeling good.
Honestly, for me, the pressure was never about what he would look like on screen.
The biggest pressure was that I want the guy to feel incredible through the whole thing, survive it injury-free and be in top condition even after the movie.
What is their diet like?
Hrithik is very controlled because he has done this for a long time.
He knows when and what to eat. His staff also knows what to do.
With Ranveer, the world knows by now that if Nutella is missing anywhere in the world, you will probably find it in his house!
He loves food!
I can relate to that because I love it too.
It gets very extreme, like you have to have the keys of the cupboard so that he doesn't cheat!
That's where I come in; I tell him this is not how it's going to be done.
I have force-fed him on a shoot and have been told that I am the only person who has been able to do it.
I accompany him on shoots only because of this -- that he will eat!
He doesn't listen to anybody.
Last time, I fed him a banana before he went for the shot.
But once he starts his work, he will not focus on anything else. He will forget his food, everything.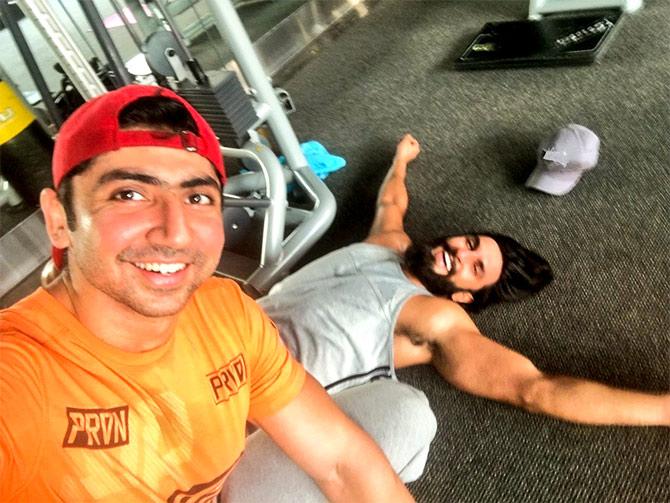 IMAGE: A happy selfie. Photograph: Kind courtesy Mustafa Ahmed/Twitter
You're the only one who can get Ranveer to follow his diet?
Sometimes I have to threaten him!
But he doesn't lie to me.
What would happen is that he would have home-cooked food like laal maas and rice.
I would ask him how the food was last night, and so he would know that I know about it. So he would say, he'll do 20 minutes extra workout.
That happened rarely, but we made sure that he was focused and in control.
That's why I give him one cheat meal every week.
Hrithik's cheat meal is 'an incredible salmon', that wasn't home-cooked.
He loves what his mother cooks.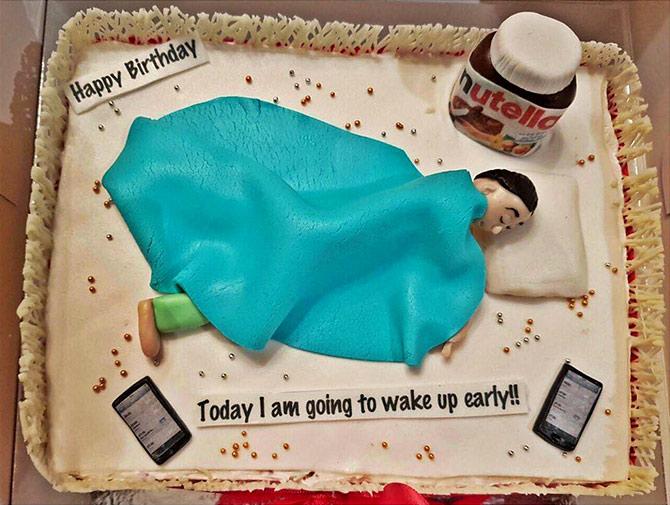 IMAGE: Ranveer's life summed up in one birthday cake! Photograph: Kind courtesy Ranveer Singh/Instagram
Besides Nutella, is there anything Ranveer can't resist?
Any mutton dish!
He loves his home-cooked mutton, whichever way his mother makes it.
What about Hrithik?
He loves home-cooked food. But with him, it keeps changing. I have seen him gulp down a pizza!
He loves chocolates; he can live off them.
He has the toughest time with chocolates. You will see wrappers in his room.