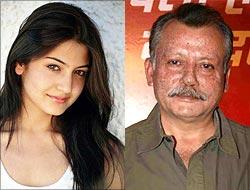 If you are intrigued by the title of Vishal Bhardwaj's new film Matru Ki Bijlee Ka Mandola, here's a clue to what it means.

It's actually a backhanded compliment to Manmohan Desai.

Says a source, "Like Manmohan Desai's Amar Akbar Anthony and Ganga Januma Saraswathi, Matru Ki Bijlee Ka Mandola is titled after the three main characters of the film. Matru is Ajay Devgn, Bijlee is Anuska Sharma and Mandola is Pankaj Kapur."

While Pankaj is familiar with the rustic comedy in Matru Ki Bijlee, it is an untried domain for Ajay and Anushka.

Says the source, "Pankajji is familiar with Vishal's terrain. But for Ajay and Anushka, the Haryanvi territory is totally alien."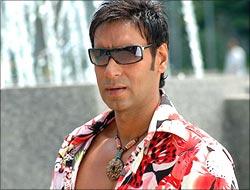 Bhardwaj has planned extensive workshops for the two, especially to get their accents and body language right.
Apparently, the director has begun to address Ajay and Anushka as 'Matru' and 'Bijlee' respectively.
The film is based on a play that Pankaj Kapur had acted in many years ago and had recommended to his friend Bhardwaj.
Says the source, "It is an idea that Vishal has lived with for many years. He was sure he would make it with Pankaj and Ajay one day. And when he saw Anushka in Band Baaja Baraat, Vishal knew he had found his Bijlee."