In a scene from Man Ka Meet, Leena Chandavarkar makes fun of Vinod Khanna's romantic proposal by saying, "You can never be a hero. Perhaps you'll have better luck playing the villain."
"Time will tell," he promises with a confidence bordering on conceit.
It sure did.
The film, Khanna's first, designed as a launch pad for Sunil Dutt's brother Som, did nothing for the intended individual but paved the path for Khanna's superstardom. Not only did he impress as the smug bad boy but went on to win a million hearts as the suave leading man of over 100 films.
Born to a business family in Peshawar, Khanna moved to Mumbai soon after Partition. But it was while watching K Asif's epic Mughal-E-Azam as a teenager that he first felt an extraordinary attraction for the medium. Maybe because he could identify with Salim's rebellious streak and the strained father-son relationship in it.
Khanna and his father didn't see eye-to-eye on many things, including his decision to become an actor, but the latter eventually came around.
Why wouldn't he?
Fans swooned over his son's chiselled Adonis looks that exuded coolth and charisma, whether flying solo or pitted opposite arch-rival Amitabh Bachchan across all genres like drama, action, romance and comedy.
Just when he appeared to have hit the best phase of his career, Khanna decided to call it quits and pursue the path of spiritualism at Osho's ashram in USA. Obviously the news of his premature retirement disappointed fans and hurt his family greatly (resulting in a split from first wife Geetanjali with whom he has two children, actors Akshaye and Rahul), but Khanna stayed firm on his resolve.
Once he had his fill of spiritual pursuits, though, Khanna couldn't wait to return to the world of make-believe. Bollywood was only too happy to have him back.
Having achieved success in his second innings as well -- both on the professional and personal front (he tied the knot to entrepreneur Kavita Daftary, they have two kids -- Sakshi and Shraddha), Khanna redirected his energies to focus on active politics, gracing the screen occasionally to play patriarch parts in blockbusters like Wanted, Dabangg and the more recent Dilwale.
A stunning combination of robust star power and self-possession, Vinod Khanna's illustrious filmography is imprinted on every Hindi film buff's soul.
Here's looking at some of the high points of his career.
Aan Milo Sajna (1970)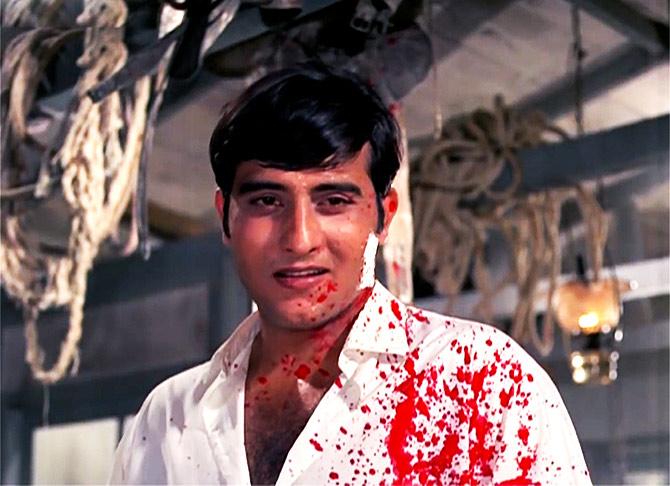 IMAGE: Vinod Khanna in Aan Milo Sajna
As the scheming rascal willing to do anything to extort money from his wealthy mom, VK shows he could be completely out of line and still walk away with audience sympathy in Aan Milo Sajna.
Mere Apne (1971)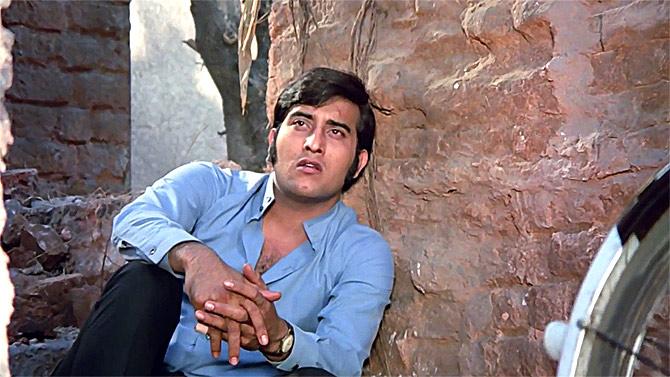 IMAGE: Vinod Khanna in Mere Apne
In Gulzar's directorial debut, Khanna brings forth the turbulence and rebellion of misguided youth in a performance that's raw yet striking.
Mera Gaon Mera Desh (1971)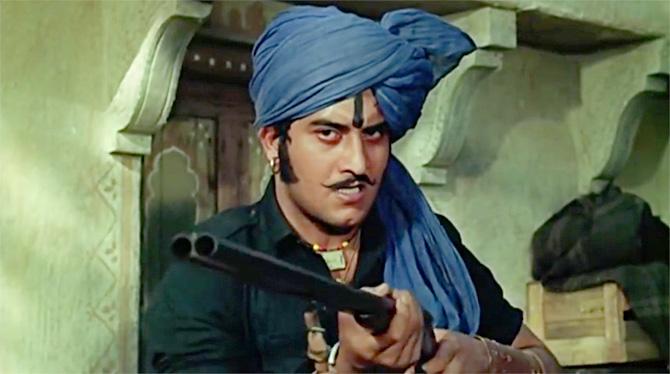 IMAGE: Vinod Khanna in Mera Gaon Mera Desh
So effective is Vinod Khanna's growling, intimidating, remorseless and kohl/tilak/amulet/moustache sporting Jabbar Singh in Mera Gaon Mera Desh, he almost got typecast playing dacoit in films like Kuchhe Dhaage and Patthar Aur Payal.
Achanak (1973)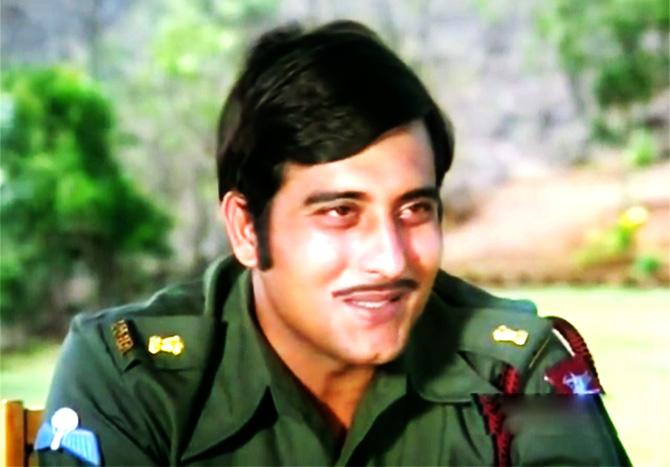 IMAGE: Vinod Khanna in Achanak
The actor's humanised portrayal of destructive instincts and heartfelt remorse prompted by his wife's infidelity in Achanak (inspired by the sensational Kawas Manekshaw Nanavati case) is yet another instance of the magic he generated under Gulzar's sensitive vision.
Imtihan (1974)
IMAGE: Vinod Khanna in Imtihan
At 28, Khanna conveys the liberal, life-changing ideals of Imtihan's college lecturer with a wisdom that's more intrinsic than his thick-rimmed glasses let on.
Haath Ki Safaai (1975)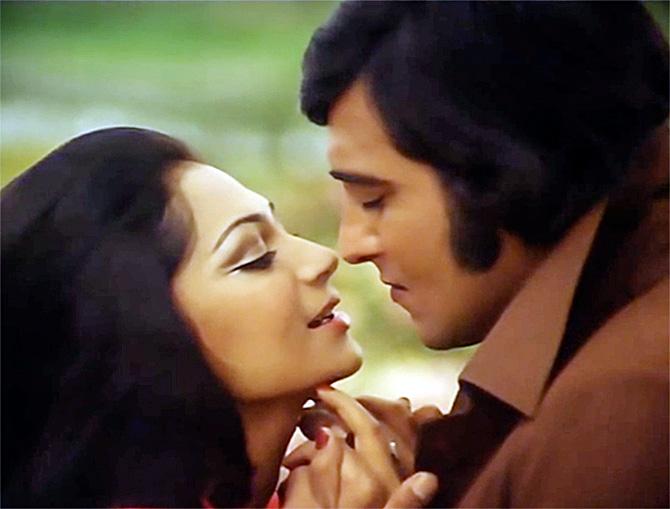 IMAGE: Simi Garewal and Vinod Khanna in Haath Ki Safaai
In a Filmfare award winning turn as Best Supporting Actor, Khanna employs his persuasive charm to rise above Salim-Javed's formulaic script.
Hera Pheri (1976)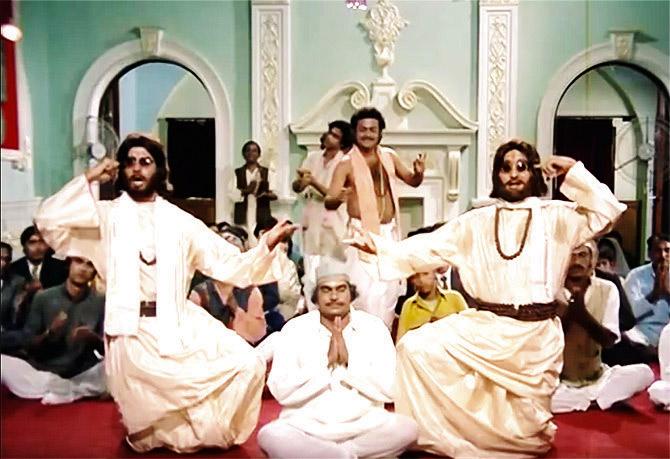 IMAGE: Amitabh Bachchan and Vinod Khanna in Hera Pheri
For Prakash Mehra's rollicking entertainer, a first-rate VK and Amitabh Bachchan conspire, match wits and conspire again to take the audience on a whirlwind ride of thrills and twists.
Shaque (1976)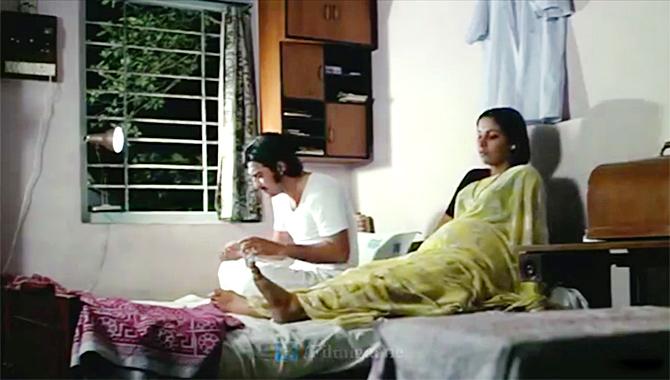 IMAGE: Vinod Khanna and Shabana in Shaque
Shaque, bolstered by Aruna Raje and Vikas Desai's intimate filmmaking, explores marital disquiet in Vinod Khanna's seductive manifestation of Shabana Azmi's believable anxiety.
Amar Akbar Anthony (1977)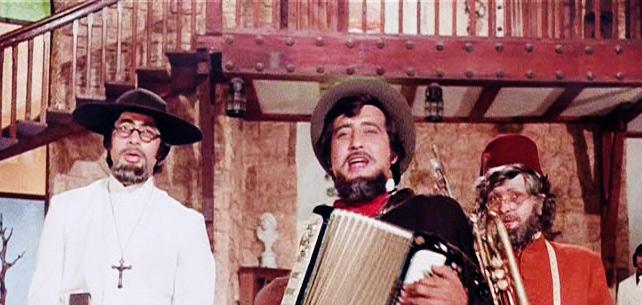 IMAGE: Amitabh Bachchan, Vinod Khanna and in Rishi Kapoor.
It may not have the humour of Amitabh Bachchan's Anthony or the flamboyance of Rishi Kapoor's Akbar, but the smooth machismo he projects as super cop Amar is what gives Manmohan Desai's lost and found classic some much-needed balance.
Parvarish (1977)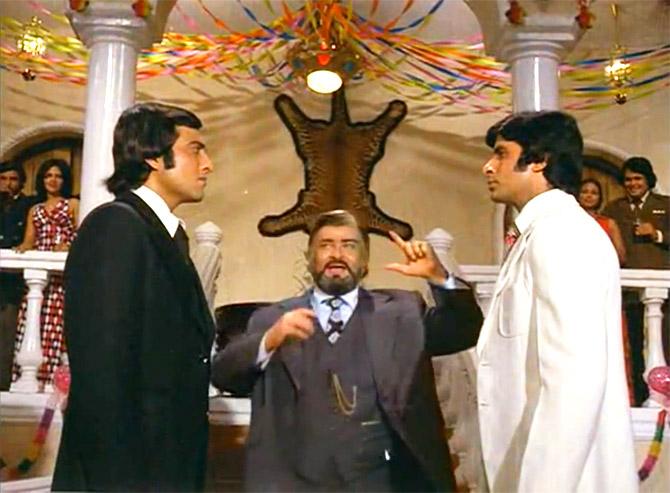 IMAGE: Vinod Khanna, Shammi Kapoor, Amitabh Bachchan in Parvarish.
Released in the same year as Amar Akbar Anthony, Khanna has a ball demonstrating a bad case of sibling rivalry whilst pulling wool over his real dad's eyes to impress his phony dad in ways only a Manmohan Desai creation can.
Inkaar (1978)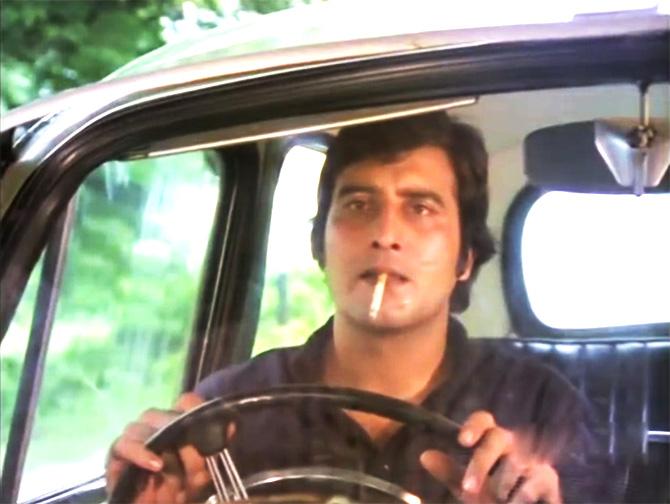 IMAGE: Vinod Khanna in Inkaar.
A police procedural inspired by Akira Kurosawa's High and Low, Vinod approaches the role of a CID hot on the trail of a ruthless kidnapper with sophistication and cunning.
Muqaddar Ka Sikandar (1978)
IMAGE: Vinod Khanna and Amitabh Bachchan in Muqaddar Ka Sikandar
Although Amitabh Bachchan's heart-breaking melancholy in Prakash Mehra's version of Devdas takes centre stage, Vinod Khanna proves to be a competitor worth losing to.
Meera (1990)
IMAGE: Hema Malini and Vinod Khanna in Meera
The actor, in a role Gulzar originally offered Amitabh Bachchan, offers excellent insight into the difficulty of a husband unable to empower his spiritually enlightened wife and yet unwilling to persecute her for the same.
Qurbani (1980)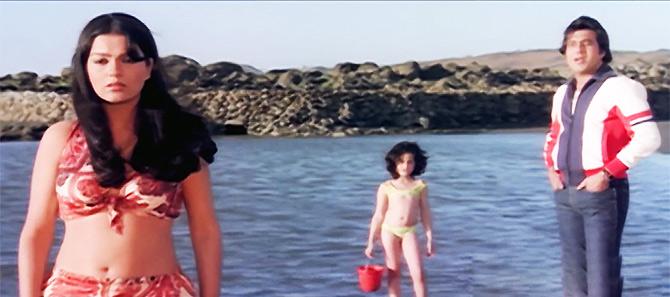 IMAGE: Zeenat Aman and Vinod Khanna in Qurbani
VK elegantly juggles between a single dad to a tot, loyal friend to Feroz Khan, and Zeenat Aman's closest competition in the hotness department in the slick box-office smash, Qurbani.
Insaaf (1987)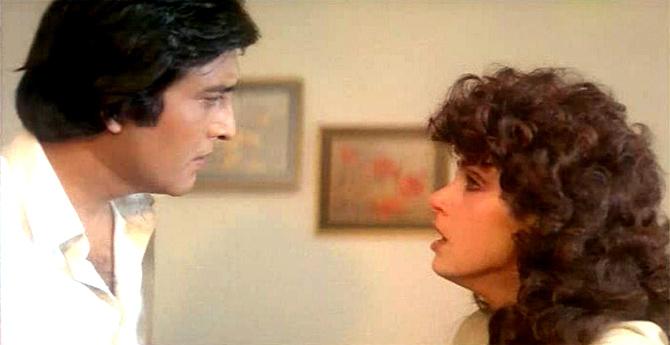 IMAGE: Vinod Khanna and Dimple Kapadia in Insaaf.
Khanna's fit and feisty return to the big screen with Mukul Anand's Insaaf, his comeback after the Osho stint, met with much enthusiasm by fans and filmgoers.
Dayavan (1988)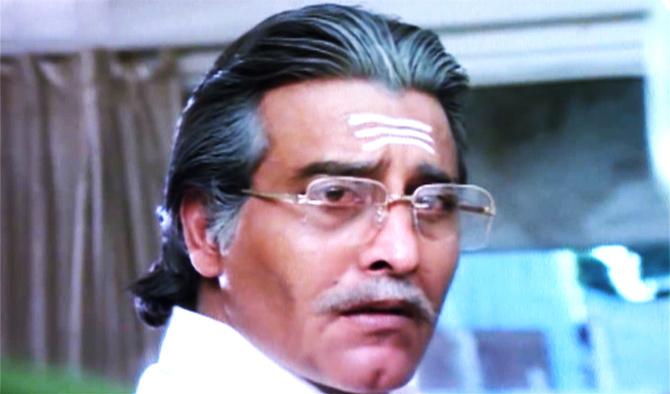 IMAGE: Vinod Khanna in Dayavan.
While decidedly inferior to Mani Ratnam's Nayagan, Feroz Khan's remake allows VK to flex his dramatic chops in conveying the making of a dreaded don.
Chandni (1989)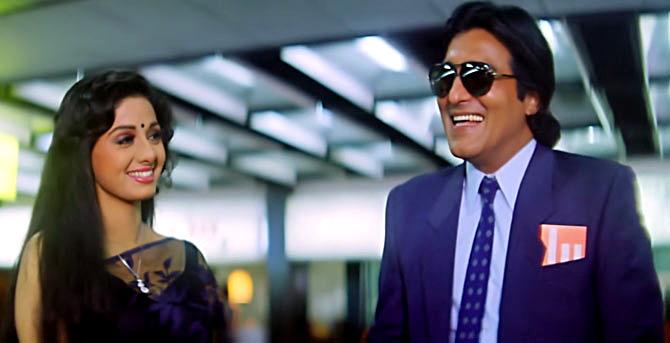 IMAGE: Sridevi and Vinod Khanna in Chandni
At a time when Vinod Khanna's macho appeal was his biggest draw, he valiantly shows up in Chandni's second half to poignantly describe how it feels to get your heart broken not once but twice.
Lekin... (1990)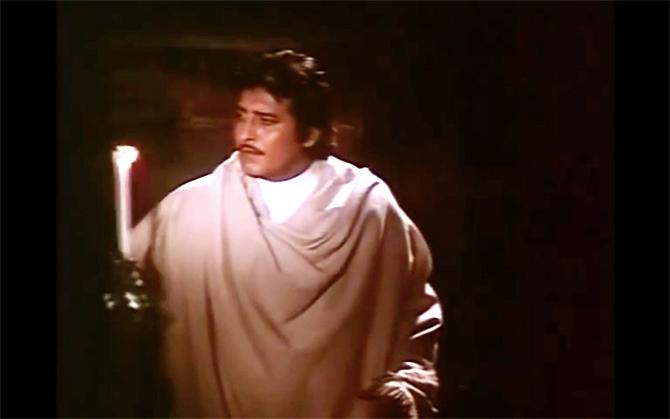 IMAGE: Vinod Khanna in Lekin...
Gulzar and VK's fine tuning is evident in the diverse range the filmmaker got out of him every single time. And the evocative accomplishments of Lekin.. are no exception.
Rihaee (1988)
IMAGE: Vinod Khanna and Hema Malini in Rihaee.
Vinod Khanna addresses the hypocrisy of society, its different rules for man and woman when it comes to sexual gratification against a rural milieu through his graceful delivery in Rihaee.
Dabangg (2010)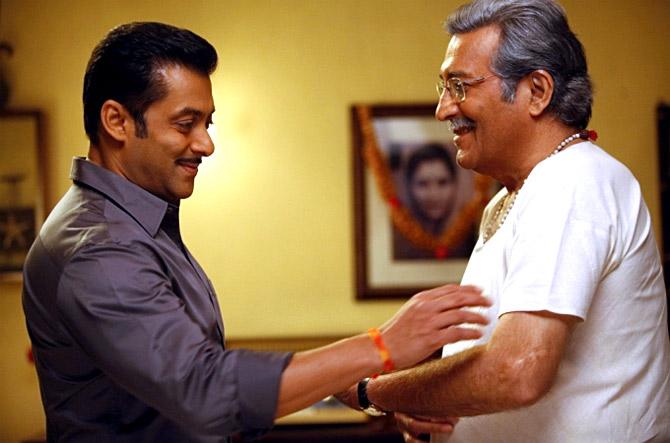 IMAGE: Salman Khan Vinod Khanna in Dabangg.
He doesn't get much screen time but the veteran works up a stern face and daunting daddy air to validate a peeved Salman Khan's Pandeyji-themed quips.