'This is a movie, which if you allow it to, will wash itself all over you, so that you emerge from it a little drenched but wide awake,' says Sreehari Nair.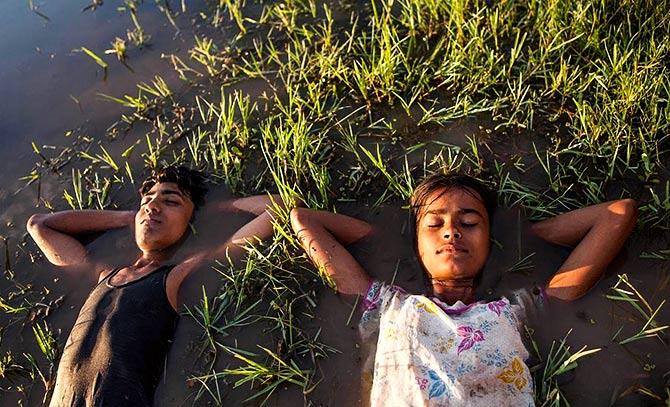 Outwardly, Rima Das's Village Rockstars is about the fulfillment of a dream; but you cannot think of it this way.
Like all great works of art, the film transcends easy descriptions. It becomes a poem about the purity of childhood madnesses and, in a strange sense, also an ode to simpler times.
The movie's central character, the ten-year-old girl Dhunu (Bhanita Das), and her group of friends (all boys), build their guitars out of thermocol sheets and wrap them in shiny paper.
These guitars, with their strings diligently 'sketched', produce no sounds. But when Dhunu and other members of her band wield these make-believe instruments and lip-synch to songs blaring from a tape-recorder, you immediately get the subtext: In acting out the rituals of a grand musical concert, these children are distancing themselves from their natural lives and relocating to a dream world.
Village Rockstars, set in an Assamese hamlet, is not concerned with following the usual arc of inspirational stories: Humble roots to glory.
What Rima Das wants to show us here is the Shape of a Dream -- with its many rough edges and excesses.
Das shows, but does not comment: Her deadpan style works like a distillation of her experiences.
Bollywood has trained us to believe that simplicity is what Rajkumar Hirani serves up -- but that is the simplicity of someone who cannot perceive complex themes or care much about exploring the possibilities of the medium.
Rima Das's simplicity is the simplicity to which you have to respond fully. She chooses for the camera only those images that have the power to reveal.
I almost broke down during a scene in which Dhunu discovers that she has lost her pet goat, Munu ('The Rascal Fox took her away,' cries Dhunu helplessly).
When the goat disappears, there is no flashback to a passing sequence where you see Dhunu climbing a tree, just to get Fresh Leaves for Munu.
But such is the power of Rima Das's images, so saturated are they with emotions, that without leaning on dramatic devices or shortcuts to feelings, they make you feel.
The children keep looking for the goat till their lanterns run out of oil, after which all you hear is Dhunu's wailing in the dark.
Dhunu isn't old enough to know what it means to lose a kid. But she now has some idea. And watching her sleep that night, clutching onto her thermocol guitar tightly, we in the audience too perceive the depth of her loss.
This is a movie, which if you allow it to, will wash itself all over you, so that you emerge from it a little drenched but wide awake.
Village Rockstars is also a work of art with no cynicism.
Das's idea of humanity is so strong that any obvious attempts to 'tug at one's heartstrings' would seem like intrusions of melodrama.
The floods have consumed Dhunu's father but her mother (a brilliant, brilliant Basanti Das) does not wallow in self-pity. She sits by the bank of a river and says about her husband, long gone: 'He drowned because he did not learn swimming.'
Often, one gets the feeling that Das has simply turned her cameras on life and captured a moment of beauty just before it wilts. But when you think at hindsight, about how the film is carefully set to the flow of seasons, you also assent to Rima Das's clear vision and her almost unconscious talent for selecting moments of great beauty.
When, after the onset of floods, the children collect their pets and row their little boats through the waters (often using as paddles, domestic utensils), the image rises in our head as one of the great images of Indian cinema.
But this beauty is not without logic.
On their little voyages, what the children end up gathering are the remains of those crops they had planted. These are not Young Earthsavers posing for magazine cover pictures; they are simply children who don't want to go hungry.
Das may be looking at the cold ironies of life in an Assamese village, but there is such love and tenderness in her viewpoint, that her visuals at once become euphoric and imbued with the strength to tear you apart.
In a sequence to put beside the train sequence in Pather Panchali, the children, every one of them partly shielded from the rain by colocasia leaves, stage a mock-protest: 'Ban the Floods!' they sing in unison.
Later, with the floods rendering their rural infrastructures ineffective, they remark: 'People are useless.'
The kids have been perceptively chosen -- so that their faces suggest both the transparency of childhood and the world-weariness of the adult life they are slowly stepping into.
The young Bhanita who plays Dhunu seems to have been photographed in the act of growing up.
Rima Das shows us how much Dhunu draws from nature.
Climbing trees, cycling, swimming -- she takes to each one of them with an artistic ease; she has a knack for making moments worthwhile.
There's too much energy inside her and when she isn't committing to a moment physically, Dhunu (who looks partly like a Girl Nadal and partly like a Young Mick Jagger), is letting her imagination run amok.
Standing amid crops and grasses taller than her (blades of grass foreground most frames -- telling us how much the humans here are at the mercy of nature), Dhunu seems to be slipping into auto-intoxication as she takes in her surroundings and imagines her future.
She is like Alice moving under skies and even after the lights had gone down, she haunted me phantomwise.
Dhunu's acceptance of every theory, her liquid acquiescence to every prayer, is what gives the character its mythic undertones: She learns from one story that we mustn't be greedy and from another story that dreams come true if we strongly believe in them.
The worldly-wise are only of intermittent help to her.
To a grandfather, Dhunu asks, 'If I want something will I get it?' and the old man goes: 'Of course, you can achieve anything by working for it.'
When Dhunu reveals that it's a Guitar she wants, the wise man of the 'You can achieve anything'-Theory dials down his optimism.
'Guitar?' he says with surprise, 'Guitars are costly. Maybe you can make do with a cheap one.'
Like Dorothy in The Wizard of Oz, Dhunu's perhaps on the cusp of recognising the incompetence of adults -- and what little Bhanita masterfully conveys is the churning of this intelligence.
Watch out for how her eyes flutter around in reaction shots. She makes a character by breaking it: Her seemingly nomadic attention suggests that she is more in the moment than anybody else.
Without doubt, the performance of the year, this!
Rima Das has dedicated Village Rockstars to the place she comes from and the people there. But more native tribute is owed: To the wind, the rain, the specific turns of speech, and the telling gestures, all of which Das has carefully dripped into the storyline.
This is poetry that materialises from a specific way of life and then becomes universal.
In the styles of the best Indian film directors working today (Dileesh Pothan, Raam Reddy, Chaitanya Tamhane, and now Rima Das), in their treatment of places and characters, we can sense the generosity of Jean Renoir.
This is perhaps because these directors seem capable of remaking Indian life with all its complexities into 'beauty that just happens'.
Of all these Renoiristas, Rima Das possesses the most affectionate eyes: She presents the harsh contrasts between Dhunu's dreams and the human comedy in the Assamese village, lyrically.
When the boys in her gang start focusing their attention toward girls, Dhunu feels her dream of starting a rock-band slipping away.
Her own puberty then locks her up inside the house, away from the boys, and we in the audience can sense the final death of that dream.
And through all such little tragedies, Rima Das uses as the story's spine, the relationship that Dhunu shares with her mother (It is maybe the most beautiful mother-daughter relationship to have ever been mounted on an Indian motion picture -- and it's clearly coming from a very personal place).
This is the sort of relationship where a simple task of removing lice from a daughter's hair gets transformed into an act of passive-aggressiveness (For every louse she kills, the mother also broaches the topic of Dhunu only playing with the boys).
When Dhunu asks her mato if she will buy a guitar for her, expect no straight replies! The mother turns her head in the direction of Dhunu's beloved Munu and says coolly, 'Okay, we will sell the goat and buy you a Guitar!'
This is cruel stuff, but Das intuitively understands that it is the kind of cruelty that parents sometimes unleash on their kids.
(Later, the mother is shown to be making trips to shops and enquiring the price of a Guitar).
After punishing her one night, we see the mother running her hand through Dhunu's hair when she is fast asleep and rubbing her earlobes. The death of her husband has rendered the lady stronger -- she is now only capable of elusive displays of warmth.
The aim of Village Rockstars is to illuminate experience and get us to feel without explicitly telling us how to feel.
As an adjunct to its artistic mission statement, there are no unsympathetically caricatured villains here giving us easy entries into the narrative.
The women-folk in the village who chastise Dhunu (for playing with the boys) come off as wholesome creations when they later arrive at Dhunu's house to celebrate her puberty.
They dance, they sing, and they taunt her playfully -- for the tomboy is now one among them.
The river-like calmness of Village Rockstars is also a shout-out to those who will review it -- to set aside their cultural chauvinism and legal-brief-type approach for a bit.
This isn't a movie that can be critiqued using such statements as 'The story lagged toward the end' OR 'The centre was a tad flat' OR 'The goals and stakes didn't seem high enough.'
It is a larger view of human experience that is present in every detail of Village Rockstars. And it is this very generous view, this artistry of the film that allows us to see its characters as we see ourselves, that takes it beyond such clichéd descriptors as 'Little Gem' or 'A small film with a big heart.'
And dare I say it now that the news is out: Village Rockstars (like Tamhane's Court) is a motion picture that is too fine, just too fine, for the Oscars committee to appreciate.
We are talking about an awards ceremony that celebrates the most Politically Correct, the most respectful, and the most 'decent' movies made on this planet -- or to put it this way, movies adorned with 'values' that the corporations most wish to be identified with.
Those films don't need artists; only technocrats with 'good tastes'. (In my lifetime of watching the Oscars, only once have I witnessed a decision of any genuine courage and that was when Pedro Almodovar was first nominated and then handed the Best Original Screenplay award for Talk to Her).
Village Rockstars is a picture that expresses the beauty in our common humanity -- it campaigns as much for our follies and absurdities, as it does for our hopes and desires.
Oscar trophies are given out to canned films that allow you to remain in control of your feelings; Village Rockstars wants you to put to good use some of those feelings.
Rediff Rating: