Mersal is the first Vijay film to make Rs 200 crores.
Some say credit for the star's most successful film goes to the BJP and its opponents.
T E Narasimhan reports from Chennai.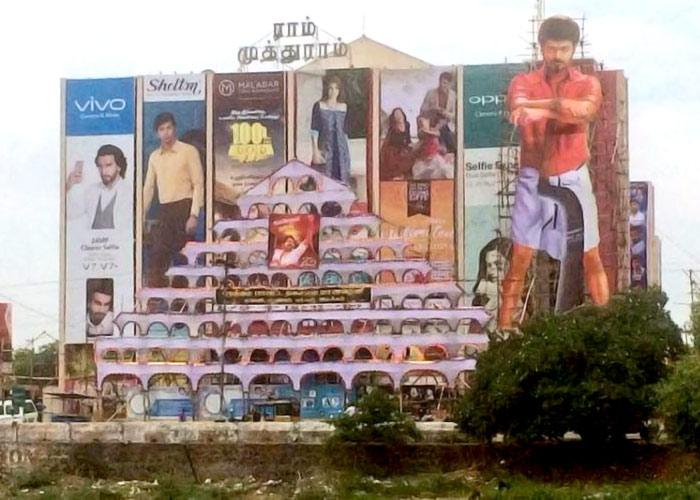 In Tamil politics, the power of a politician is the sum of its people's reverence.
The worshippers are intoxicated by the super-stardom of their leaders who rise to become modern-day deities.
They leave behind a legacy, and in J Jayalalithaa''s case, warring successors. And, it often takes a superstar to replace one.
For super-fans, the political acumen of their next leader could well be indicated by the box office report of his latest release.
By this deduction, C Joseph Vijay is now a heavyweight.
Vijay, 43, started his film career as a child actor. He graduated from Loyola College in visual communications and made his lead role debut with Naalaiya Theerpu in 1992.
He went on to give blockbuster hits such as Poove Unakkaga in 1996 and won his first Tamil Nadu state Best Actor Award for his performance in Kadhalukku Mariyadhai in 1998.
His popularity also earned him endorsements of several brands such as Coca-Cola, Jos Alukkas and Tata Docomo.
His latest film, Mersal, will be the first of his career to breach the Rs 200 crore (Rs 2 billion) earnings mark, a feat that had been reserved for Thalaivar ('The Boss'), as the veteran actor Rajinikanth is affectionately called.
Rajinikanth's movies make up the bulk of the Rs 200 crore club in Tamil cinema, his bust rests in more than one temple in the state and there has been constant speculation about his entry into the politics.
The next most anticipated entrant expected to influence the state's political landscape is Kamal Haasan.
But Vijay's success at the box office is not the only measure of his becoming a leader. It's his old tryst with controversies that are making political headlines.
At a time when the Bharatiya Janata Party government at the Centre is prepping for a grand show to celebrate the one-year anniversary of demonetisation, which the Opposition will denounce as a 'black day', Vijay's character in Mersal questions the government's big bang Goods and Services Tax reform.
Why does Singapore, which charges 'lower GST, and yet, provides free healthcare', while India 'levies a GST of 28 per cent and cannot provide quality medical care?' questions his character in the movie.
As Vijay was attacked by the BJP for the dialogues, Congress Vice-President Rahul Gandhi -- who has called GST 'Gabbar Singh Tax' -- came out in his defence.
Former finance minister P Chidambaram, fellow actor Kamal Haasan and author Chetan Bhagat, among others, too, wrote in his favour. The Madras high court rejected a petition seeking to ban the movie for these references.
Vijay, in the film, also rakes up the deaths of over 100 children in a hospital in BJP-ruled Uttar Pradesh's Gorakhpur, allegedly due to a lack of oxygen supply.
'How can government hospitals function without the crucial supply of oxygen cylinders?' Vijay demands in the movie. The Yogi Adityanath-led BJP government had vehemently rejected reports of negligence.
In another scene, Vijay says the government should build 'more hospitals than temples'.
Turning to religion in a counter-attack, H Raja, a national secretary of the BJP, tweeted a picture of the actor's voter ID card, revealing his full name, C Joseph Vijay.
Raja said the actor should have asked to 'build hospitals before churches' and not use the word temples. This gave the Opposition parties a chance to get on the BJP's back, and earned Vijay some new friends.
Critics say controversies are the most cost-effective marketing tool.
Some have gone to the extent of saying that the credit for the second-layer Tamil cinema star's most successful film so far goes to the BJP and its acronym-coining opponents.
It seems like the soft-spoken, media-shy Vijay, who lets his father, Tamil director-producer S A Chandrasekar, do the talking on most occasions, is also learning to gather the veneration of his action-hungry fans.
While he's yet to find a stage, a mic and more than a few one-liners to start his political career, he's found the first moves of his low-key play.
In a note to thank his fans for the success of Mersal, he signed his name C Vijay Joseph for the first time in public.
In Tamil politics, caste, religion and stardom are here to stay.
IMAGE: A giant hoarding for Mersal in Chennai. Photograph: A Ganesh Nadar/Rediff.com