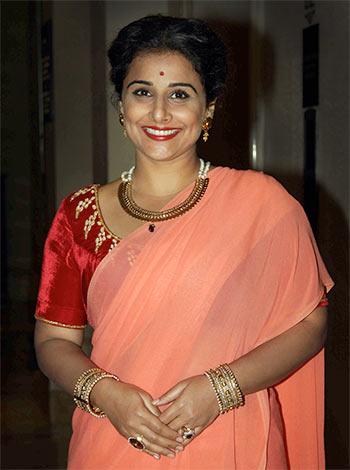 Vidya Balan, who is a force to reckon with in Bollywood, is all set to make her debut in Marathi cinema with Ekk Albela.
The film, which is based on the life of the late actor Bhagwan Dada, will see Vidya essay the role of the late actress Geeta Bali.
On May 27, the film's song Shola jo bhadke was launched at an event in Mumbai where the B-town beauty was present along with her Marathi co-star, Mangesh Desai.
Talking about what drew her towards her first Marathi venture, the Kahaani star says, "Ekk Albela is not a biopic on Geetaji; you don't see all shades of her. You will see Geeta the star and see me recreating her songs. But, yes, I do get drawn towards real life stories and that is why Bhagwanda's biopic interested me."
While Vidya is open to the idea of doing a biopic on Geeta Bali, she points out it won't be easy as "I will have to put in a lot of work into the look."
The National award winning actress, who made her acting debut in the Bengali film Bhalo Theko, doesn't want to restrict herself to Hindi cinema.
"I am greedy as an actor. I am looking forward to getting good roles in Marathi cinema. But I will have to work hard on the language as I will not let anyone else dub for me," she says.
The 38-year-old adds, "I have been offered a few films but, for some reasons, things did not work out. I am doing a film in Malayalam; it's a biopic on the poetess, Kamla Das."
Coming back to Ekk Albela, the die-hard Geeta Bali fan says, "I just saw the songs and I saw Albela again as I have been a fan of Geetaji and of this film. I have tried to adopt her nuances. I know I don't look like Geetaji, but I have attempted to look and act like her."
When quizzed about how difficult or easy it is to play characters without meeting them, Vidya says, "In the case of Silk Smitha in The Dirty Picture, I had to use my imagination. To play Geetaji, I watched her videos."
She adds, "I have tried to imbibe some of her mannerisms, particularly in the dancing portions. I think it's way easier if you don't know the person. When you know the person, you don't know what all to pick up."
However, the Hamari Adhuri Kahani star did admit that she was nervous while recreating the iconic Shola jo bhadke song. "She (Geeta Bali) played with her eyes, face, hands... Her fingers spoke so much and she used her wrists beautifully. Most of the shots are close-up so I realised it was the smile, the face, the eyes… it was all of that which really charmed."
So Vidya wasn't worried about the dance but the expressions? "I focused on that," she smiles.
IMAGE: Mangesh Desai and Vidya Balan at the Shola jo bhadke song launch. Photograph: Pradeep Bandekar
The choreographer was also constantly saying,'No Vidya Balan... Geeta Bali'," she laughs
At the event, the Parineeta heroine reveals why she was meant to do the film. The talented actress confessed that her producer-husband (Siddharth Roy Kapur) is passionate about posters of old movies and has around 60 to 70 of them. "Since we got married, the only poster we have not changed (on our walls) is that of Albela."
She adds, "Bhagwan Dada is supposed to have learnt dance from Siddharth's maternal grandfather (Sam Aaron), who was a pioneer in bringing all the western forms of dance to India. I think I was meant to do this."