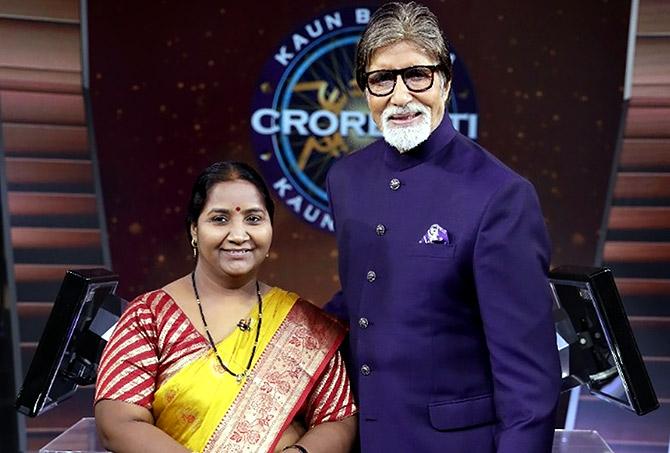 After winning a prize money of Rs 1 crore on Kaun Banega Crorepati 11, Babita Tade has become an overnight sensation.
But behind those surreal moments of joy and success have been countless days of struggle and hard work.
Babita hails from a small village in Maharashtra, where a government school has employed her to cook mid-day meals for about 450 students.
From earning a meager monthly salary of Rs 1,500 to sitting next to Amitabh Bachchan and taking home Rs 1 crore, the story of Khichdi Kaku -- as she is known -- seems like a fairy tale.
"Many people in my village, who thought I could not do anything, are in shock after I won the money," Babita Tade tells Rediff.com Contributor Mohnish Singh.
It's a big achievement for Babita, and she acknowledges that.
Babita admits she was nervous before the Fastest Finger First round, which selects the contestant for the hot seat.
So how did she manage to clear it? She tells us in this video.
Babita reveals that not many people in her village even knew that she is a graduate.
When she auditioned for KBC, she did not tell everyone.
She felt that the people in her village might have laughed at her.
When they learnt that she won such a huge amount on the show, they got a shock!
"They are yet to come out of shock," she says with a laugh.
The Rs 7 crore question that Babita failed to answer was: 'Which of these states has had the most number of its governors become presidents of India?' The options were: Rajasthan, Bihar, Punjab and Andhra Pradesh.
Babita says she was 80 per cent sure that Bihar was the right answer but did not want to take the chance, as she did not have a lifeline.
Babita tells us more about her job of cooking mid-day meals for a school.
It was her husband, who works there as a peon, who got her a job.
Babita would read books and newspapers and keep abreast of current affairs.
Just how will Babita spend the Rs 1 crore prize money?
She tells us here.
So how exactly does Babita cook her delicious biryani?
She shows us here, so that you can make it too!
Videos: Afsar Dayatar/ Rediff.com