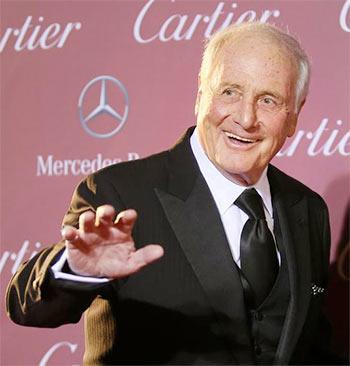 Veteran Hollywood producer Jerry Weintraub has died of cardiac arrest at his residence in Santa Barbara, California, said The Hollywood Reporter. He was 77.

Best known for films like the Ocean's trilogy, Nashville and the Karate Kid, Weintraub also promoted concerts for Elvis Presley, Frank Sinatra and Bob Dylan.

'In the coming days there will be tributes about our friend Jerry Weintraub... We'll laugh at his great stories and applaud his accomplishments,' George Clooney, who starred in the Ocean's movies, said in a statement.

'And in the years to come, the stories and accomplishments will get better with age, just as Jerry would have wanted it,' Clooney added.

Brad Pitt, paying tribute to the producer, stated, 'He was an absolute original. I loved him and will genuinely miss him.'

Born in September 26, 1937, in Brooklyn, Weintraub forayed into movies after he met director Robert Altman, who asked him to executive produce the 1975 film Nashville, which
garnered five Oscar nominations, including best picture.
Weintraub produced
Diner
,
Oh, God!
,
September 30, 1955
,
Cruising
, three sequels to
The Karate Kid
, and HBO's
Behind the Candelabra
, winner of 11 Emmy Awards.
He recently executive produced the new comedy
The Brink
for HBO, and was a producer on the upcoming remake of
Westworld
that has been turned into an HBO series and the upcoming film version of
Tarzan
.
Weintraub is survived by his wife
Jane
and his long-time companion
Susan Elkins
, his four children,
Michael
,
Julie
,
Jamie
and
Jodie
, as well as five grandchildren,
Sarah
,
Rachael
,
Joseph
,
Ari
and
Samuel
.