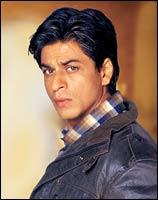 Shah Rukh Khan's strong box-office clout abroad was evident again as Yash Chopra's Veer-Zaara became an instant hit in the United Kingdom and North America, grossing about $1.8 million over the weekend, ending many months of box-office famine.
The only other big hit abroad this year has been Main Hoon Naa, also featuring, and produced by, Shah Rukh Khan.

The movie could not overtake the North American opening of Kabhi Khushi Kabhie Gham, which set a record for a desi film, opening with a $1 million weekend.
In the United Kingdom, Veer-Zaara grossed a little more than K3G.

Unlike in India, where the restored version of Mughal-e-Azam might eat into its box-office take, in North America and the UK, Veer-Zaara opened without much competition. The colourised Mughal-e-Azam is yet to open on both sides of the Atlantic.

In the UK, the Yash Chopra film grossed an estimated 485,000 pounds (about $900,000) for the fourth position on the box-office chart, led by Bridget Jones: The Edge Of Reason that has grossed about $14 million, including the previews.





Our Veer-Zaara section

Veer-Zaara

is like a rash!

The SRK Interview



In North America, the Chopra film was in the 15th position with $900,000 including a few previews. The North American box-office was led by The Incredibles with a $50 million gross.

"We have done as per our expectations. We have been hearing from people who have seen the film many times," said Jawahar Sharma at Yash Raj Films in New York. "This is the first Indian film to open with 88 prints in this country, and we are confident we will have the same number of prints in the second week."

Fans in New York and New Jersey cinemas said they were drawn to the film by its star cast and catchy music. Some said with Shah Rukh in a film, there was no chance of it turning dull.

Older viewers, in particular, said they liked the late Madan Mohan's music, and were reminded of Yash Chopra resurrecting the career of composer Khayyam whose lingering songs in Kabhi Kabhi helped to make the film a big success nearly three decades ago.

Yash Raj Films were badly mauled at the US box-office recently with the weak showing of Dhoom (one of the biggest hits In India this year), which grossed just about $450,000 in the UK and US, stubbornly refusing to mimic its runaway Indian success.
If the usual rate of attrition for desi films -- losing about 50 percent of the audience in successive weeks -- holds good for Veer-Zaara, it could end up earning over $4.5 million in the UK and US. And it could have a longer life following video and DVD sales, proving to be the year's hottest hit.