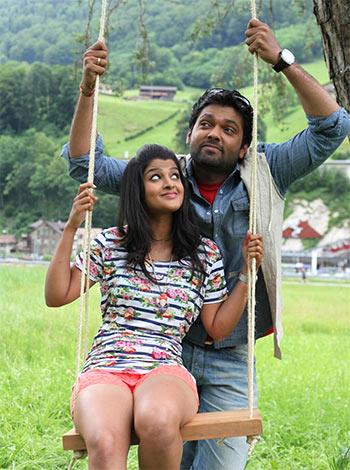 Rakshit Shetty is one of the busiest actors in Kannada cinema. He is also charting a path in the film industry as a credible writer-director.
His directorial debut Ulidavaru Kandathe may not have given him a huge box office success, but his path breaking approach won him praise.
For the first time Rakshit collaborates with Yograj Bhat in Vaastu Prakaara, which releases on April 2.
The film also stars Anant Nag, Jaggesh, Parul Yadav and Aishani Shetty.
Rakshit talks to Praveen Sundaram about Vaastu Prakaara and several of the other projects he has in the pipeline.
Vaastu Prakaara is your first film with Yograj Bhat. How would you describe the experience?
It was a totally different experience because the way I work is completely different from the way Yograj Sir shoots a film.
I like to go to the set well prepared, having read the script at least 20 times. He believes in writing the scenes and dialogues on the spot.
We used to get the scenes just five minutes before we went on the set and had very little time to prepare.
He usually has lengthy scenes that run to seven or eight pages. We have just five or ten minutes to get ready for the shot.
The first two or three days were difficult, but then I got used to it.
You are a writer-director yourself. Did you make any suggestions during the shoot? Was Yograj open to them?
He is open to anybody's suggestion, but the way I write a scene is very different from the way he writes.
The texture of his dialogue writing is different, laced with humour. I don't have that kind of talent.
My humour is situational and subtle; his is in your face and loud.
How did he decide to cast you?
I was approached by his production house after Simplag Ondu Love Story.
I was busy with Ulidavaru Kandanthe then and couldn't take it up.
One day, when I was held up in post-production work in Chennai, Yograj Sir called me and said that he has a script and would like to cast me.
There are some writers and directors that I want to work with and Yograj Sir is on top of that list.
So I didn't even ask him what the script was about; I told him I would do it.
The trailer suggests that Jaggesh and you are con men fooling around with vaastu. How was it working with him?
Yes, we are like con men. The whole film is about vaastu. I tell everyone in my village that my uncle is a millionaire abroad, but after I go there, I find that he sells mosquito bats on the road!
My uncle suggests that we can mint money by claiming to be vaastu experts. My character's father is a vaastu exponent in the film, so I know a little bit about it. We make a lot of money and the story continues that way.
Anant Nag is also in this film and you are both in Godi Banna Saadharna Maikattu, which releases later this year. What was working with the veteran like?
I share more screen space with Anant Nag Sir in Godi Banna Saadharna Maikattu.
I would say it was a better experience working with him in that film where I play his son.
In Vaastu Prakaara, I just have two or three scenes with him.
The kind of energy and preparation he brings to the character even at this age is amazing.
Is it true that you signed Godi Banna Saadharna Maikattu only after the first teaser came out?
Yes. Hemanth had me in mind when he wrote Godi Banna Saadharna Maikattu. I was busy with other projects and could not commit to him immediately.
I asked for more time. By the time the teaser came out, I realised my other films were being postponed and I had the time.
I called Hemanth said if he had not cast anybody else I would like to be a part of it.
How different is Godi Banna Saadharna Maikattu from Vaastu Prakaara?
Vaastu Prakaara is an out-and-out mainstream commercial film with the Yograj Bhat stamp.
Usually in Yograj's Sir's films he concentrates more on dialogues, but in Vaastu Prakaara you will see that it has a very interesting story as well.
Godi Banna Saadharna Maikattu is not exactly a formulaic commercial film, but it has the commercial elements that would entertain people.
It will connect with all kinds of audiences because of its subtle comedy and it is about a father-son relationship.
Image: Movie poster of Vaastu Prakaara
How many films are you doing currently? You seem to have many back-to-back releases this year…
Apart from Vaastu Prakaara and Godi Banna Saadharna Maikattu, I am doing Rishabh Shetty's Rikki.
We only have to film two songs. We had to postpone it for continuity's sake as I had to change my hairstyle for Godi Banna.
Rikki could be a June-July release.
Then there is Giriraj's film, the working title being Wanted Dead Or Alive. We will begin shooting in May.
Your second film as director is Thugs of Malgudi with Sudeep. Tell us about that.
I can't talk much about it at this point. I can say that the same team who worked on my Ulidavaru Kandanthe will be working on Thugs of Malgudi.
I am still writing it. I hope to finish the first draft of the script by the second week of May.
Considering Sudeep is very popular in the south and reasonably popular in the north, after Eega, are you planning a multi-lingual?
The idea is to make it in Hindi and Kannada.
If you recollect, Malgudi Days was set in Karnataka and made in Hindi and we all know how people connected with it across the nation.
I think not many have tried a South India-centric Hindi film, portraying everything authentically.
The flavour will be South Indian and the language will be 'South Indian Hindi' like Shankar Nag's Malgudi Days.
The story will be set in R K Narayan's Malgudi. I will be using some of his characters like Swami or Seshadri.
I will be introducing thugs in Malgudi. It will be more of a kill kill bang bang kind of a film, perhaps a spaghetti Western.
There is a logical reason for rooting the script in Malgudi, in pre-independent 1930s.
Sounds interesting. Is it your tribute to Shankar Nag?
I will definitely be paying tribute to the late Shankar Nag and R K Narayan. The title itself is a tribute.
It is a delicate subject and the idea has just begun sprouting. I need to put a lot of things on paper and craft them carefully.
It will be in Hindi and Kannada with English subtitles. I want audiences from whatever part of the country to watch it.
I don't think we will be dubbing it. When we do not allow other languages to be dubbed into Kannada, it would be hypocrisy to dub our films in other languages.
And since we watch Tamil and Telugu films, I think they should also be provided with an opportunity to watch our Kannada films with subtitles.
When the trailer of Vaastu Prakaara was released, so many people from other states messaged me wishing me luck.
Clearly as a writer-director and an actor you want to expand your market beyond the borders of Karnataka. Do you think your debut Ulidavaru Kandanthe did not give you the credit you deserved?
Apart from the box office success, I think I got my due.
One thing I wanted to achieve was for people to remember the film for a long time to come.
I think I have achieved that.