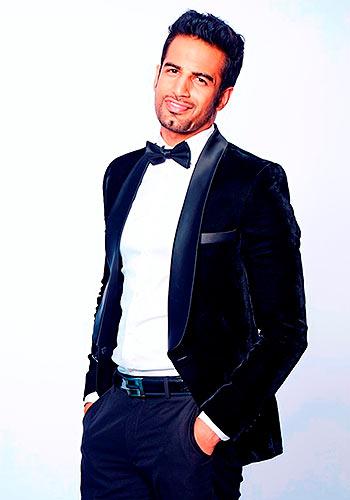 'Karishma and I are old friends and I love her as my friend. She has a boyfriend so whatever I said in the house was just in good humour.'

Upen Patel, quite the charmer in the Bigg Boss house, explains his closeness with fellow inmate Karishma Tanna to Rajul Hegde/Rediff.com.

Model and actor Upen Patel has been ousted from the reality show Bigg Boss 8 in a surprise mid-week eviction.

"We were made to lie down in the coffins, especially made for each one of us. None of us knew what was about to follow," he says.
"I was surprised when I got eliminated, as it came very late at night. I had lasted for 100 days. I thought I would be in the top five," Upen adds.

One of the most calm and composed inmates in this season, Upen had recently shocked viewers and fellow participants by picking fights with co-contestants, forcing them to nominate him for this week's elimination.
But he doesn't think it was this behaviourial change that did him in.
"Some of the housemates like Puneet (Issar) and Gautam (Gulati) were more aggressive than I was in the last two weeks. But they had no problems. How can you not judge a person in 12 weeks and judge him in two weeks?" he asks.

He adds, "I was being cornered and my opinions were not being valued in the house. There comes a point when a person in such a situation will lose it and lash out. The same thing happened with me.
"The outburst was just the things happening in the house.
"Also, I felt isolated because some of my friends had been evicted," he says.

The 36 China Town actor said that "the concept of the show is such that you cannot stay out of fights."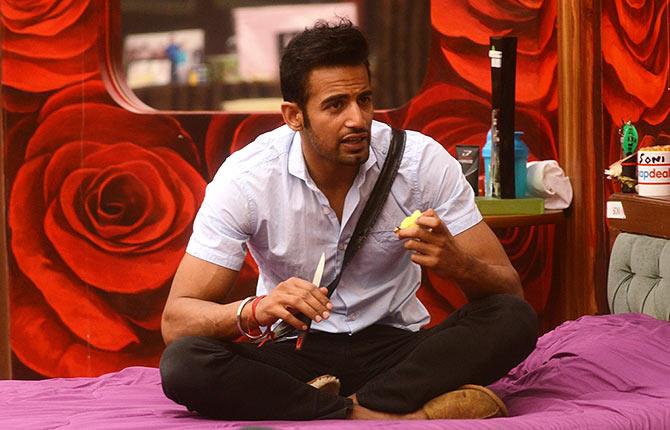 Image: Upen Patel, in Bigg Boss 8
Upen was quite the charmer in the Bigg Boss house and popular with some of his female co-contestants like Soni Singh, Minissha Lamba, Natasha Stankovic, Deepshika, Diandra Soares and Karishma Tanna.
"The girls were friendly and we respected each other. I have made friends inside the house. It could be because we tend to open up with people around us in the house when there is nothing else to talk about," he explains.

Upen says living in the Bigg Boss house was a lifetime experience.
"It was a great journey. I have learnt a lot. I wish I could have stayed longer in the house. I was honest during my stay and I didn't do things for publicity," he says.

He was especially close to Karishma Tanna. He once jokingly said in the house that he loves her and would love to marry her if her current relationship failed.

"We are old friends and I love her as my friend. She has a boyfriend so whatever I said in the house was just in good humour. There was nothing more to it," he clarifies.

Karishma is still in the house and he hopes she will win.

Upen will be seen next in Shankar's I, which releases on January 14. He says he has "mixed feelings" about being out of the show in time for the film's release, as he "wanted to stay for a few more days in the house."