'Fawad is someone I admire and whom I connect with as a friend. I would love to do a film with him where we can share screen space for a longer time.'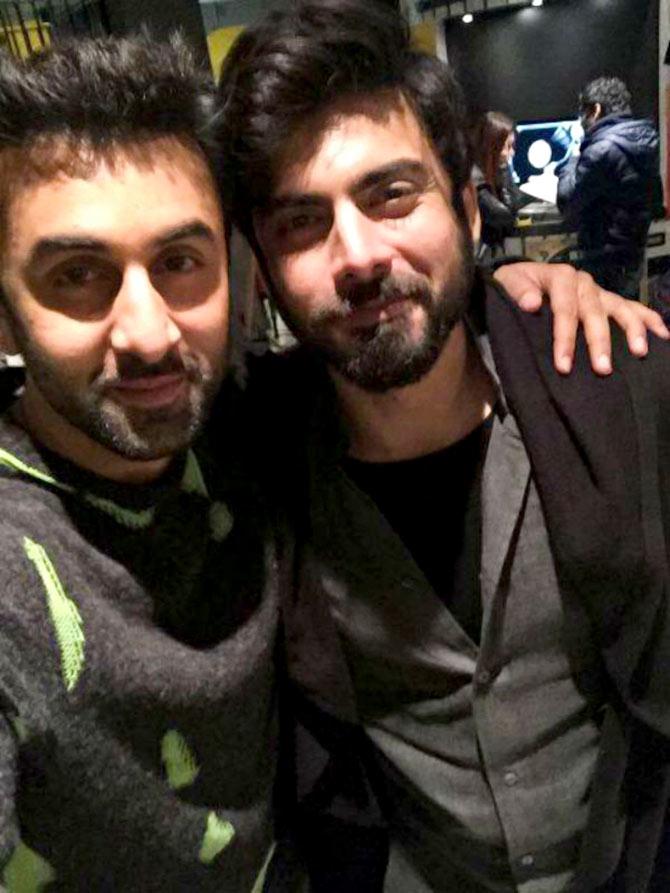 IMAGE: Ranbir and Fawad on the sets of Ae Dil Hai Mushkil. Photograph: Karan Johar/ Instagram
Ranbir Kapoor says he is an admirer of Fawad Khan and feels sad that the Pakistani actor's name was dragged into a controversy during the release of Ae Dil Hai Mushkil.
Fawad, a big name in Pakistan, became a heartthrob in India after his debut with Khoobsurat.
However, the clamour against Pakistani artists just before the release of Ae Dil Hai Mushkil, which featured Fawad in a cameo, resulted in him leaving the country.
In an interview with PTI, Ranbir says, "I am a big admirer of Fawad as a talent. His role in Ae Dil Hai Mushkil added so much of dignity and impact. He was kind enough to do it as it was like a guest appearance, it wasn't a big part.
"It was unfortunate that Fawad had to bear the brunt due to the political climate. He is someone I admire and whom I connect with, as a friend. I would love to do a film with him where we can share screen space for a longer time," he adds.
Ranbir says his parents, Rishi and Neetu Kapoor, also like the Pakistani heartthrob and his mother often watches Fawad's popular television shows.
"I loved his part in Kapoor and Sons. My parents are his fans. My mother is borderline obsessed with Fawad, she has been watching serials like Humsafar," he says.
Ae Dil Hai Mushkil also marked the first collaboration between Ranbir and Karan Johar as a director and the actor says he would love to collaborate with the filmmaker again.
"We keep talking about films all the time. We are close friends. Karan just had two lovely babies and that is taking most of his time. I think he will take a break before he gets back and don the hat of a director. Whenever he has a film to make, I would love to be a part of it," he says.
Ranbir is currently busy promoting his new film Jagga Jasoos, which also features his former girlfriend Katrina Kaif. The film will release on July 14.