Vinod Kambli did not even last for two weeks in Bigg Boss and was evicted last weekend. The soft-spoken former cricketer did not contribute much to the endless bickering in the house, and had, in fact, got the least number of nominations from the houseguests.
He tells Rajul Hegde about his dream of playing cricket with his childhood friend Sachin Tendulkar and his desire to make a comeback.
You were such an entertainer on the cricket field. What went wrong in Bigg Boss?
I'm really surprised that I was evicted from the house. I don't agree with the verdict; I feel the audience wanted to see more of me on the show.
I went on the show to get the Bigg Boss experience because I had watched the earlier seasons closely.
How was the experience?
Very challenging. You're living 24/7 with unknown people under one roof, knowing that they are backbiting against you. But I have gone through this in real life too so these things didn't affect me.
The housemates were trying to play games but Bigg Boss played a bigger game by bowling a googly (a video clip of the housemates plotting and backbiting was shown in the house). In fact, I was ready with the bat, helmet and pad and was waiting for someone to come forward and provoke me but nobody dared (smiles).
Why do you think you were evicted?
My wife was shocked because she didn't expect me to be out so soon. It's a game; anything can happen. I can't believe that I'm out of the house too!
The reason given was that I was non-controversial, and that was not enough for the TRPs. But that's the way I am. Two weeks were good enough for experience but I feel I should have given another chance. All the good contestants are getting evicted and the ones who are plotting against each other are still in there.
Why didn't you play games in the house?
They have duel personalities; I don't think they are like that in real life. Everyone was trying to play games. I cannot plot and backbite because it's not me. I was waiting for them to provoke me but that didn't happen because they were scared and careful when they spoke to me. They knew everything about me but they only asked me about my cricketing days.
Kamal Khan came in late. Had he been in the house before I got out, the scene would have been different (laughs).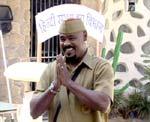 Did you gel with everyone?
I gelled with almost everyone. I got along well with Vindoo even though he was the one plotting against us, which I learnt later.
I forgive them because it's just a game. Who am I to punish them? I know people are not like this in real life. What surprised me was that Aditi nominated me. That was backstabbing because I know her very well and she had been very nice to me. Only she nominated me.
Do you think you were at a disadvantage because you entered the house after a few weeks?
I knew it was a big challenge to enter after a few weeks, and I accepted it. I didn't fight with anyone but I was ready. If I had survived longer on the show, I would have definitely given everyone a piece of my mind. But if I was in their place, I would have reacted the same way.
What did you learn from the house?
I learnt to bitch (smiles).
Best moment in the house?
Bigg Boss sent a picture of Sachin Tendulkar and me when he completed 20 years in the game. The photograph was 15-16 years old and brought back the memories of my childhood. After coming out, I learnt that he had also completed 30,000 runs. I have retired from international cricket but I want say that I want to play one last time with Sachin. I want to play for the Indian Premier League, for any team, but I would prefer to play with Sachin. I am going to start practicing very soon.
How was your interaction with Amitabh Bachchan?
He is my idol. Interacting with him was like talking to my father. I told him what I had been through in life. It was an emotional moment for me. When you talk to him, you tend to forget everything and start confessing.
Would you like to go back as a wild card entry?
Why not? The first entry was like a cricketer, the second will be like a politician.
Did you lose weight in the house?
Yes. I lost seven kilos because of my workouts and healthy food. My cake, eggs and kheer were stolen from the fridge the first week. On Vindoo's father -- Dara Singh's -- birthday, Bigg Boss sent a cake. I liked it so I kept it in the fridge. Nobody touched it (smiles).
What made you take up this show?
I have been on shows like Ek Khiladi Ek Haseena, Comedy Circus and Sach Ka Saamna only for experience. I wanted to see what it was like to be in the Bigg Boss house, cut off from the outside world. Now I am ready to take up another show if it excites me.