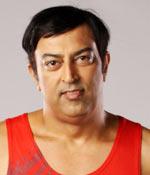 Looks like Vindu Dara Singh is not done with television just yet.
The winner of the third season of television reality show Bigg Boss is now ready to judge a dance reality show, Chak Dhoom Dhoom on Colors.
According to reports, the show will replace Abhishek Bachchan's National Bingo Night though nothing is finalised as yet.
Vindu says his life has changed after Bigg Boss and people treat him differently now. Bigg Boss helped him make his own identity in showbiz. He tells Rajul Hegde more.
You say people treat you differently now. How?
Life has changed completely. I have started travelling a lot because work has increased. At airports, people ask me for autographs and pictures. Some people even told me that they watched Bigg Boss only because of me. I feel special when I hear such things -- it's a huge compliment. I am overwhelmed with the love I keep getting from strangers. I thank them for that. Some of my friends, who did not keep in touch with me, have been calling me up to congratulate. It feels great.
But I cannot spend much time with my family nowadays. My wife had planned a 15-day trip to Europe after Bigg Boss but I couldn't go because of prior commitments. She had to go ahead with her plans with three other couples because the tickets were already booked. She was not upset though because she understood my problem.
Your father, popular wrestler Dara Singh, was shocked see you cry on Bigg Boss.
Yes, he was shocked to see me crying frequently on the show. But he understood why when I explained the situation to him.
Are you in touch with any of the housemates?


Yes. I'm in touch with Poonamji (Dhillion), Rajubhai (Srivastav), Vinod (Kambli), Ismailbhai (Darbar), Aditi (Govitrikar), Claudia (Ciesla) and Shamita Shetty. We hang out and it's fun. Poonamji and Ismailbhai are really special to me. I respect them a lot.
You will be judging a reality show, Chak Dhoom Dhoom, for the first time. What will be your judging criteria?
I will not be strict. I will be an aam [ordinary] judge. Co-judges Saroj Khan and Ahmed Khan (choreographers) with take care of the technicalities. I will judge like a viewer or a father. I will look for confidence, the effort the child has put in and dancing skills. But I but will not care if the contestant misses a step. I will not mess with the children because they are very sensitive. I will encourage and support those, who will not make it to the finals.
How was your first interaction with Saroj and Ahmed Khan?

I have worked with Saroji before so I know her. I have met Ahmed at parties. It would be fun to sit and judge together.
Have the auditions started?


We are doing auditions in six cities in 45 days. We had started with Lucknow but could not go ahead with the audition because the number of children, who had come for the audition, exceeded the channel's expectations. We will conduct the audition only after the channel shortlists them. The show will start in May.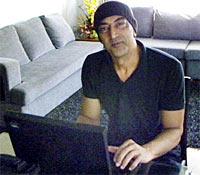 Pravesh Rana is hosting the show but the two of you did not gel well in Bigg Boss. What kind of equation do you have with him now?
We didn't get along only during Bigg Boss. He apologised for his behavior after Bigg Boss. He told that if had he not fought with me, it would have been difficult for him to survive until the finale.
We played Bingo together after Bigg Boss, and it was fun. We have moved on and I am sure he will do a good job as a host. We are not the best of friends but we are cordial to each other when we meet.
Recently, your wife Dina did a photoshoot for a bikini calendar. Care to comment?
(Photographer) Manish Chaturvedi is a dear friend of ours. The calendar was shot when I was inside Bigg Boss. She hardly does any photoshoots. But this was for our friend Manish. Otherwise, Dina is happy taking care of our daughter.
Are you doing any more films?
Yes. I have been flooded with offers. I am doing an ad for the Indian Premier League with Ranbir Kapoor. I am playing a hero for the first time in Guddu Dhanoa's first Punjabi film, Lion of Punjab. Divya Dutta also stars in the film. I wanted to play a villain in it but the director convinced me to play the hero because Punjabis are crazy about me. I am doing Sajid Nadiadwala's next and one more film.
How will you balance films and a reality show?
I will be able to take time off for my films as I will start shooting for them only next month.