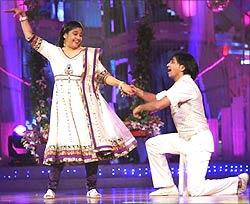 Renuka Shahane, who charmed us with her infectious smile in Hum Aapke Hain Koun...!, became the second contestant to be evicted from Jhalak Dikhhla Jaa, along with her partner Jay Kumar Nair of Dance India Dance fame.
Renuka looks back on the experience.
What prompted you to take up a dance reality show?
I love dancing but had never danced in my life because I was petrified of learning, dancing and performing. My husband (actor Ashutosh Rana) encouraged me and he was very keen on me doing this show.
My mother didn't approve of me dancing and some of my friends felt that it wasn't a great idea to take up a dance reality show at this stage of my career. But my husband told me it's a once in a lifetime opportunity to learn dance and perform in front of experts. Everything fell in place -- not to forget we get paid to dance (laughs).
Did you enjoy your stint in Jhalak Dikhhla Jaa?
Yes. I never imagined it would be so good; it was a fabulous experience. There was a huge growth within me. I shed inhibitions about dancing in front of judges, my flexibility and awkwardness.
Did you feel bad that you didn't get enough time to prove yourself?
Of course. Being a non-dancer, I wanted to learn more dance forms and perform. Unlike this year, there was a balance of dancers and non-dancers last year. This season there are seven dancers and five non-dancers. Obviously, it becomes tougher for the non-dancers to learn new dance forms in the given time.
Last year, there was more reality than this year because viewers got to see everything -- the celebrity as a person, the effort, hard work and dance. That is why Gauhar (Khan), a good dancer, lost to Baichung Bhutia (the Season 3 winner); she was constantly cribbing. Baichung, a non-dancer, improved with every performance, got good remarks and votes and also came out as a humble person. I guess this year they are concentrating more on good dancing (smiles).
How did your children and husband Ashutosh Rana react to your elimination?
My elder son is upset because he wanted me to win (laughs). But the younger one is very happy because he hated every movement of my dance. He doesn't like me working or for that matter doesn't like me even working on the computer. He dislikes anything that comes between paying attention to him (smiles).
My husband was most disappointed because he thought I would come home with the trophy. He couldn't believe I was eliminated. I was fine but he was upset. I had to come home and give him a pep talk (chuckles).
How long did you expect to survive in the show?
I never thought about it. It was never in my mind when I took up this show. I agreed to do this show only because the rehearsal hall is just five minutes away from my home, and the timings were good, which means that it didn't affect my daily schedules.
I haven't taken up acting only because it's time consuming and difficult to balance work and home. For me being on the show was a kind of personal triumph and the process of learning was very important. Winning or losing didn't matter, the experience was satisfying.
Did Madhuri Dixit (one of the judges on the show) give you any tips on dancing?
I haven't interacted much with her. I have to maintain that she is the judge and I am a contestant. So I did not use my past relationship (they worked together in HAHK) with her till the last day of Jhalak. I have interacted with her officially; she was encouraging and sweet.
Was your weight a problem while dancing?
I don't think so. There are people who are heavier than me and can dance superbly. I lost seven kilos after I started dancing; it was like doing a cardio. We would practice five days a week for three-four hours a day.
Will you take up dancing now?
Yes. I love dancing. I am waiting for the wild card; I need to do rehearsals for that. I will wait because I don't want to do too much of cardio at a time (smiles). I have a friend who is very good at Kathak and I am very keen on learning it. I have asked her whether it's too late for me to learn this particular dance form. She said I can learn any time. So I am planning to join after Jhalak ends in March. I like salsa also, but I want to concentrate on one thing at time.
After your directorial debut with Marathi film Rita, what are your other projects?
I am writing the screenplay for a Hindi and Marathi film. I am still developing it. My husband liked the character of the main lead and is keen on working in the Hindi film, but we haven't finalized the lead actress yet. My hands are full now and I don't have time for anything else (smiles).