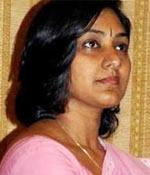 Kalaignar TV's Tamil programme Azhagiya Tamizh Magal offers a platform for women to discuss topics that are prevalent in society. It helps them to face problems by finding solutions for them.
The show is moderated by versatile actress Rohini, who tries to get the women to participate in the discussions actively.
After more than two years on air and gathering many staunch followers, the show seeks to re-define its boundaries.
In an interview with rediff.com, Rohini shares her experiences on the show, and how it changed her perspectives. Excerpts:
How exactly does Azhagiya Tamizh Magal work?
We usually visit a certain venue, take up a topic, and introduce it from our point-of-view to our audience, all women. We open the floor to them, and then the discussion gets started.
In the beginning, we started out with specific issues, but of late, we have no restrictions. Anything and everything that needs to be brought into the open goes.
We also announce about government schemes meant to help women, and certain sections of the society -- things that people are not easily aware of.
At present, only women participate in the show. I campaigned pretty hard for men to be a part of the show -- we need other perspectives too. But that was vetoed. [Laughs]
Many of the women participating are new to public forums. How do you get them to interact on the show?
It's true that some of them have never spoken on stage before the show, but with a little bit of training, they relax and learn the joys of participation. We do everything to make sure their voices are heard. We give them points to work on; we let them talk for or against any topic -- they speak about whatever they want.
We also announce, beforehand if we're going to talk about issues relating to children, or physically challenged people. So far, the response has been phenomenal.
We've held the show all over Tamil Nadu -- Thiruvannamalai, Thiruppur, Salem, Tiruchy, Coimbatore, Madurai -- in the last two years. Lots of areas have been covered and many issues discussed. I don't think we've ever repeated a venue, so far. We even went to Delhi, once!
I was amazed to see women from so many different strata of society participating. You would think affluent women would have no problems but they were eager to share their views with us. We'll be going to Bangalore, soon. In my experience, women from every region are beautiful and have their own stories to share.
I learnt one thing, though, in all these venues, despite the changes in place or language or status, women all over come together when a problem needs to be addressed.
Of course, I'm not satisfied with just India. Maybe we could go to Dubai and other countries! [Laughs]
How effective do you think such an open discussion of issues is? How quickly are solutions reached?
Reaching solutions is a process. The show features around 18-20 women in a panel, discussing certain topics. For this to happen, we usually audition around 50 women at the very least. Most of these women would have had very little prior experience with speaking in public, let alone in-depth knowledge of the issues themselves. We usually audition them by giving them a topic and time to prepare.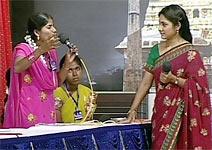 More often than not, women come out of their shells and speak their mind. These are family-women, and when they gather information, they gain knowledge; an understanding of what they're talking about. It gives them quite a boost, and with constant encouragement, they become capable of doing things they never thought they could do so before.
Take the example of a woman who single-handedly dug the Radha Canal in the Tanjore District. I have never seen such determination! Her work set an example for other people in her village, and they began to help her out, digging all the canals in the area for the purposes of agriculture and even petitioning the local authorities.
When there are people like these, others follow their example quickly. Say, we're camped at a venue for a couple of days, we get together often and become almost like a family. Networking begins there; you get in touch with people who can provide solutions to the problems. We usually reach out to the MLAs of the areas we visit; often they can provide a concrete solution to issues and inform us about government schemes to aid them.
How has this show changed your perspective?
I am awed at the strength and initiative shown by the women I meet. You see so many seriously afflicted persons who go about life, doing the best they can, finding a solution where there seems to be none. Their courage opens new doors for me. We often fall into a self-pity, thinking that maybe we're the victims. Looking at these women helps me understand that life has more to offer.
Are you doing any more work for both the silver screen?
I'm doing a very interesting project for the soon-to-be-started Captain TV. It's a show on World Cinema, where I'll be informing the audience about world movies, trivia about them, the directors, actors, and so on. I have a keen interest in films, so this is right up my alley.
As for serials, I haven't really been getting anything I can sink my teeth into. As far as cinema is concerned, after Virumandi, I did a movie called Nandhalala, which hasn't been released yet.
I have been doing some theatre work too. I did a couple of plays Grace of the River and Panchaliyin Sabadham, which started out as a poetry-reading and morphed into a full-fledged play! [Laughs] These days, though, I prefer spending a lot of time with my son.
Catch Azhagiya Tamil Magal on Kalaignar TV, at 8 am, on Sundays.