'When we make such stories, that's when we see how tough it is.'
'Our grandmother may narrate a story of a rakshas, but to create that is like chewing peanuts made up of iron!'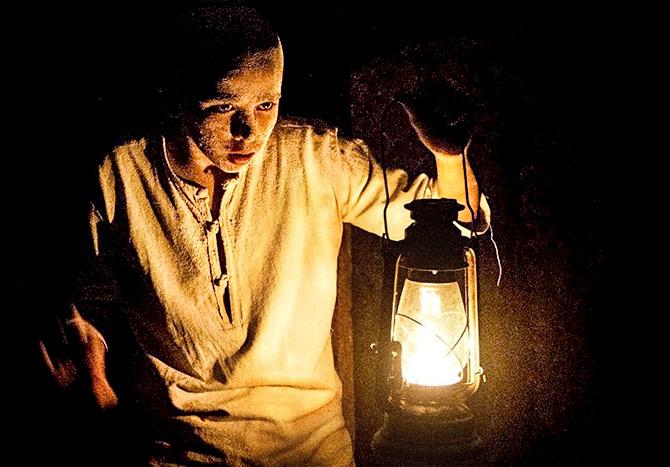 Get ready to be terrified this Friday, October 12, when Tumbbad hits the theatres.
Actor, producer and entrepreneur Sohum Shah takes centrestage in the scary film.
After featuring in Ship Of Theseus (2012), Talvar (2015) and Simran (2017), Sohum is set for this period tale, directed by Rahi Anil Barve and Anand Gandhi.
"The premise is unique and has never been made in India," Sohum, who has also produced the film with Aanand L Rai, tells Rediff.com contributor Ramesh S.
Tell us about your character in Tumbbad.
Vinayak is like Salim-Javed's character, more or less an anti-hero just like Amitabh Bachchan used to be in his earlier movies.
He has a lot of courage, passion and be obsessive.
He has a dark humour and focuses on his goal just like the way Arjun focused on the fish eye.
The film is up for release. Nervous or excited?
Both, actually, but the excitement is more because it has taken a long time and now finally, our movie will be visible for the audience in theatres.
I am waiting for everybody's reaction.
There is also some nervousness. We have done our preparation and are now waiting for the result.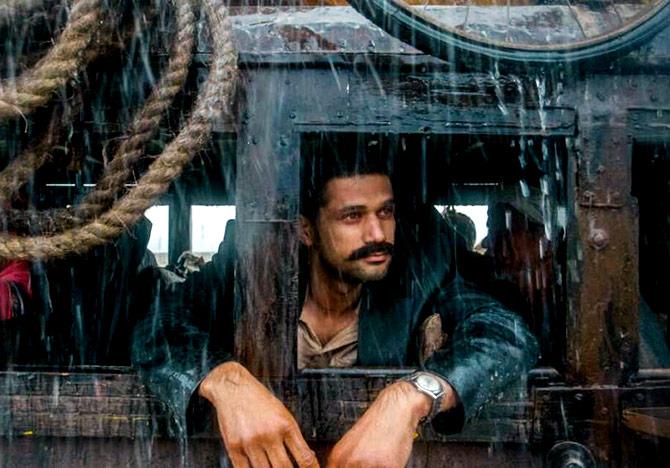 It is said the film's title is derived from Shripad Narayan Pendse's Marathi novel Tumbadche Khot.
Director Rahi Anil Barve approached us with a script that he was trying to make a film on for three or four years.
Rahi visited several studios, met a number of producers, but nothing happened.
Finally, he came to me. I just loved the script.
So I jumped in as actor-producer, and we started making Tumbbad together.
Considering the small budget, how tough was to make a fantasy-horror movie, which would match the expectations of the audience?
Very tough. When Rahi approached me with the script of Tumbbad, I felt it was a folklore and fantasy kind of film, just like our grandmother's stories.
When we make such type of stories, that's when we see how tough it is.
For instance, our grandmother may narrate a story of a rakshas, but to create that is like chewing peanuts made up of iron!
We have to do proper VFX and prosthetics because cheap work is easily visible to our smart audience.
Standards have become high because people are now consuming Hollywood and world cinema.
I have successfully made Tumbbad after facing such odds because I believed that the premise is unique and has never been made in India.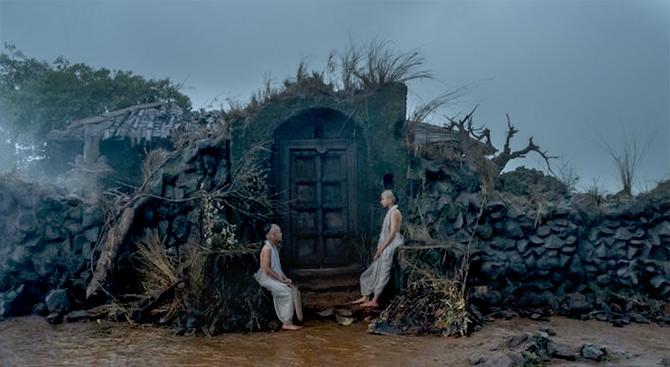 You once said making Tumbbad has been a six-year long roller-coaster ride. What challenges did you face?
I follow Aamir Khan's philosophy a lot, where he says whatever you do, do it with full belief and confidence.
He also says don't look at the time and hard work because if you have made something good, it will reach its destination for sure.
There was a time when other heroes were doing four films in a year, but he chose to do one film per year.
This philosophy is engraved on my mind.
Highs and lows are a part-and-parcel of any work, but once you give commitment to a vision, it should be in progress. And that's why the film took six years to get done.
Our shoot almost got over in May 2015; only some minor portions were left.
Actually, it was supposed to get over on May 3, but got over on May 13, 2015. The pack-up time was 4 am.
It was a filmi scene with dense fog, when the director said that magical word, 'Pack Up'.
I had teary eyes and felt like a war had just ended.
It's another thing that we took three more years after that as well.
But that memory will stay with me.
You shot with thousands of extras for a scene. As an actor-producer, how do you feel where such scenes are edited out?
It feels bad, but at the same, feels good.
It feels bad because as an actor, you tend to get emotional about that particular scene and eventually, it gets edited out.
On the other hand, it feels good because I haven't indulged myself in it.
Another instance was when after months of training, I muscled up for some shots that got edited out.
Our creative team thought that such scenes would break the rhythm of the film.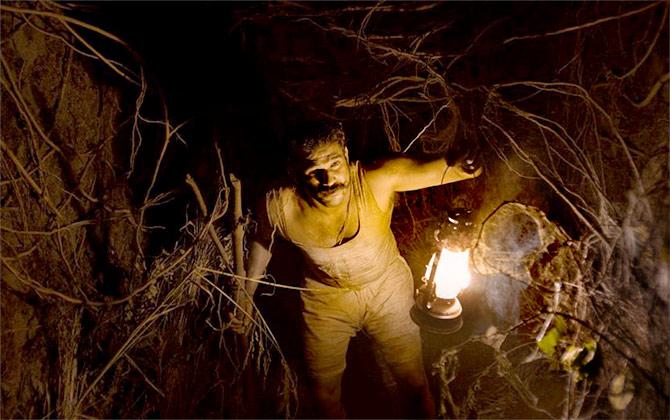 Talking about your body, you maintained the same look for the entire six years. Was that tough? Did you lose any opportunities because of that?
I lost around four or five opportunities.
If you go through my filmography, then as an actor, I have done only two films after my debut Ship of Theseus -- Talvar and Simran.
Then again, it's Aamir Khan's philosophy to do one film at a time.
What matters is quality, not quantity.
Greed is not good.
I have consciously made such decisions in life and continued to work on the same project to make it better.
Sometimes you feel bad that some other actor is doing a role which was offered to you, but then you feel that everything will turn out well eventually.
Rajkumar Hirani and Aanand Rai are praising the movie.
I feel like 'Aaj main upar, aasman neeche' (laughs).
I have grown up watching mainstream cinema starring Shah Rukh Khan, Salman Khan and Aamir Khan. You try to make a different film after watching such type of cinema and still, these big names are appreciating it.
As a result, you start believing that you are on the correct path.
I am getting that validation from such great people from the industry and so feel proud of my film.
I don't know what kind of reaction will come from the audience, but my work got over when Aanand sir and Raju sir appreciated it.
My six years of hard work has paid off.
Didn't you feel the same after Ship of Theseus became won a National Award?
Yes, but still, sometimes, your journey gets extended due to various reasons.
Ship of Theseus was tougher than Tumbbad, and still, it worked.
The love we got after Ship of Theseus was something big. That helped me gain confidence to do a film like Tumbbad.
You worked with Irrfan Khan in Talvar and Kangana Ranaut in Simran.
Irrfan Khan is a great actor, where you cannot deconstruct him. You get to learn a lot of things from an intuitive level.
The same goes for Kangana Ranaut; she does a lot of meditation. She respects her co-actors. I enjoyed working with her in Simran.
What kind of cinema do you like to watch?
I loved Stree.
I love Woody Allen's movies.
I love drama-based films that make you cry.
Although I love comedy movies as well, you get entertained, and then forget. But drama-based movies make an impact on you.
Who are your idols from Hindi cinema?
Shah Rukh Khan, Salman Khan and Aamir Khan.
Irrfan Khan and Ranbir Kapoor are also my favourites.
Shah Rukh Khan is beyond an actor for me; he has contributed in people's lives through his films.
He made everybody's life better by adding joy and excitement to it.
I am not speaking in terms of a fan boy, but there's a solid reason behind it.
My doctor friend was in a depression due to her exams. Then, she watched Kuch Kuch Hota Hai and came out of that depression.
Such things do happen where films impact someone's life.
People say rape and violence are increasing due to films, but such things also happen because of bright movies like Kuch Kuch Hota Hai.
What's next for you?
After Tumbbad, I am making Baatuni, directed by Anand Gandhi.
I will be doing a Web series thriller on Netflix.