'Thank you for my dreams that danced then and now.
'I realise how lucky I was as a child to have grown up around such greatness, so much humility, and at the core of it all a childlike playfulness.'
Legendary Kathak exponent Birju Maharaj passed away at his home in New Delhi in the early hours of Monday.
Bollywood stars pay tribute to the icon.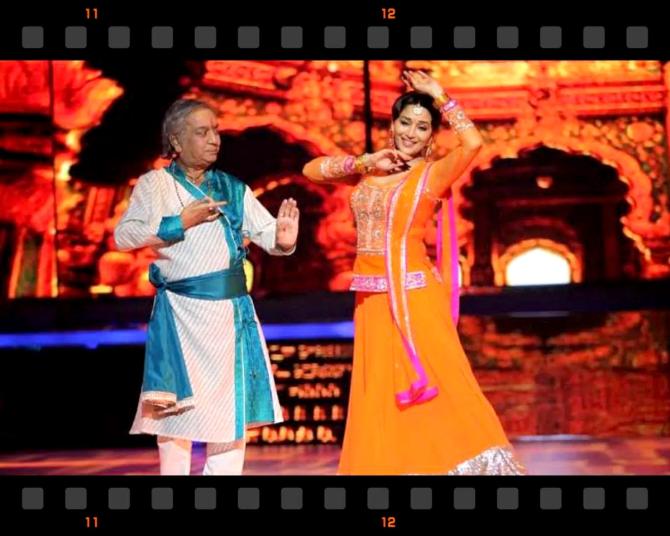 Madhuri Dixit, who was choreographed by Birju Maharaj in Devdas, writes: 'He was a legend but had a child like innocence.
'He was my guru but also my friend. He taught me the intricacies of dance and Abhinay but never failed to make me laugh at his funny anecdotes.
'He has left behind grieving fans and students but also left a legacy we will all carry forward. Thank you Maharajji for everything you taught me in dance along with humility, elegance and grace. कोटी कोटी प्रणाम'
Hema Malini: 'The nation mourns the passing of a true legend, Shri Birju Maharaj, Kathak exponent par excellence.
'His ghungroos were on his ankles till he breathed his last.
'I always admired and respected him as a giant of the medium of Kathak & will miss his presence on the firmament of dance.'
Kajol: 'Pandit Birju Maharaj was a legend and an absolute wonder to watch... The world lost something priceless today. Rest In Peace, my deepest condolences to his family.'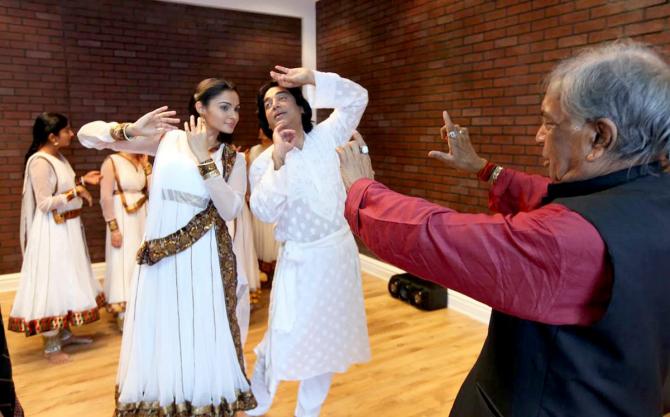 Kamal Haasan had worked with Birju Maharaj in Viswaroopam, and he writes: 'Pandit Birju Maharaj was an unparalleled dancer and he has passed away.
'I learned a lot from him as his student by watching him from a distance like Ekalavya and also by working with him closely during Vishwaroopam.
'He dedicated his whole life to music and dance.
Akshara Haasan: 'Pandit Birju Maharajji. I'm true speechless. This news has broken my heart to know that an angel who was on earth and made it beautiful with himself in the beautiful art form dance.
'His true love and passion ignited my soul into the art form and all that I would chose to do. His elegance, grace, power, strength and sensitive nature and in his art form which was in abundance made him the true artist he was.
'I'm honored, greatful and thankful I got to meet the legend and spend a little bit of time with him. May your soul rest in peace and be happy with your fellow angels.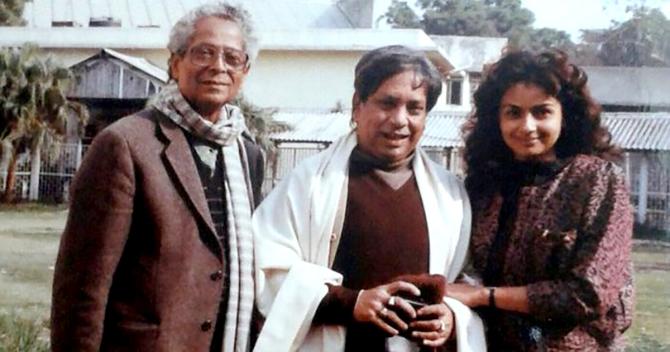 Ishaan Khatter shares a picture of the Kathak legend with his mother Neelima Azim: A life that cannot be summed up in words. Pt. Birju Maharaj's life was a gift to the world. The energy he created with his art will live on forever.
'He is the root of which countless branches were born.
'Taa thaee tat - Om tat sat May his soul rest in eternal peace.'
Subhash Ghai: My first learning from kathak dance maestro was in my college youth festival when he expressed a romantic conversation between lord krishna n radha thru his two eyes talking.
'I learnt 'DANCE means body but soul is in eyes. That's y he was a Jagat guru in kathak RIP BIRJU MAHARAJ SIR U have GIVEN THE WORKD SO MUCH. thank u.'
Shriya Pilgaonkar: 'Pandit Birju Maharaj ji... The epitomy of grace.
'It is hard to stomach the passing away of the universal Kathak Guru. It truly is a huge, irreplaceable loss to the Indian classical dance fraternity.
'I owe a lot to this beautiful dance form and my training as a Kathak dancer under my Guru Smt Nutan Patwardhan ji has shaped me in more ways than I can express . It was exploring 'Abhinaya' that led me to acting.
'Maharaj ji and Kathak was a divine connection. One could see it. I have had the good fortune of attending workshops by Maharaj ji and just to know that we had the opportunity to dance before him still seems surreal.
'This is truly the end of an era.'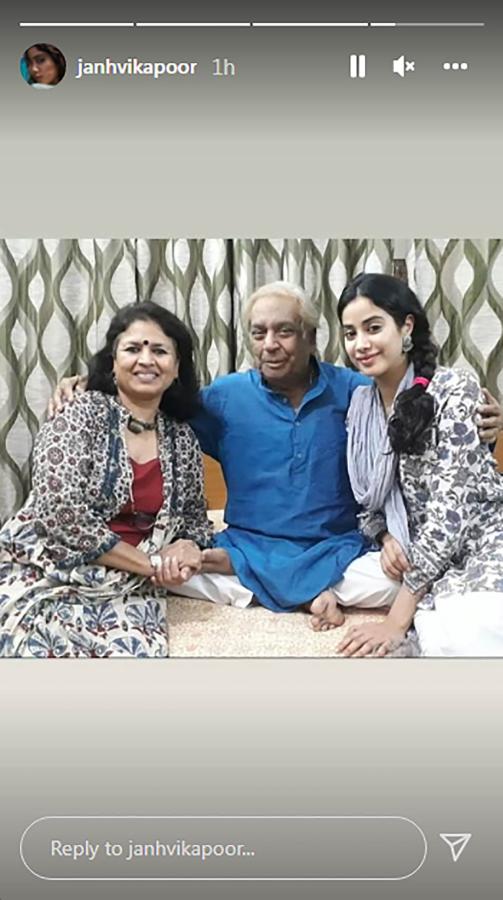 Janhvi Kapoor: shared a picture with Pandit Birju Maharaj on social media.
Aditi Rao Hydari: 'Twinkling eyes that made my imagination soar. Little krishna was sulking and stealing butter in front of me, Radha was drenched in water as she walked home with a broken matka as the cows kicked up dust colouring the orange sky at dusk. A peecock danced in the rain and the monsoon came alive in the scorching heat of a delhi summer.
'We sat as children right under his nose watching him sing thumris and do Abhinaya. And quite often I fell asleep on my mothers lap and the music still rings in my ears from that time!
'Chhedo na nand ke sunahoo... the thousand interpretations of that one line, shringaara in every pore of his being.
'Thank you for being at my arangetram, the first time I ever stepped on to stage.
'Thank you for my dreams that danced then and now
'Thank you for sharing your world with me, with us.
'I realise how lucky I was as a child to have grown up around such greatness, so much humility, and at the core of it all a childlike playfulness.
'You are dance and dance is you
'Rest in peace Maharaj ji
May the sun moon and stars dance with you and celebrate you eternally.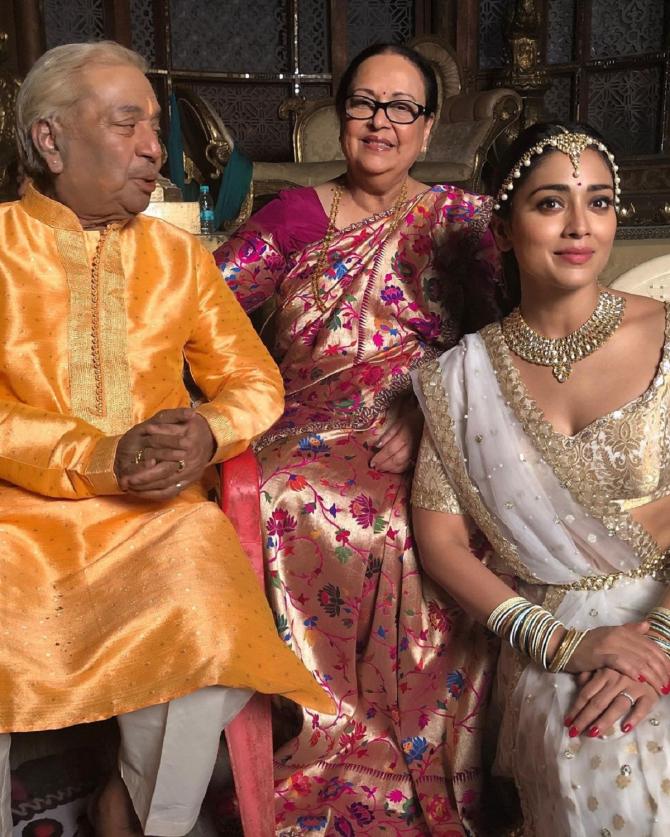 Shriya Saran: 'You will always be remembered and loved by all dance lovers. You are an inspiration, you will live forever in our hearts.'