Tribhanga is mostly a platform for some of our solid actresses to flex their acting chops, notes Sukanya Verma.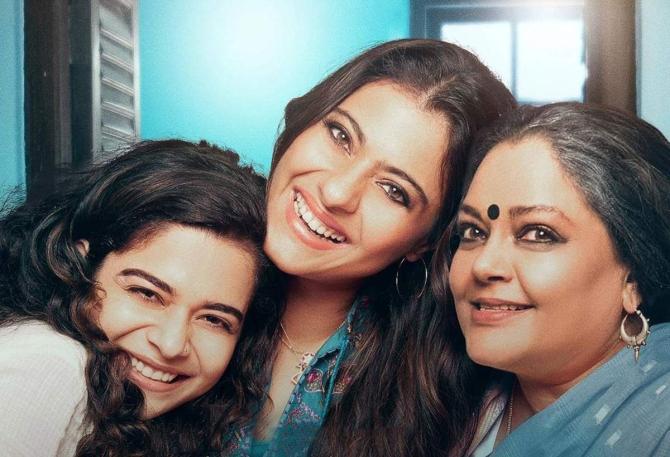 The first 15 minutes of Tribhanga are devoted to Kajol cursing like a sailor.
High strung and rude, she snaps at anyone who dares come in her way.
It's the sort of bratty behaviour and difficult reputation the actress was reportedly known for in her heyday.
And while extremely loud, there's not one false note about Kajol's irascibility.
Toxicity is the core theme of Renuka Shahane's mother-daughter story spanning three generations.
Alluding to the classical slanting pose in Odissi dance form, Tribhanga: Tedhi Medi Crazy is an unwieldy melodrama where regret and resentment are in desperate need of closure.
Told in the inward manner of a standalone television episode, Shahane writes and directs this part-Hindi, part-Marathi picture of gradual reconciliation where a celebrated author Nayantara Apte aka Nayan (Tanvi Azmi) slips into coma and her strained ties with daughter Anuradha (Kajol) are explained over a series of flashbacks.
Nayan is a self-satisfied literary figure oblivious to the troubles her two children, Anuradha and Robindro, faced in their impressionable years leading to an unfillable void.
If Robindro (Vaibhav Tatwawaadi) found peace in spiritual pursuits, Nayan and Anuradha's history of turbulent affairs underline an undercurrent of dissatisfaction.
Before her collapse, Nayan recounts her life story to a socially awkward biographer Milan (Kunaal Roy Kapur confusing doltish for artless).
Milan's presence initially riles Anuradha until they bond over the art of expletives.
The upshot is like reading a (women's magazine) Savvy cover story.
Tribhanga digresses regularly to become many things and nothing.
Mostly though it's a platform for some of our solid actresses to flex their acting chops.
The fluency in Tanvi Azmi's confidence and warmth is effortless, but she never quite submits herself to the idea of a self-absorbed mom in ways Tribhanga implies and Anuradha alleges.
One gets a sense of her rebellion and discontent, but their impact on her maternal instincts is never addressed.
Kajol's belligerent outbursts, especially towards the callous media and Milan, get shrill but give her the quiet moments and you'll see what the fuss is all about.
Mithila Palkar is a pleasant presence, but gets the short end of the stick in how little agency she is allowed within her character and film.
Actor turned writer/director Renuka Shahane's comfort in sentiment shows but her confused stance on emancipation of women is a big let-down.
The leading ladies in Tribhanga are punished for defying norms by way of abusive or apathetic partners.
There are many ham-fisted scenes to assert the social bullying that happens inside classrooms when unconventional women decide a life independent of marriage.
On one hand, we are expected to view these women in their free-spirited, non-conformist glory.
On the other, they are consciously enabling it.
When Anuradha's daughter Masha (Mithila Palkar) decides to marry a boy hailing from an orthodox joint family, her mom has no qualms on even broaching the subject of dowry.
Clearly, smoking cigarettes and dropping F-bombs is the extent of her feminism.
Tribhanga streams on Netflix.
Rediff Rating: