It's not as funny as Stree, feels Moumita Bhattacharjee.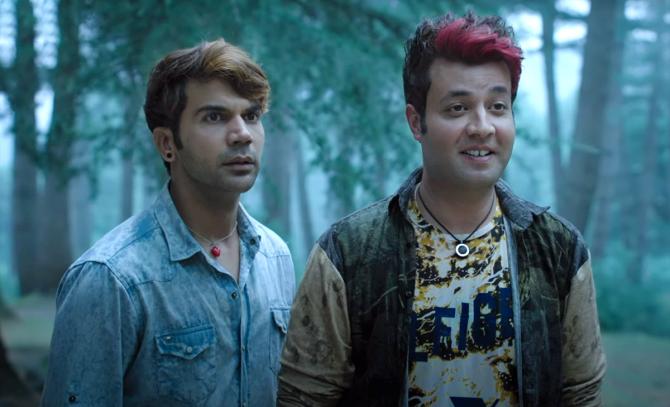 The makers of Stree are all set to cash in on the horror comedy genre that became quite popular with the film.
This time, it's called Roohi and has the lead playing the chudail.
Janhvi Kapoor is the source of all horror here with Rajkummar Rao almost reprising his role from Stree, but with a crazy hairdo.
The trailer begins with a brief introduction of the nature of the witch who abducts brides on the wedding night.
She is obsessed with getting married.
Pretty sure there will be some jokes dedicated to that.
Varun Sharma and Rajkummar Rao are two friends who kidnap Janhvi and keep her in a dilapidated house in the woods.
But she turns out to be a possessed human and now, the two men are looking for ways to help her.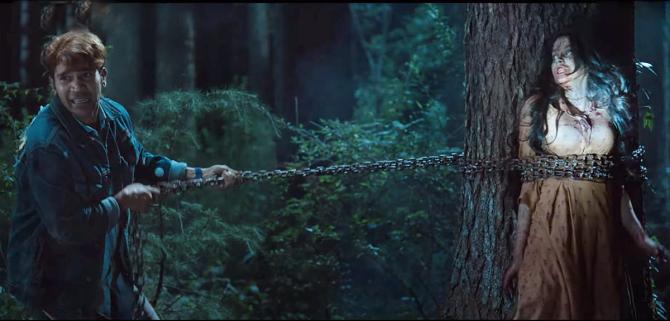 Janhvi has mostly been shown as a ghost in the trailer with her face getting distorted.
Apart from a few stray dialogues here and there, all she does in the trailer is scare the wits out of the two men.
Finding humour in such situations is quite tough and that's why this genre is so incredible.
The trailer is not wildly funny but does have moments like when Varun Sharma tried the 'Palat' dialogue on a possessed ghost.
You already know the outcome.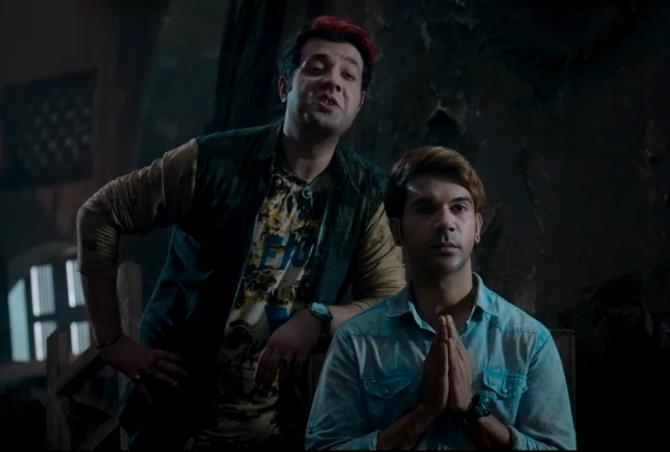 Stree's trailer was funnier with some really good gags and, of course, Pankaj Tripathi.
Roohi mostly has the two men and Janhvi doing the running around.
The scenes where the witch surfaces in Janhvi look scary, but borrowed from Indian/ Hollywood horror movies.
Roohi is a part of the Stree franchise as the tag line 'Mard Ko Ab Zyada Dard Hoga' returns with it.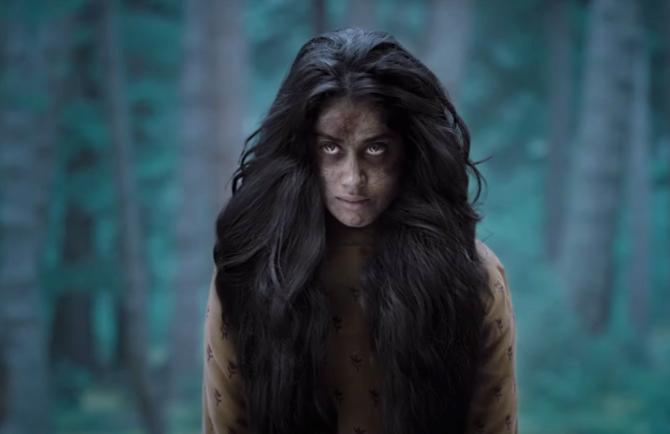 We don't know yet if Roohi is paying tribute, but there are a lot of scenes which are reminiscent of other movies.
There are times when Janhvi's ghost makeup looks similar to Anushka Sharma's in Pari, Rajkummar says, 'Mein sirf T ko T bolta hoon' could be a straight lift-off of what Shahid Kapoor says in Kaminey. Then, of course, there's the palat scene from DDLJ, enacted in a horrifying way.
While the trailer piques interest, it lacks the humour quotient as was evident in Stree.
Rajkummar's role looks cliched and so does Varun Sharma's.
Janhvi definitely will be the surprise package and I am glad she didn't let this opportunity go by.