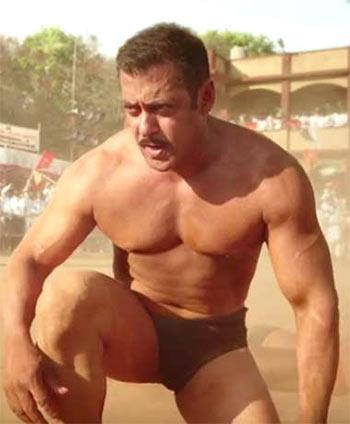 This movie might involve the most 'acting' Khan has had to do in a while, says Raja Sen.
Goodbye, Salman Khan's Weird Accent.
Hello, Salman Khan's Weird New Accent.
Also, hello to new box office records.
Ali Abbas Zafar's Sultan, on the evidence offered up by its theatrical trailer, will be a monster hit, a gigantic success that will take the Salman Khan phenomenon to a whole other level.
Having said that, in case you actually want to watch this film, I suggest you steer far clear of this trailer, which basically runs you through a solid 90% of this film: it shows you the entire sports movie plot, introduces you to guy and girl, gives you the top lines, and gives away the fact that -- for at least some part of this wrestling underdog story -- Salman Khan plays a 40-year-old has been. With a gut.
Sultan might involve the most 'acting' Khan has had to do for a film in the recent past, but -- given his grimaces and his graceless, wooden attempt at a heartland accent -- the jury's out on whether that's a good thing. Anushka Sharma looks good opposite him, though, fresh and spunky and well cast.
It looks to have all the elements: the sports sequences, the action, the wrestler-on-wrestler flirting, the melodramatic mounting of impossible odds... And this is all very well, but what it doesn't give us is anything fresh or surprising. Right now, this appears to be a template sports film. Which, for Salman diehards, is far more than enough.
Much like Salman's character, however, I wish this trailer had made even one interesting move instead of merely the obvious grapples.