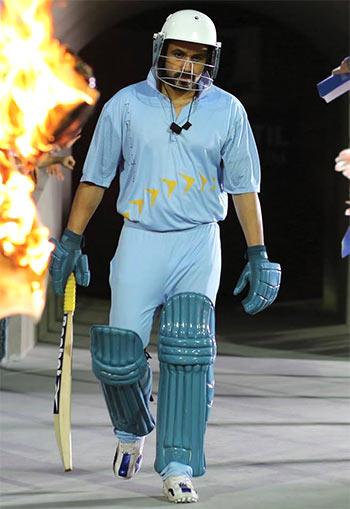 Emraan Hashmi doesn't look anything like Azhar, feels Raja Sen.
Once upon a time in tackystan...
Look, I never had high expectation from Tony D'Souza's biopic of Mohammad Azharuddin -- well, because Tony D'Souza is the guy who made Blue.
Also, leading man Emraan Hashmi doesn't look anything like Azhar. The teaser itself looked awful, but now that lack of resemblance is all the more pronounced with the first official trailer out.
My first reaction? Is this a Manoj Prabhakar biopic? Because Hashmi seems to resemble that middlebrow bowler much more than he does the disgraced India captain.
But is this really even about disgrace?
The trailer spends more time building Azhar up as a hero -- and as a philandering romantic -- than it does condemn him, looking (from this early angle) almost to justify the match-fixing as just another facet of a player's otherwise successful innings.
'Love him, hate him, judge him,' says the tagline, but it looks apparent that the director loves Emraan.
Who we are sure to judge, of course, is Nargis Fakhri, the stunning girl yanked in to play Azhar's girlfriend Sangeeta Bijlani, who again looked nothing like this actress.
Fakhri says bizarre lines about how she hates people who are, specifically, cricketers, and married ones at that, while Hashmi stands outside a door that says Sangeeta.
Oye hoye more than Oye Oye, looks like.
That's not all.
The times Hashmi's wearing a bad fake moustache are almost eclipsed by how abruptly silly he looks as the moustacheless Azhar -- though a case could be made that even in real life it wasn't the wristy star's most flattering look.
The screen Azhar wears uniform emblazoned with logos of products that didn't exist back when Azza played, and his shots look generic, not wristy.
As for the one whistle-at-this line in the trailer, well, here you go: Azhar quips to the Pakistani captain that even his name contains the name of the prophet.
Hashmi says it with swagger and all, but all it reminded me of was the time Azhar received a bunch of death-threats for signing his name -- and, therefore, the name of the prophet -- on a limited-edition line of Reeboks.
I hope that bit makes it into the film, but I'm not holding my breath.
The film is out May 13, 2016.