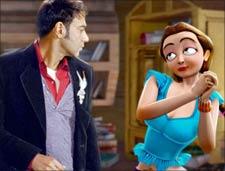 Sukanya Verma Reviews Toonpur Ka Superhero.  Post YOUR reviews here! 

How far will a father go to prove to he can be a hero in his children's eyes? It's a pertinent question that's answered with popcorn-light frolic in Toonpur Ka Superrhero. After all, the film, which takes obvious inspiration from Hollywood's Space Jam is aimed at a really, really young audience.
 
Only instead of Michael Jordan endorsing Looney Tunes to ward off Monstars in a game of basketball, you have Ajay Devgn, playing a Bollywood hero, kidnapped by a bunch of boisterous Devtoons to defeat the terrible Toonasurs creating havoc in the once peaceful Toonpur (as per the rhyming verse provided by Sanjay Dutt's charming voice-over in the beginning). 
 
Clever word play aside, director Kireet Khurana doesn't pause even for a moment to gasp over the incredulity of this situation. This very lack of persuasive bewilderment is missing in Devgn's body language as well. I mean, it's not every day you find yourself in your kid's favourite cartoon, right?
 
While Devtoons see Devgn as their knight-in-shining-armour owing to his tough guy image in show business, Devgn wants to shine in his son's eyes after the latter rebukes him as a 'fake hero' for using a stuntman.
 
Considering the state of 3D animation refuses to rise beyond semi-serviceable, Toonpur, despite a fun premise, fails to impress on a basic level. Kids are treated to far superior 2D/3D animation on television itself. It will take a lot more than this to attract their capricious attention to theatres.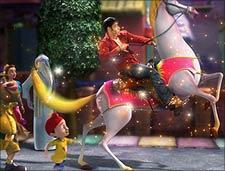 Going by its tacky finishing and detailing (what detailing?), the final product appears to be an intermediate draft of a work-in-progress file. No wonder not a single character from this portly, colourful bunch strikes as anything out of the ordinary. Neither the Bappi Lahiri-lampooned Gappi nor the blatantly-copied Jessica Rabbit clone.
 
Although Rubdoot, a Bollywood fanboy and motorcycle-riding version of Yamdoot, breaking into a Robin Williamseque Genie dance, has the potential to change that. Again, a patchy job on him prevents from making that breakthrough. 
 
Traditionally, humour is a primary ingredient of animation. But the interactions here are too pedestrian and humdrum dubbed in garrulous voices that are more Yahoo audibles than Toy Story. The live action bits are much more engaging thanks to Kajol's brilliance and witty timing as Devgn's vaastushastra-obsessed better half. She doesn't have as many scenes as her husband but every time she shows up on the screen, she owns it.
 
You normally don't associate Devgn with a children's film. His trademark intensity and smugness has created a mental block as someone who could generate that warm, fuzzy feeling. To our surprise, the man's most earnest and genuine without going overboard to explain his casting.
 
The proceedings get a bit blah in the middle especially around the time Devtoons herald Devgn as their rescuer in a bizarre, over-long sequence against Anu Malik's bland soundtrack. Flaws aside, the climatic twenty minutes are absolutely pleasurable.  Akin to the thrill one gets out of arcade gaming, Devgn and the missus confront multiple-levels of challenge with childlike relish.
 
Ultimately, the actors get it right. It's the toons that disappoint.
Rediff Rating:


 
 
Download wallpapers, ringtones and more!