Thugs of Hindostan may not have as easy a run at the box office as previous Hindi films did during Diwali, says Urvi Malvania.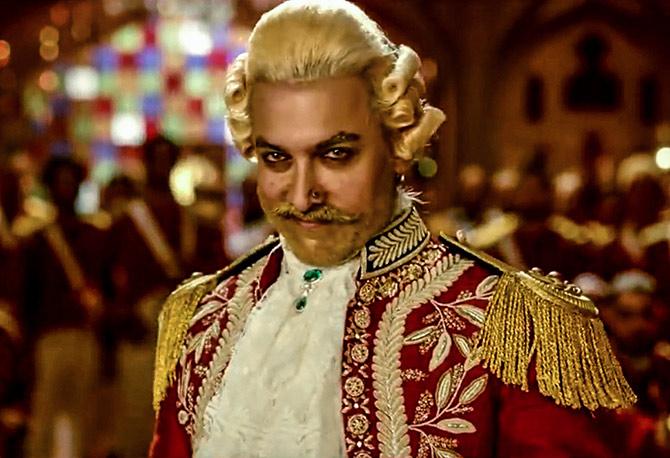 It is billed as the most expensive Bollywood film to date and only the fifth Indian movie to be remastered in the IMAX format.
Yet, Thugs of Hindostan, which hits theatres on Thursday, November 8, and is the big Diwali release of 2018, may not have as easy a run at the box office as previous Hindi films did during the period.
At Rs 2.2 billion in terms of the size of its budget, Thugs of Hindostan, which stars Amitabh Bachchan and Aamir Khan, will have to make Rs 4 billion to break even, say sector experts, since half of the net collections go to the distributor.
The producer gets the other half. And with a three-week window available before Rajinikanth's 2.0 hits the box office (on November 29), experts say the producer of Thugs of Hindostan, namely Yash Raj Films, is practically skating on thin ice.
Typically, Diwali releases have at least a month at their disposal to shatter records. While some experts argue that records today are broken in a matter of weeks and competition for eyeballs is a way of life, that may not be the case with Thugs of Hindostan, given its steep production budget.
The Ranbir Kapoor-starrer Sanju, for instance, took 16 days to reach Rs 3 billion in box office collections this June and it was made with a budget of Rs 700 million.
Plus, say experts, Sanju had strong buzz and positive word-of-mouth riding in its favour. In the case of Thugs of Hindostan, it is not clear which way the wind will blow, since the movie's trailer has received mixed reactions so far.
"Getting the opening won't be a problem. Diwali is a big festival and people will flock cinema halls with their families, giving the film enough footfall to reach Rs 500 million on Day 1. But the buzz around the film is somewhat tepid for the distributors' confidence. If the word of mouth for the film continues to be weak, it could see a sharp dip in footfall on the very next day following release," says Shaaminder Malik, an independent distributor (North India) and a trade analyst.
While Yash Raj Films was not immediately available for comment, an executive in the know said the studio had targeted 5,000 screens on the opening day of Thugs of Hindostan, giving it a likely strong opening.
But the challenge would be to sustain the momentum through the ensuing weeks, which appears difficult. The studio is said to have locked deals worth Rs 600 million each for the digital streaming and satellite TV rights.
But this may not be enough because it still requires to make at least Rs 2.8 billion to Rs 3 billion at the box office to break even.
Incidentally, advance bookings for Thugs of Hindostan, which opened on November 3, have been largely for the first day of the film only, experts tracking the market said.