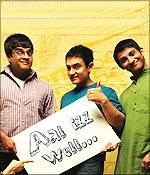 Fuelled by the kind of repeat business hardly seen for an Indian film, Rajkumar Hirani's 3 Idiots became the highest grossing Indian language film in North America, beating Deepa Mehta's Water by about 10 percent.
Defying the usual 50-60 percent second weekend attrition for Indian films, the juggernaut of a movie came down by a miniscule nine percent. It grossed $1.4 million over the weekend, taking its 12 day total to $4.7 million in North America on January 3.
Its distributor Reliance Big Pictures says the film had many houseful shows over the weekend. It was at the number 12 spot on the box office chart, at the same position it held last week. The chart was led by Avatar which grossed a mighty $68 million. 
The theatre count for 3 Idiots went up by 13 to 132. The film became an event, hurting badly the over eager counterfeit DVD manufacturers.
With schools and colleges opening this week, the weekday collections are bound to come down for all movies across America  Even if 3 Idiots comes down by 50 percent in the subsequent weeks, it could end its run with a formidable with $6 million. But trade pundits say they will not be surprised if it reaches $7 million.
Add to it another $6 million expected from the United Kingdom, the Middle East and in Asian territories such as Hong Kong, you have the highest grossing Indian film of all times in the international markets.
Coming in the wake of the so-so run for the big budget Kurbaan (about $850,000 in North America) and the total washout performances of London Dreams and Paa, the booming business of 3 Idiots have given a boost to the morale of exhibitors who show Hindi language films. Even though the film was mostly released in the theatres owned by Reliance, its success itself has ended the theory that the overseas market is drying up fast  because of recession.
Several exhibitors believe that if a large number of Hindi language movies haven't done well in the overseas markets in the past two years it is primarily because they are not able to connect with the audiences. "There is no recession for Hollywood movies," said one theatre owner. "Why should there be one for Indian films?"
Exhibitors will not openly say it because they don't want to upset Indian film makers but anonymously they complain that while technologically the Hindi movies have improved a lot, they are still obsessed with running its stars around the trees and making amorous declarations.
"We do not know if Kurbaan has to be taken as a love story or a drama about terrorism," said one exhibitor. "3 Idiots is refreshingly different from the standard Bollywood (fare). It never insulted the audience's intelligence, even if Aamir Khan plays a college student."