Sunny Leone talks about her favourite things -- her show Splitsvilla, working with Shah Rukh Khan, her husband Daniel Weber and motherhood.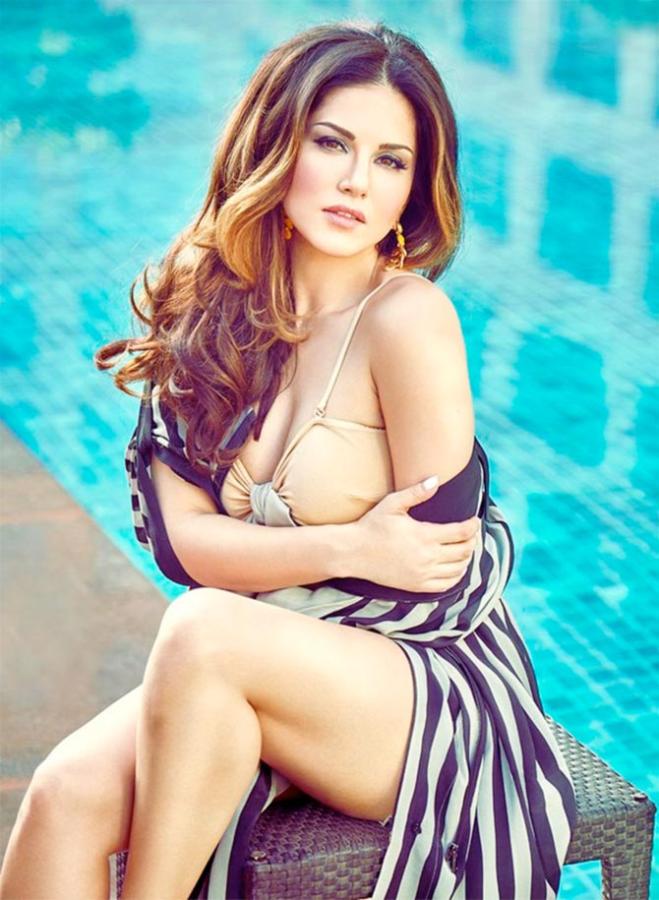 IMAGE: Sunny Leone. Photograph: Sunny Leone/Twitter

Bollywood siren Sunny Leone will soon be seen in the ninth season of MTV's popular reality television show, Splitsvilla, with co-host Rannvijay Singh.
The rules of the show have changed this season and -- inspired by the television show, Where Women Rule -- the female contestants have more power. Fifteen boys, or warriors, will compete to woo the female contestants, or princesses. In the end, one boy and one girl will be crowned winners.
Splitsvilla has always been a controversial show but if you tell Sunny it has become hotter with her coming on board, she won't agree. "I do not think so (laughs). All our boys and girls on Splitsvilla are very good looking. They all are in great shape. The female contestants are well dressed and beautiful in their own way."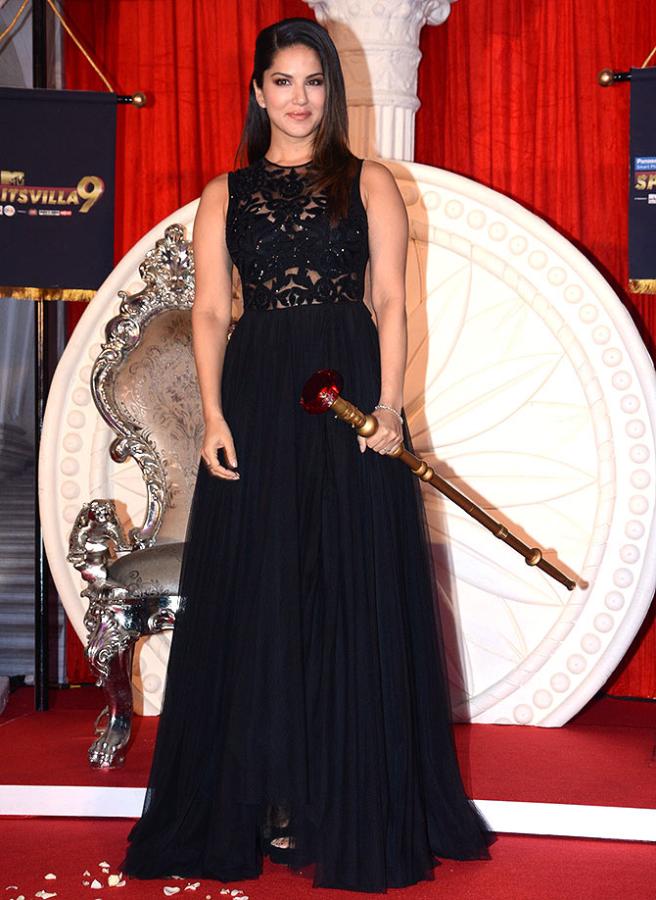 IMAGE: Sunny Leone at the launch of MTV's Splitsvilla, Season 9. Photograph: Pradeep Bandekar

The actress says she doesn't set any limitation in her head before meeting the contestants. "If I see the contestants behaving in an unacceptable way, I yell at them. My opinions and reactions are based on what they do. I don't go into the show with any set of rules and regulations."
Sunny was happy returning as host and mentor on Splitsvilla for the third time; the show was originally based on the American dating game show, Flavour Of Love.
Talking about her fondness for the show, she says, "I have always loved Splitsvilla. I wanted to be a part of MTV since I was a little girl. When I was in the US, I was asked to host the red carpet for the MTV Video Music Awards with other VJs. I didn't take it up just for money; I was more excited about coming on TV. Now, I always tell Daniel (her husband) in advance to save my dates around this time of the year in case they want us to do Splitsvilla."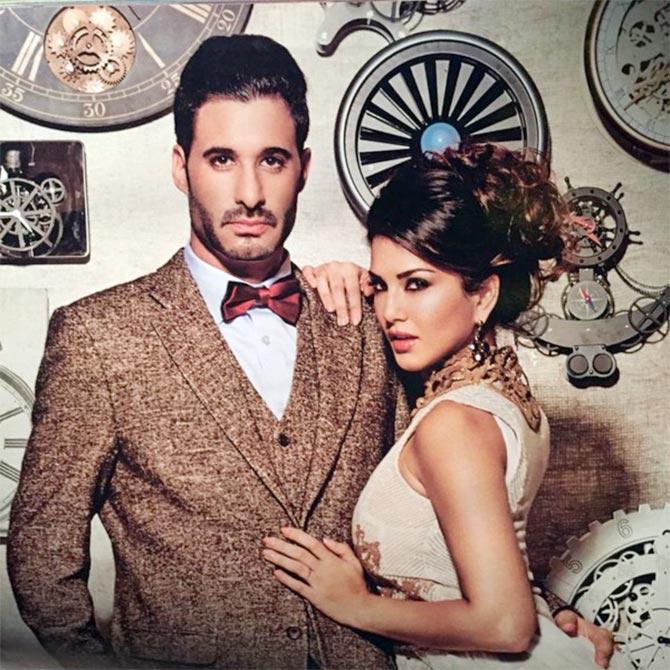 IMAGE: Daniel Weber and Sunny Leone. Photograph: Sunny Leone/Twitter

The actress has always been vocal about her love for husband, Daniel Weber, who doesn't mind his wife hogging the limelight. He has no insecurities about her growing fame, says Sunny.
"It takes a very strong man to be this confident. I not only married my best friend but also someone who knew me. Daniel knows that I am career-oriented and determined. He likes all these qualities in me and it was the same for me. I would not like to be with someone who doesn't have the same dedication, drive and creativity. He works non-stop so that my team can work and make money for their families. He answers every single call that I get. It might look easy from the outside, but it takes a lot for a man to do so much. I wouldn't want anything different in a man."
She adds, "There is no space for insecurities between us. We spend as much time (together) as we can and believe in talking to each other a lot. Making breakfast together and talking while having it is the most important time in our household."
Asked if she would like to share screen space with her husband since he too is making his Bollywood debut, Sunny says, "I always think I will be the lucky one if he says yes."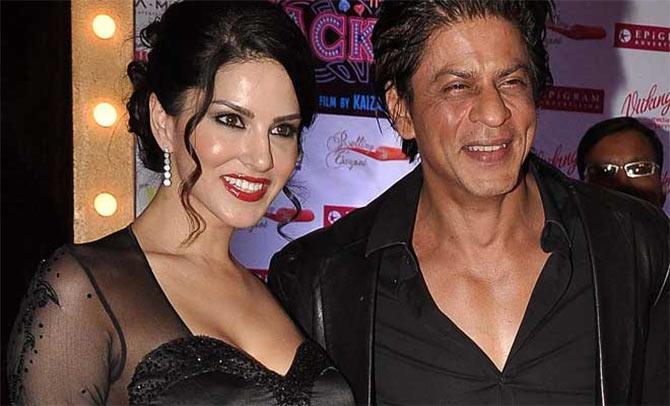 IMAGE: Sunny Leone and Shah Rukh Khan. Photograph: Pradeep Bandekar

Sunny recently shot an item number for Shah Rukh Khan's Raees and thinks it's taken her career one step further.
"Nothing happens overnight. It needs hard work, determination and a desire to improve. I know that I don't come from an acting background or a filmi family so, for every workshop, every dance class, I really have to work hard. I rehearse and learn lines. I am willing to work extra hard if someone is willing to take a chance with me. I think, at some point, this gets noticed. It was a proud moment when we got a call from Shah Rukh Khan asking me to be a part of their song. I asked them if they called the right Sunny (laughs). I can't wait to see the song."
On Salman Khan, she says, "I have met him and he is a wonderful person. You can only wish and pray to work with him. If it happens, it will be awesome."
The actress says she is open to doing films in the south as well. "As long as I keep working, I am fine. It doesn't matter if I have to even learn Chinese; I will learn it."
How does Sunny handle all the unwanted controversies around her? "I just hit the block button, I don't think I need to react on everything and neither do I."
Finally, when asked her if she was ready to embrace motherhood. she says, "You know, whenever I answer this, the answer gets twisted. Motherhood is something I would like to experience in the future. Not tomorrow. When it has to happen, it will happen."