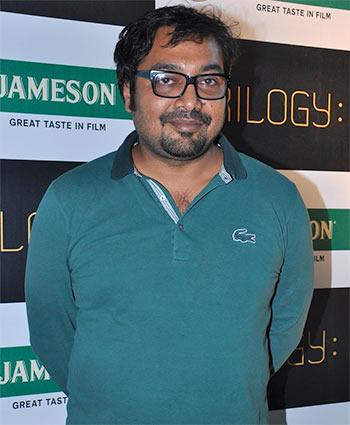 Filmmaker Anurag Kashyap has said that he felt blackmailed throughout his battle with the Censor Board over the certification for his upcoming production, Udta Punjab.
Kashyap said in all his previous run-ins with either the board or the government, he never felt he was being silenced, but this particular case was different.
'... I never felt that I was being silenced or blackmailed into doing something against my will. All those battles were a fair fight of belief systems, all those fights were not being lost, not knowing what's going on.

'All those battles we knew who and what the enemy was, be it a person, a thought or just the understanding of the board. This one is different. This was blackmail, this has been a wall of lies. We got the official letter in a day after going to press and imdtly (immediately) after the first hearing of the court,' he posted on Facebook.

Kashyap's fresh post came hours after he, along with other Bollywood celebrities, held a joint press meet to express their anger towards the board's objections to certain portions of the film, which is based on substance abuse in north Punjab and its effect on youth.

The Bombay Velvet director said Pahlaj Nihalani has been lying and pressuring them to delay the release of the film, slated to hit the theatres on June 17.

'We have a signed acknowledgment from Mr Nihalani's office dated yesterday 7 th June, which requests him to give us the official copy. So him saying he gave the letter on Monday is a lie and proof of all his lies.

'Him pressurising us to delay release, and accepting cuts is and was a thought through strategy. His accusing me of taking money from AAP is not just a lie , is a diversion from the real issue to make the fight for a filmmaker's right into a political battle. And in this he is being helped by all the trolls to make sure that the real issue somewhere is lost in the political blame game.'
Kashyap requested his fans to not believe in the gossip being spread online, while also making it clear that he had no political affiliation.

"I request to not get involved in any rumour mongering and let us stick to the real honest issue of freedom of expression and free thought and our rights as film makers versus the censorship.

"No I am not a member of AAP or Congress not do I associate with any other political party. I have made more films without a fees than anyone else and I don't take money that is not earned from anyone."
Photograph: Pradeep Bandekar
© Copyright 2021 PTI. All rights reserved. Republication or redistribution of PTI content, including by framing or similar means, is expressly prohibited without the prior written consent.