A look at the top tweets from your favourite Bollywood celebrities: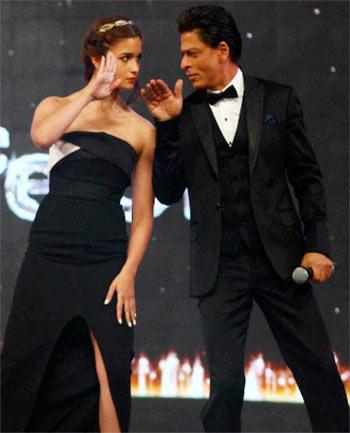 Shah Rukh Khan and Alia Bhatt will feature in English Vinglish director Gauri Shinde's next film.
This is not the first time SRK, who will turn 50 in November, has worked with a heroine much younger than him (Alia is 22 years old!). In fact, many actors in Bollywood have worked with heroines half their age (Click here to see what we mean!)
Confirming the news, Khan's close pal Karan Johar tweeted: 'Red Chillies Entertainment ...Dharma and Hope Productions are proud to present Gauri Shinde's next starring...SHAH RUKH KHAN and ALIA BHATT.'

Alia Bhatt is already looking forward to the film. 'Will no longer have any problem with my English Vinglish.. can't wait to be directed by Gauri Shinde with the man himself Shahrukh Khan!!!' she tweeted.
Think Shah Rukh and Alia will make a cute couple? VOTE!
***

Priyanka brings Quantico to India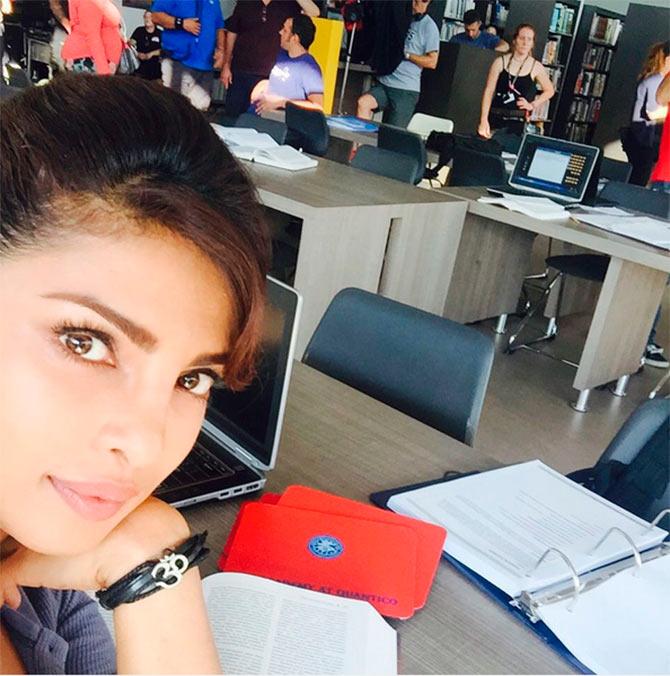 Priyanka Chopra, who is shooting in Montreal, Canada, for her American show Quantico, is looking forward to launching the show in India.

'So excited to share this with U all! #Quantico comes to India on @StarWorldIndia & StarWorldHD Yay! More details soon,' the 33-year-old actress tweeted.

She later posted a picture of herself from the sets, above, and wrote: 'At the FBI academy..@QuanticoTV Studying hard at #QUANTICO #ep3.'
***

Shraddha Kapoor: Grandparents are the real treasures of our lives

Shraddha Kapoor took to Twitter to pay tribute to her grandfather Pandit Pandharinath Kolhapure, who passed away on August 15. Click here to see pictures of the prayer meet.

'My beloved nana, Pandit Pandharinath Kolhapure, passed away very peacefully a few days ago. He spread magic through his music & greatness. Thank you all for your wishes and messages. Him and my nani taught our family the meaning of being rooted and together,' Shraddha wrote.

'Grand parents are the real treasures of our lives. And when they go...they make sure they leave behind a part of themselves, in you. I feel so blessed to have spent so many years, growing up, with them. The memories will always be the most special treasures...forever. And for all the lucky ones out there who still have their nana-nanis, dada-dadis, give them your time!' she added.
***
On the sets of Ki and Ka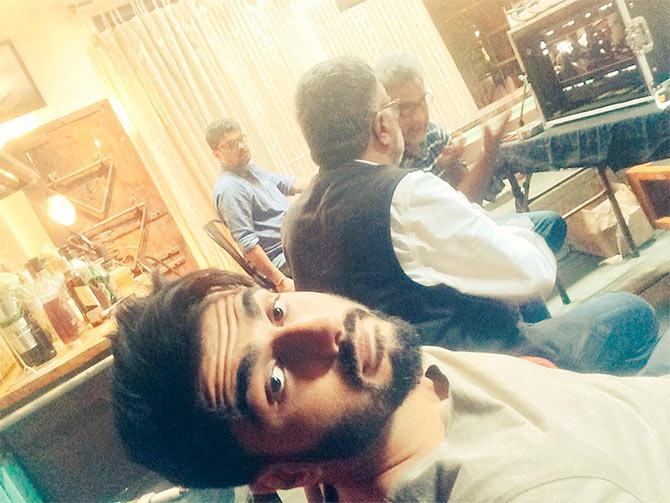 The cast and crew of R Balki's upcoming film Ki and Ka has been staying up late to shoot some night scenes.

Arjun Kapoor posted a picture from the sets, above, and wrote: 'Post midnight n we still be shooting...Balki Sir & @pcsreeram sir deciding next is what... #latenightselfie.'

The film will also feature Kareena Kapoor. Amitabh and Jaya Bachchan will put in a cameo.
***
5 years of Lafangey Parindey!

Yash Raj Films' Lafangey Parindey completed five years on August 20 and the film's lead actor Neil Nitin Mukesh got nostalgic on Twitter.

'We tripped, we learnt, we perfected. It's been half a decade since we roller skated into ur hearts #LafangeyParindey,' Neil tweeted.

Directed by Pradeep Sarkar, the film also stars Deepika Padukone.
***

Akshay, Madhuri, Sonakshi, Chitrangada leave for US tour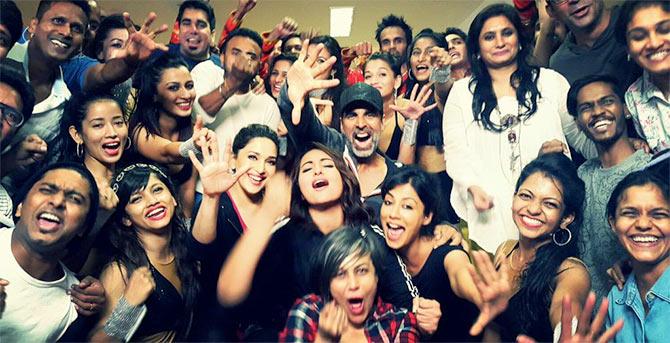 After launching the trailer of his upcoming film Singh Is Bliing, Akshay Kumar will head to the US for his Fusion Tour.

He posted a picture of his team, above, and wrote: 'Bye Mumbai! Wil miss my Brothers & SIB gangs, cant wait 2 hit d stage 4 #FusionTour, San Francisco & Houston here I come.'

Starting from August 21, the event will take place in Oakland, Houston and Washington DC.