Well, that's a first! Check out how Alia Bhatt has trumped online trolls and naysayers.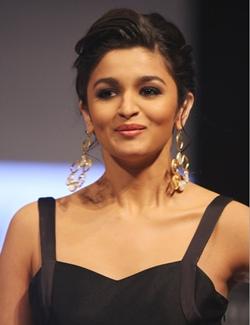 Image: Alia Bhatt. Photograph: Abhijit Mhamunkar
When Alia Bhatt arrived on the sets of Koffee With Karan's recently concluded season, she was kicked in a very relaxed way and understandably so.
She was, after all, making a joint appearance with her Student of the Year costars Siddharth Malhotra and Varun Dhavan (who, from what we could tell from the episode, absolutely dote on her).
The trio was to be interviewed by their mentor Karan Johar, decidedly more congenial on his own show than anywhere else, and someone who reserves his fangs for people from outside his own social circle.
What could possibly go wrong?
Nothing major.

Only, it kinda blew up in an unsuspecting Alia's face.
The general knowledge fiasco towards the end of the show (for those living under a rock, when asked who is India's President, Alia had blurted Prithviraj Chavan -- who is incidentally the Chief Minister of Maharashtra) invited the wrath of internet trolls, universally regarded as supreme authorities on all things India.
Things took their own course thereafter, with jokes alluding to Alia Bhatt's supposed ditziness became daily fodder on various social media platforms.
Amidst all this, arrived AIB's newest video.
For inhabitants under aforementioned rock, AIB stands for All India Bakchod -- a comedy collective formed by four Indian standup comedians: Tanmay Bhatt, Gursimran Khamba, Rohan Joshi and Ashish Shakya -- that routinely posts hilarious sketches, parodies and skits on their Youtube channel.
While their work so far has been consistently funny, thought-provoking and hugely popular, their latest video was pathbreaking in its own right.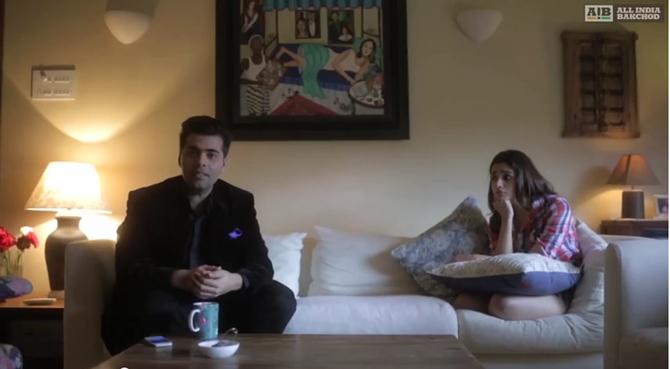 Image: Karan Johar and Alia Bhatt in Alia Bhatt: Genius of the Year video by AIB
Titled Alia Bhatt: Genius of the Year, the video stars, well, Alia Bhatt, her 2 States costar Arjun Kapoor, her new bestie Parineeti Chopra, and mentor Karan Johar with parents Soni Razdan and Mahesh Bhatt and sister Shaheen thrown in for good measure.
The video, needless to add at this point, has become a viral sensation, not to mention the fact that it has also earned Alia Bhatt the distinction of being the first Bollywood star to parody herself.
We reached out to Rohan Joshi, who incidentally is dating Alia's sister Shaheen, to talk about the video, and he readily agreed for a brief interview.
Here, we reproduce the email exchange with the writer-comedian (watch out for the funnies!).
How did the idea for the video come about?
Well, Alia went on KWK, and we all know how that went.
And we've known her for a while, so we joked about doing something with her about it. A month or so later, during one of our brainstorming sessions, one of us saw an Alia joke on Twitter, and while talking about it, this Mental Gym idea hit us.
So we called her and mentioned the idea to her. And she started laughing at that point and said "Let's do it."
It really was that simple.

How did you sell Alia the idea? What was her intial reaction? Could you describe in detail how you went about the whole thing?
We didn't actually sell her the idea at all.
She's very chilled about her public image, and how she's perceived, even after Koffee With Karan.
Even when that happened, there was no giant PR disaster-management machinery that swooped in to protect her or anything.
She rolled with the punches. So when we came up with the idea, she was totally open to it right away.
And then it was just a matter of finding time in her schedule, and that was that.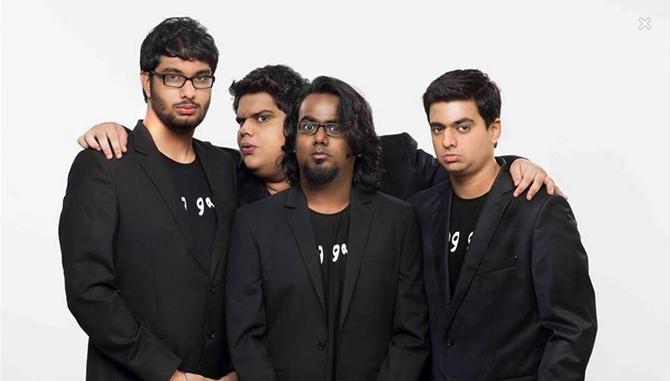 Image: Gursimran Khamba, Tanmay Bhatt, Ashish Shakya and Rohan Joshi. Photograph courtesy: The official AIB Facebook page
What kind of a message do you think this video has sent out to her fans and people who follow AIB?
We weren't really thinking in terms of a message; it isn't a message-based sketch. We just wanted to have fun.
I think one takeaway everyone can go away with is that more celebrities need to get comfortable with self-parody, because it can be a TON of fun, and it doesn't hurt or kill your "brand" in any way.
Were there any apprehensions/concerns before this video was written/shot?
"We've managed to get all these people to say yes, so now we'd better not f*** this up."
When did you shoot the video? How did you shoot? Across how many days?
We shot the video over two days at the end of July.
What sort of budgets were you working on? And how did you overcome the constraints?
Shoe-string as always. And we overcame them by feeding Alia and Karan Johar chips and warm water while they were on set.
How did you get Karan Johar, Arjun Kapoor, Parineeti Chopra and the Bhatts to join along?
I think it helped that Alia had said yes. So they were a little more confident.
But to their credit, none of these people hemmed and hawed at the idea.
It was one phone call, followed by one meeting explaining the script, and they said "Yup!"
Is that the Koffee with Karan set? Is it a permenant set?
We could tell you, but then we'd have to kill you.
What were the challenges you faced while shooting it?
Shooting in places without people knowing Alia was there! That's about it!

PS: HA! The joke's on you, internet!