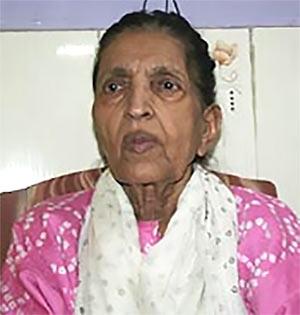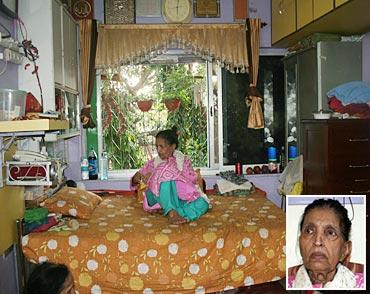 Popular singer of the 1960s Mubarak Begum, who gave us beautiful songs like Kabhi Tanhaiyon Mein Hamari Yaad Aaegi from Hamari Yaad Aayegi (1961) and Mujhko Apne Gale Lagalo Ai Mere Hamrahi from Hamrahi (1963), is no more.
Begum, 80, passed away on July 18 at her residence in Jogeshwari (in the western suburb of Mumbai), after a prolonged illness.
The veteran should have retired into a lifestyle accorded to a legend. Instead, she lived in a tiny house, in poverty-stricken conditions. Her pension from the government was megre Rs 1,500 per month, and it barely got her by especially since she had to tend to her daughter Shafaq Bano, who suffered from Parkinson's disease in her last years.
Mubarak shared her two-room home with her son, and his family (including wife Zarine and four daughters).
Mubarak used to work with noted composers like Jaidev, Madan Mohan, R D Burman, Naushad, Shankar Jaikisan and Kalyanji-Anandji. Her songs became popular but unfortunately, she could not cash in on her success.
Patcy N/ Rediff.com had spoken to Mubarak Begum back in 2011. We republish the interview.
"I did not have that much backing in the industry," Mubarak explains. "I was very simple and there were a lot of politics in the industry."
"Somebody said that doosre singer ko gaoge toh hum nahi gaayegi (If you take other singers, I will not sing for you). They attacked on my livelihood," Mubarak claims.
Her songs would be recorded but not used in the movies. "I sang a solo song called Pardesiyon Se Ne Aankiyan Milan in Jab Jab Phool Khile. Kalyanji called me after four days and told me that the song would be a duet, and my version was cut. My song in Kaajal called Agar Tum Na Mile Toh Main Samjhungi was cut without informing me. Ravi was the composer."
During the Arzoo success party, Mubarak told actors Prithviraj and Nana Palsikar that Ravi had cut a song without informing her. Palsikar had consoled her by saying, "Kismet toh nahi kat sakte (they can cut your song, but not your destiny)."
Likewise, Bappi Lahiri cut her song from the film, Paanch Qaidi. When Mubarak asked him about it, Bappi passed on the blame to the producer.
Towards the late 1960s, Mubarak stopped getting work.
Mubarak's husband left her when she was pregnant with her second child.
"He was a Punjabi, and was into business of watches. After marrying me, he produced a film called Birah Ki Raat. I don't even want to take his name. He didn't do anything for me or his children," she says.
She returned to her parents' home, and was the sole earning member there. She started taking care of the family by singing for movies. She had five brothers and sisters, and paid for their education and weddings.
When her father died, he willed the home to Mubarak, as she had helped him out in his time of need. Unfortunately, her siblings filed a case against her, which went on for 12 years.
Mubarak stayed with her siblings the entire time the case was in court, and the resultant turbulant atmosphere at home affected her young daughter Shafaq adversely.
Shafaq would get traumatized with the constant fighting in the house, and that in turn, affected her mind. She fell victim to Parkinson's disease, and suffered from it for eight years.
Fed up with all the fighting, Mubarak sold the house and divided the money into five shares.
Since her work had reduced, her money got over taking care of her children. She applied for a home but it was only with Sunil Dutt's help that she finally managed to get a house. However, to finally take possession of it, she was required to shell out Rs 2 lakh. Javed Akhtar helped her out with that.
She started getting a pension of Rs 500, which was soon increased to Rs 1,500.
But her life was not always like this.
Born in Rajasthan, Mubarak lived in Ahmedabad before coming to Mumbai. Her grandfather, father and uncles sold fruits for a living.
She would accompany her uncle to the movies but would often fall asleep when the lights went off. Later, her passion for cinema kicked in, especially the film songs. She loved the songs of Noorjehan and Suraiya, and would hum them.
When her father noticed that she could sing well, he decided to take her to Mumbai to try her luck in films. But first, he sent her to Baroda for basic singing lessons for a couple of months.
She came to Mumbai when she was 10 or 11 years old.
Mubarak was never interested in singing for the movies but she took it up on the insistence of her father. He would take her various film studios, where people would listen to her voice.
Mubarak finally passed the audition at All India Radio and started singing ghazals on air. She would get Rs 50 for singing three ghazals.
Thanks to her radio stint, she was asked to audition in actor-filmmaker Shorab Modi's studio. When she was asked to sing, Mubarak caught stage-fright in front of her many onlookers, and sang the song wrong.
She failed once again when Shyam Sunder asked her to audition for the film Bhai Behen.
"But this time I felt bad and embarrassed because my father and I left from the studio without telling anyone," she says. She was 12 years old then.
Mubarak wanted to do a better job at her next audition, so so she did a lot of riyaz. Then she got to sing a duet called Aao Chalein, Chalein Sakhi Wahan with Lata Mangeshkar in Do Saheli.
Things finally changed she met Yakub, who was making Aayiye. The music was composed by Shaukat Dehlvi. Mubarak sang her first solo song, Mohe Aane Lagi Angrayi Aaja Aaja Balam.
After that, she started getting many offers. She did Kamaal Amrohi's Dayara. Composer Harishchandra Rao had introduced her to Amrohi. She also sang eight songs in Phoolon Ke Haar, the music of which was composed by Hasraj Behl.
She would paid Rs 300-400 per song for big films, and about Rs 150 for smaller films.
Composer Naushad once asked her to sing a single line in a film called Shabab. "I had felt bad because I used to sing full songs, and here, he was giving me a chorus line. But everybody told me to sing it because that would open the doors to Naushadsaab."
She got to sing in Bimal Roy's Devdas and Madhumati as well as Suraj Prakash's Juari.
"Shankar-Jaikisan asked me to sing the theme song Mujhko Apne Gale Lagalo Ai Mere Hamrahi in Hamrahi. After the recording, somebody wanted to remove the song and record it with another singer. But Jaikisan was adamant and retained it. I became popular because of this song. I was mostly given dance numbers but after this song, things changed a bit," she says.
Once filmmaker Kidar Sharma asked her to sing Kabhi Tanhaiyon Mein Hamari Yaad Aaegi in Hamari Yaad Aayegi. "He liked my song and gave me four annas. I was shocked. But (composer) Snehal Bhatkar told me that he gives four annas only when he loves a song and that's supposed to be lucky. I kept it and got lots of work after that!."
When her work started decreasing, she started performing at Kala Mahotsav for Rs 1,000. She would perform at stage shows too but would get paid less. Mubarak claims that the middle-men would pocket 75 percent of the money as commission.
Even though Mubarak has sung over 1,000 songs -- most of which are played even today -- she still does not get royalty.
Mubarak asked many people for help but could not get any. After reports of her poor conditions got published, people called her and offered to make an album with her. "But I was not interested. I was very sad. When I wanted to work, people did not give me work. Now I don't want to cut any album," she says.
Her son makes money by ferrying children to school. "But I don't want to ask for money from him," Mubarak says. "I have lived all these years on my own, I don't want to ask any money from them now."
Mubarak still does stage shows but due to her back problem, cannot sit for too long. "Plus, my stomach is always upset. I can't eat anything. I eat light food," she says. "No one from the industry has come forward to help me."