'... Which I find very repressive, because it restricts your interactions with people in a real manner. And it impedes their productivity.'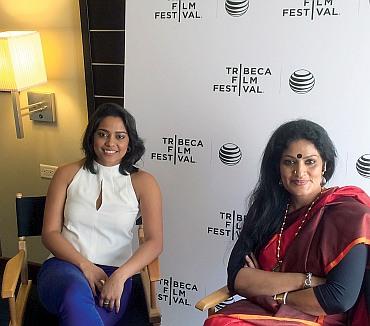 Actress Shahana Goswami and dancer Geeta Chandran tell Aseem Chhabra/Rediff.com how they bonded over shared interests.
Raised in a sheltered village, young Lila yearns for a life devoted to Hindu worship, like that of her devadasi mother. But she begins to encounter worldly obstacles to her spiritual fulfillment when she agrees to model for a lowly village boy who hopes to become a sculptor.
Shahana Goswami, Lila in Vara: The Blessing, says her training in Odissi helped her prepare for her role, and choreographer Geeta Chandran, who also plays her teacher in the film, had little difficulty in honing her skills.
Geeta, you have never acted in a film before. What was this experience like? You must have been in front of the camera before?
Geeta: Only as a dancer, not as an actor.
It was very different, because on stage you can instantly tell if something worked or not. The applause can tell you all. But here, you wait for two years (to watch the film).
I could not go to Busan, Goa and Kerala when the film showed there.
Did you like yourself as a performer?
Geeta: It's very hard to say.
Were you satisfied with your performance?
Geeta: Actually, I didn't perform at all. I did what I do always. It was hardly a difficult role for me. But I liked the film overall. I didn't think it would work out like this. Because we shot almost five hours of footage. So we didn't know how much of dance the film would retain.
And what was it like working with professional actors like Shahana?
Geeta: Oh, Shahana was absolutely fantastic. She was more like my student.
Shahana, you are trained in Odissi. Did you get any Bharata Natyam training for this film?
Shahana: I had to learn properly. It is deceptively similar. But the two styles are very different. So I had to train to unlearn my body's reflexes that are very Odissi.
Geeta set me up with a teacher in Mumbai to learn the basic styles. Later I came to Delhi when she had choreographed all the pieces for the film. We kept polishing and brushing.
Geeta: It was very interesting to choreograph for a film, to apply yourself to the sequences and work out the compositions.
Shahana: Geeta was editing while composing. I remember her saying Ek minute se lamba nahin rakhenge (Don't make it more than a minute)!
But that's how choreographer Farah Khan choreographs for Bollywood films as well.
Geeta: I just spoke to Farah and lots of what she does is the same for classical dance as well. She is very intelligent and practical as a filmmaker so she knows which angle will look good for the dancer or the actor.
Where did you find the other dancers in the film?
Geeta: They were my students from Delhi. Rinpoche (director Khyentse Norbu) was very clear that he wanted authentic dancers.
Shahana, this is your second film in Sri Lanka (Midnight's Children was also shot there).
Shahana: In one year, I spent six months there. Next I will stand for presidentship there (laughs). It was a nice crew. We felt like we were on a family trip, where there was an itinerary as well.
You have done big Bollywood films like Ra.One and Rock On, while also small indie films like Firaaq. Can you compare the experiences with an international production like Vara?
Shahana: The difference I see in an international set-up is that there is a sense of equality between everyone on board. I find that easy. There is so much hierarchy in the Indian film industry, which I find very repressive, because it restricts your interactions with people in a real manner. And it impedes their productivity.
This film is in English as was Midnight's Children. How does it feel like acting in English as opposed to Hindi?
Shahana: Strangely enough, both these films have a different English tone and grammar. In Midnight's Children, it was an era-specific thing, a lot of old school English.
I have to say English flows much more easier for me, not that I am uncomfortable in Hindi. I recently shot a film in Bengali and it was fine.
And I just did Paul Cox's film (Force of Destiny) in Australia.
You had posted that on Facebook. What is that film?
Shahana: It is based on his life. He had cancer and was told he had six months to live and he ended up getting a liver transplant.
Where was it shot?
Shahana: Mostly in Australia, with sequences in Kerala. Actors Seema Biswas and Mohan Agashe play small roles as my aunt and uncle in the film.
So what attracted you both to Vara?
Shahana: It was the man who made the film. We both had the same reaction. It sounded so pseudo -- a Buddhist monk making a film on dance. I auditioned with Uma Da Cunha and then I was interacting with our producer Nanette Nelms.
I kept wondering what I was doing. Finally when I was in Sri Lanka I was told the director was there. And literally the moment I met him I knew I had to do this film, only because it gave me access to be around him and view the film through his mind.
So what does it mean to have a Buddhist lama as a director? Does he yell at all?
Geeta: No, he's always smiling. He's not that difficult, but he is also very mischievous, very fun loving. Not at all like what a lama would be. He is very sensitive and emotional.
Shahana: You know he lost his father just before the shoot, while we were rehearsing.
Geeta: And he just took a day off and he came back. He was extremely committed to the project.
Shahana: We shot in hard conditions. It was hot, yet he kept everyone very upbeat and cheerful.
Geeta: It was an unconventional group of people coming together. Rinpoche followed me for two years to do the project. The script was worked out and two, three drafts were done at my home. And I told him if you give me a non-dancer to train then I am out (laughs). So Shahana was a perfect choice.
Do you know how this film will be received in India when it opens there?
Shahana: It's hard to find a distributor for a film like this. This is a film where you call like-minded people and screen it for them.
In Goa, I did tell some of the cast that now that we are in India people may walk out or may find it problematic. Although the audience really appreciated it.
Why did you think Indians would find the film problematic?
Geeta: It's not set anywhere. There is Bharata Natyam dance and then you hear about Kali Puja. That is how Rinpoche wanted the film to be. He didn't want to place it in any geography. And it bothered me initially. But then I saw it yesterday and I realised it is an eternal story.
Image: Shahana Goswami, left, and Geeta Chandran.
Also Read: The monk who became a filmmaker