"Everyone inside the house is playing a game. It's hard not to..."
Lucinda Nicholas, who was evicted from the popular reality show this Monday, tells Rediff.com contributor Rajul Hegde everything you must know if you ever participate in Bigg Boss.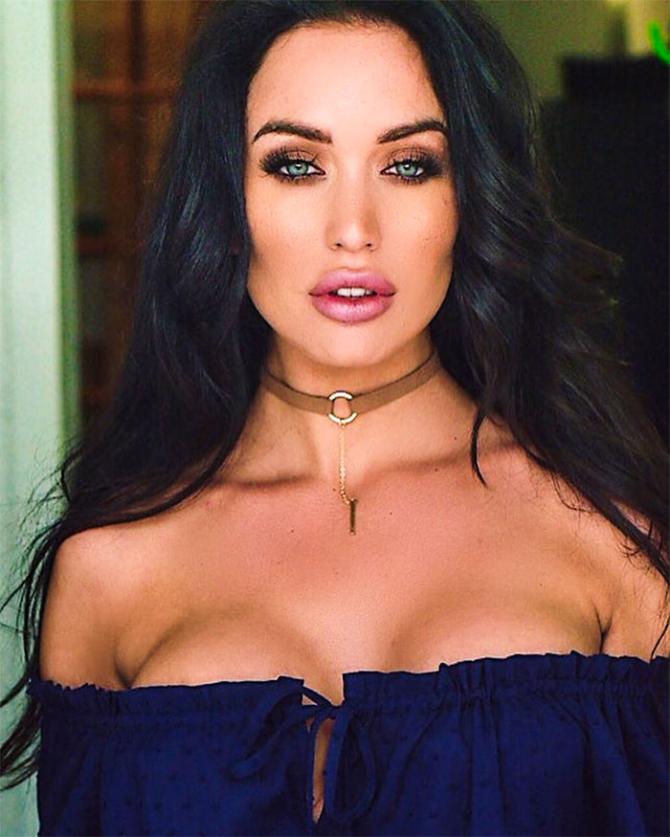 Monday's episode saw Australian Model Lucinda Nicholas's surprise eviction from the ongoing reality show, Bigg Boss, after the padosis (neighbours) failed to keep their task a secret.
The four padosis were tasked with introducing themselves to the other housemates as a family. They were promised immunity as long as the rest of the contestants did not come to know they were not related by blood.
On Sunday night, however, we saw Vikas Gupta and Akash Dadlani figure out that they were lying and, as punishment, one of the four padosis has been axed from the show.
That axe fell on Lucinda.
Lucinda, who aspires to a career in Bollywood, has been a yoga instructor for over 10 years. During the show's first episode, she impressed host Salman Khan by effortlessly mouthing the names of yoga asanas in Sanskrit.
You might have also spotted her in the Yo Yo Honey Singh song, Party all night, from the movie, Boss.
She was last seen in the television show, Pardes Mein Hai Mera Dil. She has also appeared in some dance numbers down south and done several brand endorsements.
She is a student of law as well.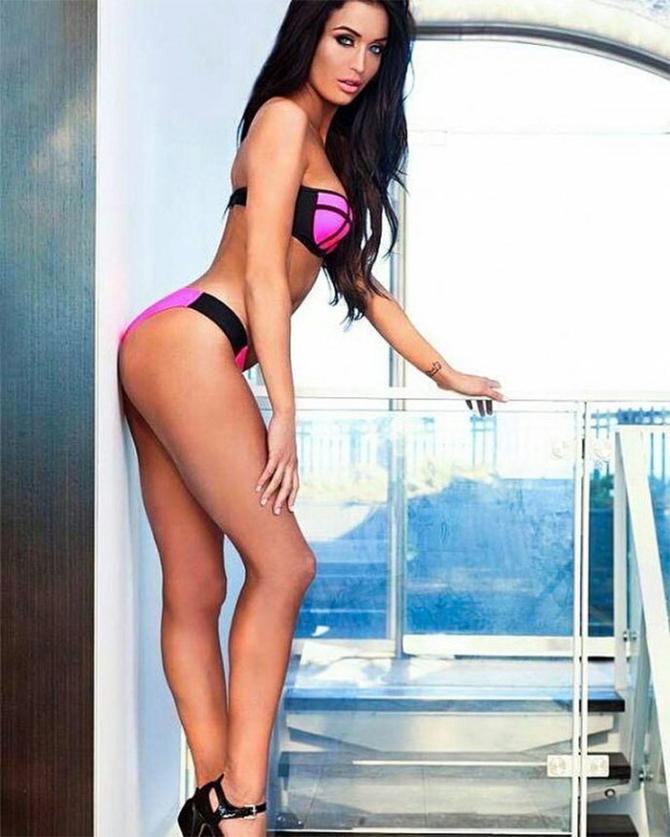 You have been evicted in just three weeks…
I am really sad; I didn't expect to get evicted.
I feel I had lot more to show in the house. My eviction was the result of the failure of the padosi task.
Inside the house, they chose one of the padosis and it was pretty much between me and Luv (another contestant).
I'm a little bit disappointed because I stuck to the task; I feel it's unfair (that she was chosen for eviction).
I was learning Hindi very quickly. But I think I was very quiet during the first week and nobody got to see the real me.
Has your Hindi improved in the house?
Yes. I had no option but to speak Hindi as much as I could. If I had more time (stayed longer), I wouldn't have been afraid to communicate in Hindi.
I was trying to pick up Hindi words and sentences and speak, even though my Hindi was not correct.
You didn't mix with everyone in the house…
Firstly, language was a major issue but I was learning. Secondly, when I entered the show, I was astonished that the padosis had so many powers.
I took time to understand the game.
Yes, I regret going into a shell as I tried to cope up with the surprises but that's my personality.
I didn't create any controversy or get into fights because there was no need. And, because we were doing a task, we had to be in character.
I did my share of the household work and followed the rules.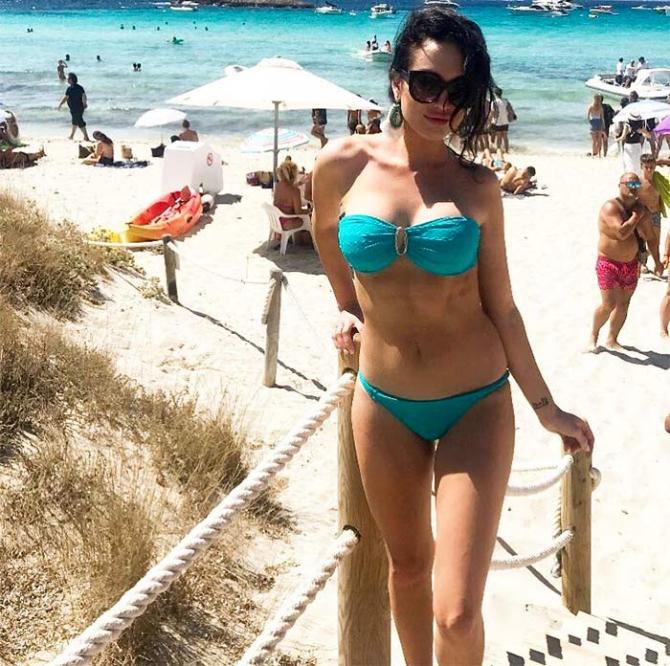 How did you manage with the Indian food? Did you learn to cook Indian food?
I love Indian food.
We have some really good cooks in the house. I learnt to make dal, roti and many other dishes whose names I don't know.
Sabyasachi (Satpathy) is a very good cook.
I would help him in the kitchen and watch him cook. I am vegetarian and we would cook vegetarian dishes most of the time.
When I go back, I will cook Indian food for myself and my family. I love Indian masalas.
I have learnt to make chai in the house.
When I made chai for the first time, a couple of housemates said it was their favourite chai.
Was Aakash Dadlani trying to woo you?
He made it quite obvious that he wanted to strike up a relationship, but he didn't tell me that he wanted to do it for the cameras.
I knew he was just playing a game.
I also came to know that he voted me out.
But he was very entertaining. It was fun listening to his songs.
However, I never thought of it as anything serious or more than just friendship.
Did you make any friends in the house?
Sabyasachi was very nice to me from day one. He will remain my friend outside the house.
He would help me in Hindi and is a very good person.
Like I said, I had a very short stint; if I had stayed longer, things would be very different.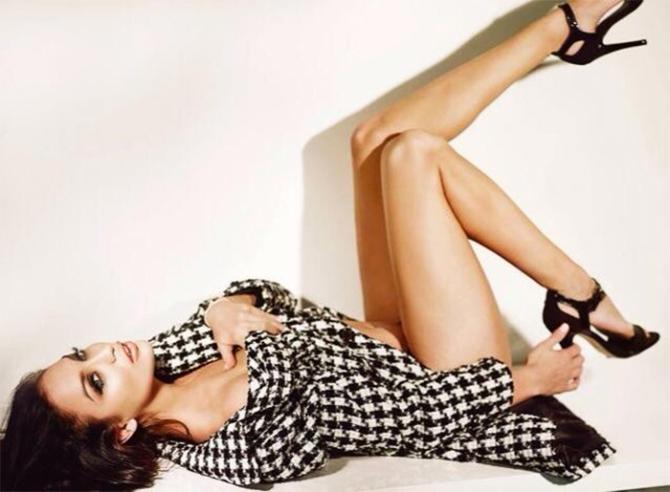 What made you take up Bigg Boss?
It's one of the biggest reality shows in India, hosted by one of Bollywood's biggest stars.
It was an amazing experience because it was different and challenging.
I am always looking at new things.
I watched a few episodes of the previous season before I went inside and thought it's a great opportunity for people to know me.

Who do you think is playing the game smartly?
Hiten (Tejwani) is being natural. He's not being influenced, which is a very strong character trait.
I think everyone inside the house is playing a game. It's hard not to.
Puneesh is playing a dirty game.
Given a chance, would you go back to the house?
Absolutely!
The feedback I have got is that I was quiet so I think, if I got the opportunity to return, I would be way more confident in Hindi and be part of the game.
Now, after eviction, I know whom I shouldn't trust. This is my first reality show and it was fun.
Are you planning to stay on in India?
Yes. I'd love to do a film. My Hindi is improving so I have no trouble picking up scripts.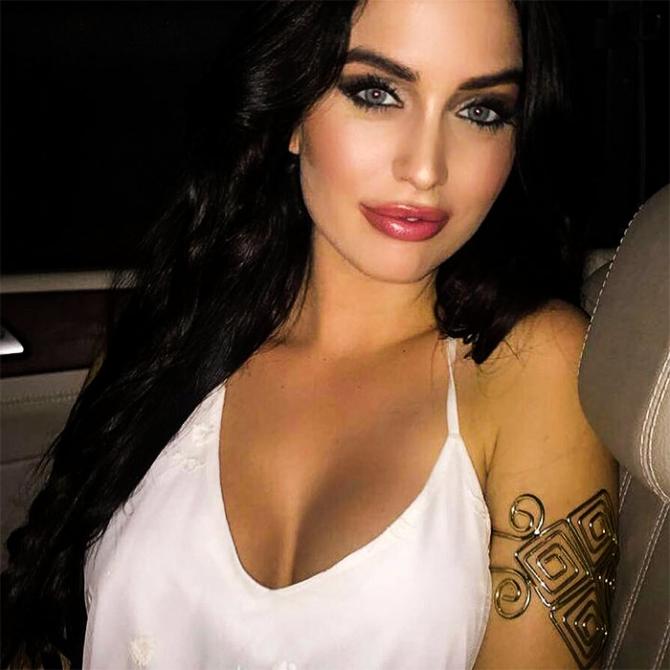 What did you miss the most inside the house?
I missed my family a lot as I am already living away from them.
There were moments when I got confused with life inside the house as there is no TV, watch or phone.
There is no loyalty among the housemates; they are just playing games.
What did you think of Salman Khan as a host?
Brilliant, witty, funny... a fair person. He is the biggest star in the country.
We had a laugh on the first day when I was trying to speak in Hindi.
He is known to have helped many foreign actors get films in India. Do you expect he will do the same for you?
I don't expect anything but I would love to continue working in India, and obviously work with Salman too.
All photographs: Kind courtesy Lucinda Nicholas/Instagram