'I worked as a cleaner at a store.'
'I worked as a security guard...'
'I have slept on footpaths.'
'I came to Mumbai with great difficulty.'
'I have not seen better people than I have in the film industry.'
'Nobody has helped me the way people have done for me here.'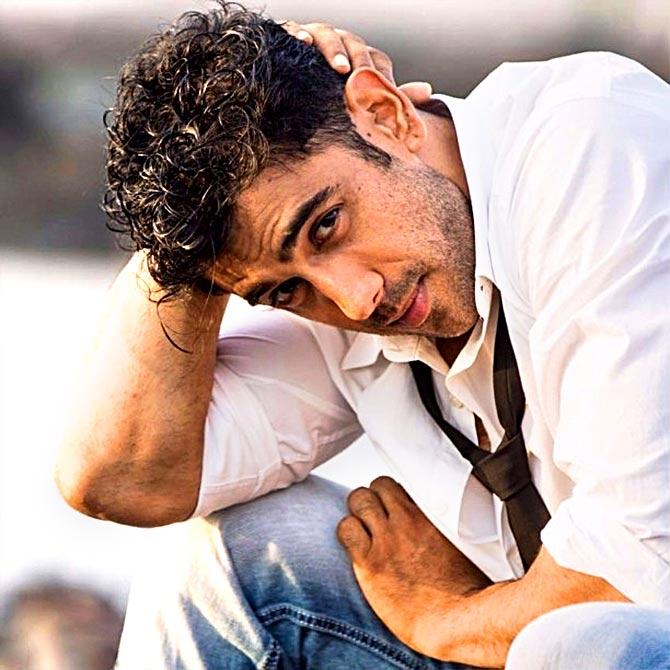 Photograph: Kind courtesy Amit Sadh/Instagram
"I hope I get more work after Sarkar," says Amit Sadh.
The actor, who plays Amitabh Bachchan's grandson in the third installment of Ram Gopal Varma's franchise, is very excited to be in the company of stalwarts.
Sadh remains grateful to the film industry for taking him in, and helping him pay his rent.
He shares his story with Rediff.com Senior Entertainment Contributor Rajul Hegde.
How did Sultan help your career?
Sultan is one of the best Salman Khan films.
I was overwhelmed by the reaction I got for my role.
After a point in a film career, it becomes irrelevant if you have talent or not.
Financers, studios and the casting process in India follow a different kind of blueprint.
It's good things are changing. Filmmakers like Reema Katgi have cast people who are new and talented.
When Sultan came out, producers and directors thought they could give me a bigger role than just 20 minutes. (Smiles.)
Running Shaadi didn't do well.
I did that film in 2013 after Kai Po Che, but it got stuck. Then, it released and didn't do well. That's life, I guess.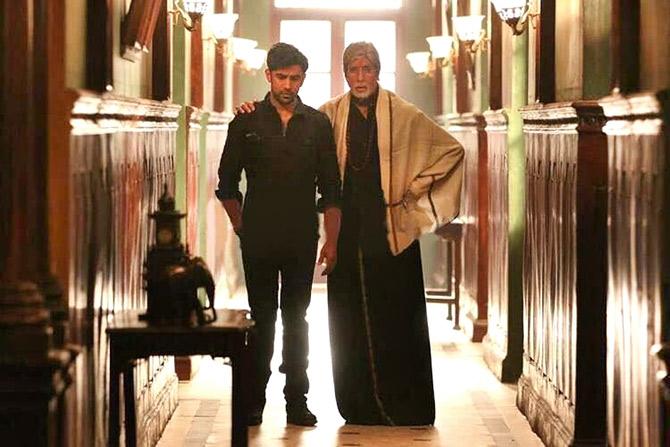 IMAGE: Amit Sadh and Amitabh Bachchan in Sarkar 3. Photograph: Kind courtesy Amit Sadh/Instagram
You hit a roadblock after Kai Po Che.
My next film (Guddu Rangeela) released two years after Kai Po Che, so people thought my career had come to a halt.
Some films I shot for had gotten delayed.
So I decided to travel. I went for a six month trip around the world.
I still have to earn to pay my rent, so I have to keep working.
There is so much talk about nepotism these days.
It's just a term that fascinates us and we milk it for our convenience.
I worked as a cleaner at a store, where they would give me lunch for free.
I used to sweep floors, wash utensils...
I have worked as a security guard in a showroom in Delhi.
There is no job I haven't done.
I have slept on footpaths.
I came to Mumbai with great difficulty.
I have not seen better people than I have in this (film) industry.
Nobody has helped me the way people have done for me here.
I came here with nothing. Today, I have a house, I pay the rent on time and have three big dogs.
I am working with Amitabh Bachchan in a Ram Gopal Varma film.
After this, I cannot come up with lame terms like nepotism.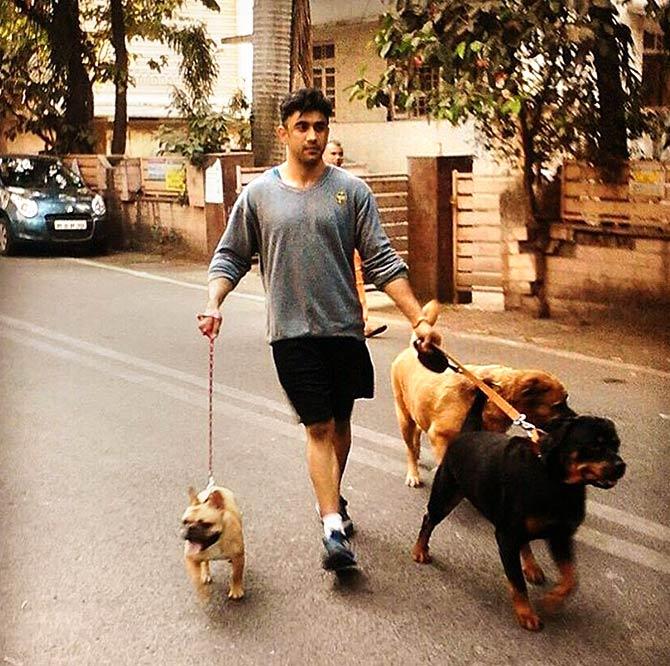 IMAGE: Amit Sadh with his dogs. Photograph: Kind courtesy Amit Sadh/Instagram
Apparently, Mr Bachchan recommended you for Sarkar 3.
Yes. Ramu sir called and shocked me with this news.
He is an honest man and clearly told me that he hadn't seen my work. He didn't even know who I was.
I was called for a photoshoot where I was told to look angry.
I did, and got selected.
I went up to Mr Bachchan on the first day of the shoot, touched his feet and said thank you.
A couple of months before, I had met Mr Bachchan with producer-director Shoojit Sircar. The conversation lasted for only five, six minutes.
Somewhere deep down, I thanked Shoojitda to have introduced to Mr Bachchan.
People ask if I was petrified shooting with Mr Bachchan.
I chose to be an actor and it was my dream to act with him. When this comes true, why should I be nervous? I will make the most of it.
When an actor like Amitabh Bachchan stands in front of you, he makes you look good.
He inspires you to give your best.
I was a big fan of the Sarkar franchise. Those were my struggling days... well, I am still struggling.
But in those days, I had no work. I had no money to pay rent.
I was a huge fan of Ram Gopal Varma and could not afford to miss his films.
It used to be my homework.
Since I had watched Sarkar 1 and 2, I surrendered myself to Ramu Sir.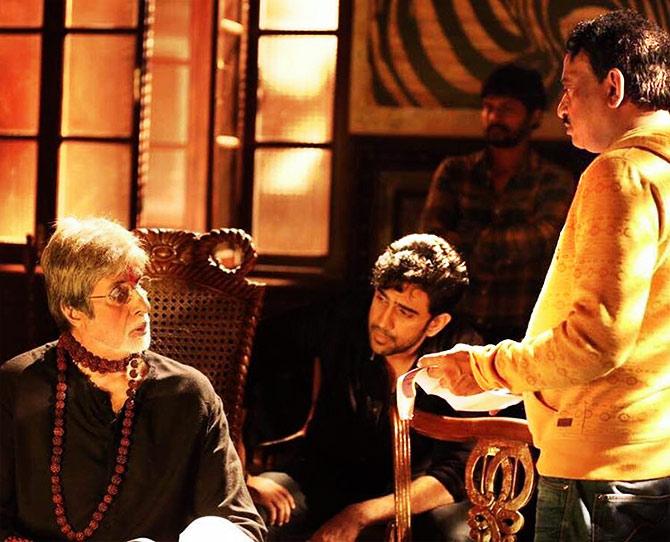 IMAGE: Amitabh Bachchan, Amit and Ram Gopal Varma on the sets of Sarkar 3. Photograph: Kind courtesy Amit Sadh/Instagram
Ram Gopal Varma is said to be moody. What was it like working with him?
He is the coolest guy I have ever met in my career. He is very intelligent.
I would have long conversations with him on films, books, music and ideologies.
He is passionate about filmmaking. I have never found him eccentric.
What are your upcoming projects?
There will be a lot of me this year.
I have Tigmanshu Dhulia's Raagdesh where I play Colonel Gurbaksh Singh Dhillon, an officer in Subhas Chandra Bose's Indian National Army.
Yaara (also directed by Dhulia) is releasing,
I have a Web series, Breathe, with R Madhavan, which will release in September.
I am prepping for Gold (Akshay Kumar's film on Olympic hockey legend Balbir Singh, directed by Reema Kagti).