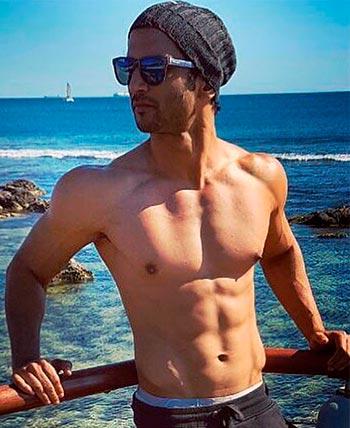 'There is only one thing common between Dhoni and me: We take our work seriously, not ourselves.'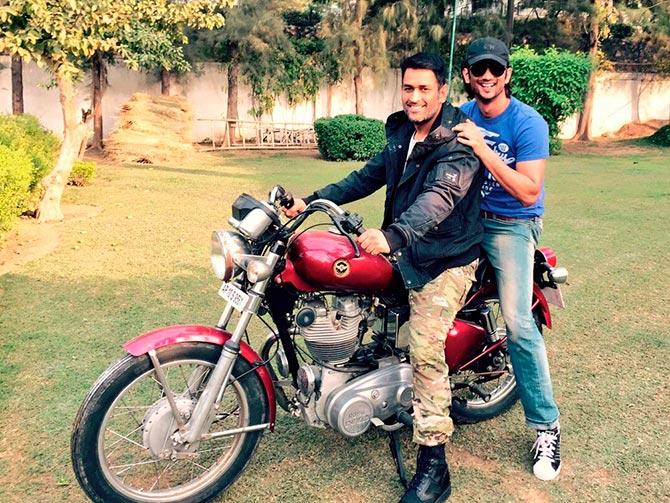 IMAGE: Mahendra Singh Dhoni takes Sushant Singh Rajput for a ride on his mean machine. Photograph: Sushant Singh Rajput/Instagram
Sushant Singh Rajput has moulded himself to be like cricket legend Mahendra Singh Dhoni, and he seems happy with the result.
The actor will be seen in MS Dhoni: The Untold Story, directed by Neeraj Pandey, who has given us A Wednesday and Special 26 earlier.
Sushant tells Rediff.com's Patcy N how he spent time with MS, and just how well he knows him now.
The Dhoni biopic is being promoted as an 'untold story.' Is it based on his love story?
If people think it's a love story, they are in for a big surprise.
The untold story is why he is the way he is.
We know everything that has happened in his life as a cricketer. If you Google it, you will know everything and won't have to shell out Rs 300 to Rs 500 to watch it.
I was his biggest fan since 2004. I still am. I knew everything -- the way he played and the way he carried himself. But I could never understand why he is the way he is.
So that is the untold story. It's about how he deals with failure and success.
We are trying to highlight this: No matter where you're from, big city or small, privileged or underprivileged, in this country if you dream big and somehow convince yourself that if it can happen, it will.
What have you learnt from the film?
I have learnt a lot. It was very difficult because it took me one-and-a-half years to learn about Dhoni. There are many things that I already knew, but could not understand how to execute it.
I have read books which talk about the power of now and how you have to be in the present, not in the past or future. But you don't understand it unless you actually experience it.
After you are successful, you have something to lose. The thing is not to let go of whatever you have. If you dwell on the past, it gets difficult.
Also, when you are successful, there is a tendency to think that you are right and you tend to take yourself very seriously.
Dhoni takes his work seriously, but not himself.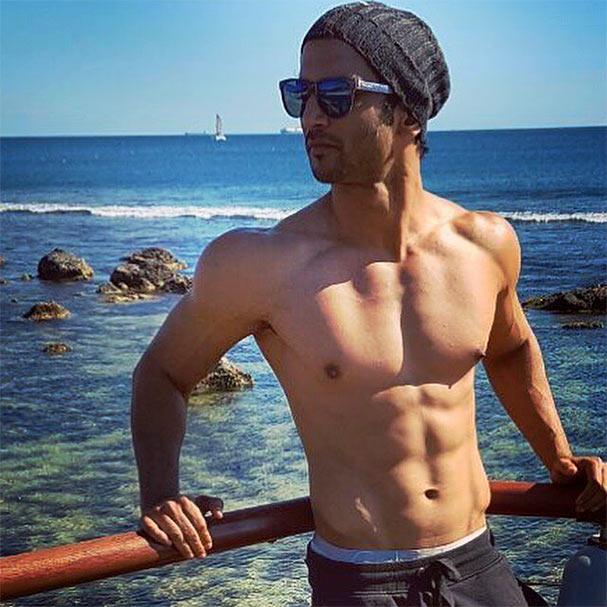 Photograph: Sushant Singh Rajput/Instagram
How much time did you spend with Dhoni to know him better?
I met him in short spurts, thrice over a period of one year.
I first met him during my preparation, which was between two (cricket) series when he was free. I listened to his story from his point of view. I recorded everything and wrote it down.
After four, five months, I met him again for a few days. I asked him questions and he answered them patiently and honestly.
I also came up with over 200 multiple choice hypothetical questions, like what would he do in a particular situation. While answering those questions, he wasn't allowed to think. He had to go by his basic instincts. That was one way of understanding him better.
Then I met him for the third time just before the shoot started. I asked him questions related to the script. I wanted to know what exactly he was thinking at that particular instance.
He taught me how to hold the bat. It was so surreal! I mean M S Dhoni was showing me how he holds his bat! It was too good to be true.
I stayed in places where he stayed in his teens, like Ranchi and Kharagpur.
I spent time with his friends and roommates.
Did Dhoni's wife Sakshi give you any inputs?
I met everybody and spoke to everybody, including his parents and sister.
Did you ever play cricket?
I have never played professional cricket. I didn't even get selected for my school team. But I did play like everybody else does.
My sister was a professional cricketer, so the cricketing atmosphere was always there.
This film is not about cricket, but that is a very important factor in it.
Normally, when we portray a fictional character, we don't have a reference for it. Here, we have a reference.
I realised that I can be a very good actor and cricketer in the film, but I won't be convincing if I don't remind you of him. So there is a certain level of imitation.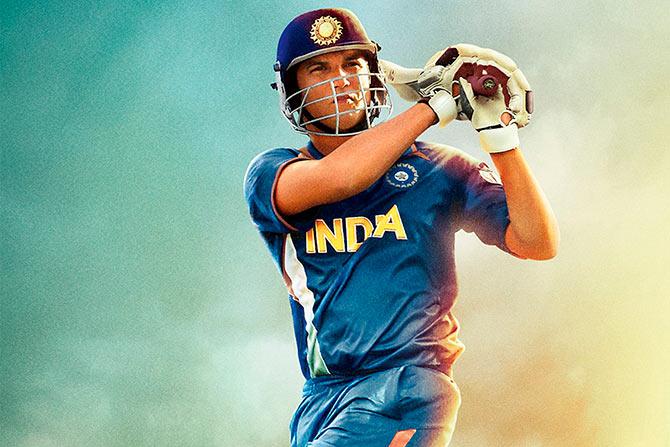 IMAGE: A scene from MS Dhoni: The Untold Story.
There are signature shots Dhoni is known for, whether it's the helicopter shot or the over-the-shoulder scoop. How did you get those right?
We had a team for that. Kiran More (the former Indian wicket-keeper) used to coach me. Dhoni had spent a lot of time with him, so they knew each other.
He structured the training sessions superbly. The first three, four months wasn't about Dhoni, but about learning proper cricket.
We felt that if somebody looked at me, they should feel I am a professional cricketer. The way you play and the sound of the shot, those basic things came through after a lot of practice.
I remember the first few days when I was wicket-keeping, I got cramps because that is an awkward position. You know that the ball will come to you in six or seven seconds and if you don't concentrate, you'll get hit.
Three, four months were all about fitness.
Then we moved to MCA (the Mumbai Cricket Association) where we had a team of analysts and a physio.
After that, it was about each and every shot that Dhoni was known for. For instance, the helicopter shot was given to me in seven different frames.
I was explained when and where the body weight transfer was happening. After a clear analysis, Kiran More would set the bowling machine at a definite spot and I would play the same shot for three to four days. That's about 250 shots a day.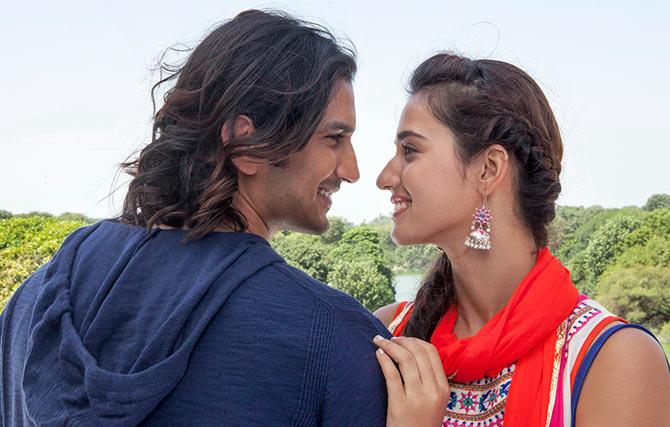 IMAGE: Sushant and Disha Patani in MS Dhoni: The Untold Story.
Don't you think it's too early to make a biopic on Dhoni?
There is something substantial to say and you say it through a film.
I could make three different stories till 2016 because there are different things that I want to say. So it doesn't matter if he's still playing. I hope that he will do many more great things.
But till 2011, there was a story to say and we are saying it.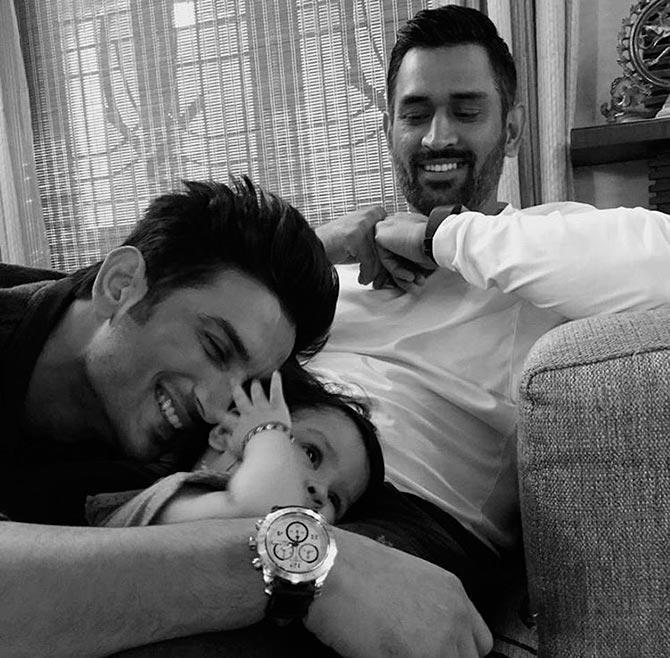 IMAGE: Sushant bonds with Dhoni's daughter Ziva. Photograph: Sushant Singh Rajput/Instagram
Do you share anything similar with him?
There is only one thing common between us: We take our work seriously, not ourselves.
I love my failures and successes equally. I take full responsibility. I would fool myself if I thought that I can control my future.
How important are box office numbers to you?
It has become important now.
I am a very selfish actor. I think about myself when I choose, prepare and shoot a film. I don't think what people are going to say about the film or whether it will be successful at the box office.
But after the film is done and it's about to release, that's when I think about the audience for two reasons.
First, I want it to do well. I want to do films like this again and again, and that can only happen if this film does well.
Secondly, if we are selling this film by calling it a good one and you will be spending Rs 500 and two-and-a-half hours of your life, we better not fool you.
Apart from that, I just think about myself and my excitement.
Lastly, are you happy with your single status?
I don't think like that, whether I'm single or dating. There are many things that I have learnt.
I don't think about my future anymore. I am right here with you and I am finding this conversation interesting. I am very happy.