'Sridevi's ethereal beauty on Chitrahaar. Transfixed!'
'Want to tell the whole world that I love Sri. Missing you Chandni.'
We had asked readers to share their fondest Sridevi memories.
Her fans made sure to write in, and tell us what she means to them.
We shared the first lot of memories.
We bring you some more: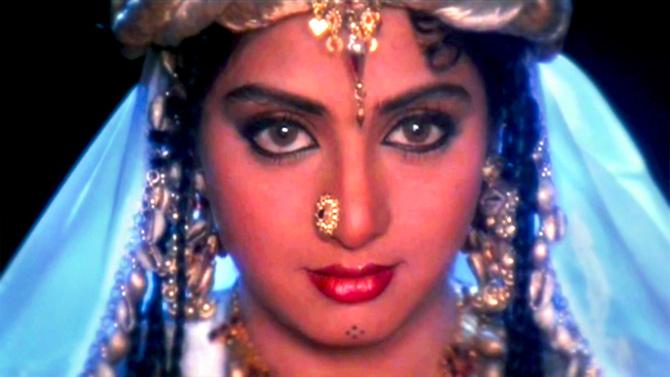 IMAGE: Sridevi in Khuda Ghawah.
Name: Dr Ashish Agrawal
Hometown: Surat, Gujarat
A part of childhood isn't dying. It's resurfacing like a phoenix.
I am there. Mother yelling from the kitchen. A boy pretending to finish homework in front of the TV.
Sridevi's ethereal beauty on Chitrahaar. Transfixed! The notebook slides itself into the bag. Eyes gleaming.
There is nobody else who can ever replace #Sridevi!
There will never be another Sridevi... I just cannot believe this...
Sridevi I have always loved you and will love you forever! What a sad day it is!
For me, the true meaning of Bollywood was #Sridevi .. that's it.
I just cannot believe she is no more.
Very, very, heartbroken and just sad.
Never known anyone who was so painfully shy, so quiet off screen, who just transformed into a force of nature when the cameras came on.
She was an interviewer's nightmare, but the movie-buff's dream.
You will be missed, Sridevi. Thank you for the movies.
***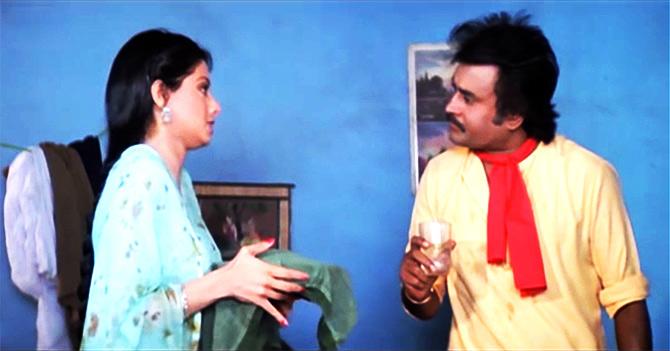 IMAGE: Sridevi and Rajinikanth in Chaalbaaz.
Name: Vicky
Age: 40
Hometown: Punjab
Don't have words to share my love and fascination for the supreme soul who left us on Saturday. Deeply Saddened and numb.
Can't show to world at this age of mine how much I still love her.
All my old friends and known ones were aware of my madness and crush.
My wife who herself is more beautiful than Sri just hates her from the start of her name only just because of my love for her. She cannot tolerate her photo even...
Cannot show to the world how much I am broken, saddened.
Just reading and seeing her since Sunday morning. Crying in between... she was my part of life... I was just mad for her.
People of old times with whom I don't even interact much these days... relatives calling me with fun and serious notes about the loss.
My love for her started at the age of 8-9 years when I first saw Nagina.
I gone mad for her eyes. Saw that movie numerous times. Always loved it more than before.
Then was completely mad after Mr India. I never laughed and cried this much.
The songs were just awesome and so was her acting.
Garden, garden ke aage balcony, balcony ke aage samunder. Numerous scenes were just outta world -- cockroach scene, pastries scene, Chaplin scene, office scene in front of Annu Kapoor... just marvelous acting.
Then Chandni. Always prefer ladies dress like Chandni. Simple, clean and sober. Songs till date run in my car.
Coneac sharaab nahin hoti woh hamari kaun si khushi mein shareeq hona chahta hai, wheel chair smile and crying in the last reels, that mirchi scene.
Chaalbaaz -- hahahaha. Epitome.
In between saw Sadma. Speechless and stunned by her portrayal and Kamal Haasan too. Great piece of Art. Loved the child woman beyond limits and Kamal Haasan too.
Then comes my all time favorite Classic -- Lamhe. I may have seen the movie 100 times, maybe more.
My wife gifted me CD of that movie before marriage. I was mad, mad, mad.
Khuda Gawah: She was much bigger and better for me then AB. Was very disappointed when Madhuri won Filmfare for Beta.
Roop Ki Rani: As all Sridevi fans, I waited for that movie for long, was mesmerised by her beauty, the sets.
A day before release, Sri came in my dream and ask to see first day first show. Could not go in the morning, but I bunked my engineering tuition and saw second show.
Movie flopped and I cursed my mistake for long why it flopped.
Gumrah: That great wall crying scene.
Laadla: "Understand, you better understand."
Judaai: Legacy is long.
English Vinglish: Gustakh dil aaj bhi nahin manta.
Writing this e-mail in office, cherishing the moments of the past, reading just about her, want to tell the whole world that I love Sri.
Missing you Chandni.
***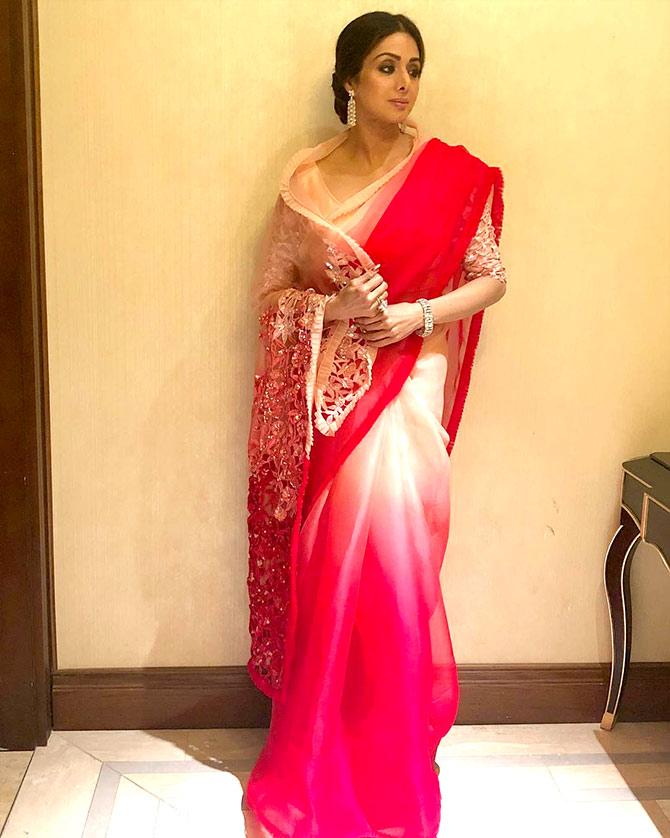 Photograph: Kind courtesy Manish Malhotra/Instagram
Name: Deepak Golannanavar
Age: 46
Hometown: Bangalore
She was a pure desi icon, truly made in and for India.
Her 9 yard sari-clad songs are like benchmarks for the other actresses.
Be it songs, dialogues, or the famous Chaplin take in Mr India. She was superb!!!!
***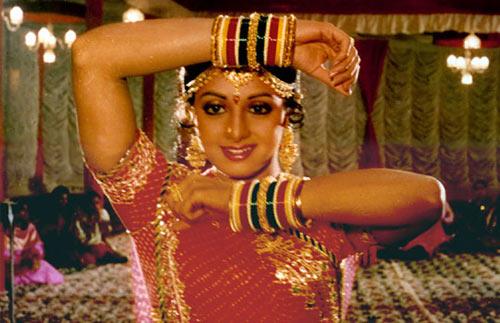 IMAGE: Sridevi in the song Mere haathon mein nau nau choodiyan from Chandni,>
Name: Suresh K B
Age: 43
Hometown: Bangalore
The Diva whose comic timing stands unmatched by any Indian actress past/present till date.
Be it a dancer or a simple village girl -- her transformation was effortless.
Her stardom seemed to threaten the leading stars (male/female) both on-screen and off-screen.
***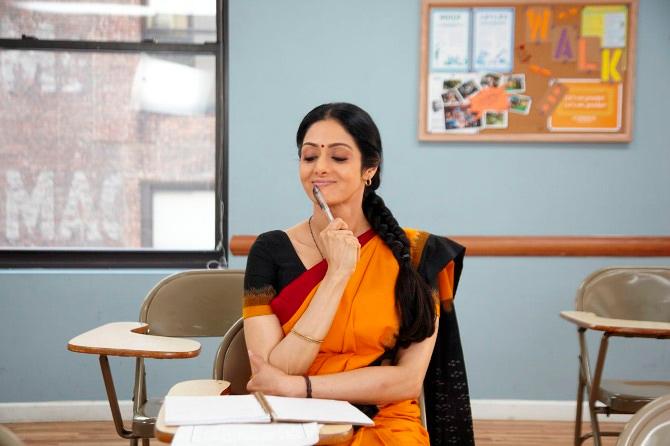 IMAGE: Sridevi in English Vinglish.
Name: Heera Nawaz
Age: 57
Hometown: Bengaluru
My favourite moment in a Sridevi movie is in English Vinglish.
I liked this movie because Sridevi cannot bear that she is being underestimated just because of her lack of communicating in the English language.
When she is abroad, she takes it as a challenge to learn English so she can start her own entrepreneurial catering business.
I like the scene where she shows keen interest and naive earnestness to learn English causing one of the foreign young men to have a crush on her.
When they are on the terrace of a building, he tries taking Sridevi's hand as she looks giddy and dizzy, harmless enough, but to the chaste and Sati-Savitri Sridevi, it is too much.
She looks shocked and polluted as she takes back her hand fleeing the scene!
In this scene, we are able to relate to an Indian woman's sense of chastity as she tells the French youth, "I am married with two children."
Irony, isn't it? Because many foreigners don't have this sense of family values and innocence.
Indeed, Sridevi could pull off almost any role, as she was a born actress! RIP.
---
What does Sridevi mean to you, dear reader?
Write in to us at moviesdesk@rediff.co.in (Subject line: Favourite Sridevi moment) with your NAME, AGE and HOMETOWN.
We'll publish them right here on Rediff.com