From Boyhood to The Grand Budapest Hotel, we've seen some brilliant cinema this year.
The year 2014 saw many exceptional films, some of which have already dominated the critics' awards cycle.
Boyhood and Birdman appear to be the favourites so far, but a lot can change at the Golden Globes Awards on January 11 and when the Oscar nominations are announced later.
Until then, Aseem Chhabra lists his favourite films, all released in New York in 2014.
All the films are in English -- a mixed bag of Hollywood productions, American indies and British films.
Boyhood


Ellar Coltrane in Boyhood
In Richard Linklater's much celebrated, heartwarming film, a boy (and also his sister) grow up over a period of 12 years in real time and 162 minutes in film time, but it does not feel long at all.
The young boy's parents, who were in their early 20s when they had him, are struggling to come to terms with becoming adults, including finding their individual paths after their divorce.
Astutely written and exceptionally well acted, Boyhood is the ultimate coming-of-age film, unlike anything that has been done on the screen before.
Linklater's experiment of shooting the film over 12 years was full of risks, not the least of which was that the lead actor, Ellar Coltrane, could have lost interest as the film progressed through his teenage years. But it paid off.
We see Coltrane (and Mason Jr, the protagonist he plays) grow up into a fine young man.
Boyhood is a story for everyone who remembers the happy and not-so-happy moments of their childhood.
It is a milestone in American cinema and will be hailed long after the 2014 award season is over.

Read the reviews here and here.
Birdman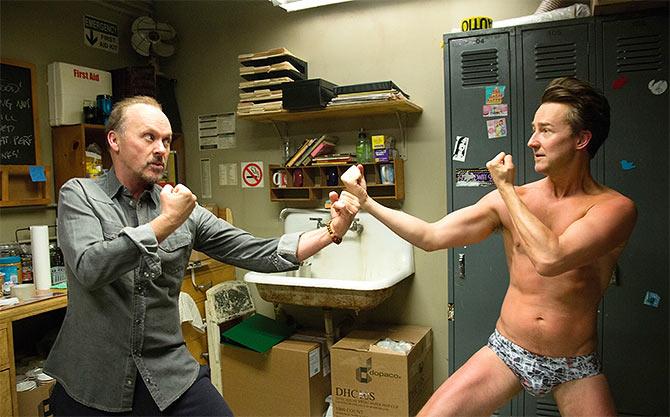 Micheal Keaton and Edward Norton in Birdman
For his fifth feature, Mexican filmmaker Alejandro González Iñárritu takes a detour from his past projects, including his last work Biutiful, one of the saddest films ever made.
His new work Birdman is a comedy, but with all the darkness that he can bring into the mix.
In the film, Michael Keaton (best known for his Batman portrayal in Tim Burton's early Batman films) is an actor who had once played the superhero Birdman. Since then, his career has gone downhill and he is trying to revive it by producing and acting in a Broadway play.
Birdman is a big win for Keaton and his co-stars Edward Norton and Emma Stone.
As a film, it is also triumph for its Oscar winning cinematographer Emmanuel Lubezki (Gravity) and editors Stephen Mirrione (Oscar winner for Traffic) and Douglas Crise.
The entire film feels like a single take and that is what movie-making magic is about.
Selma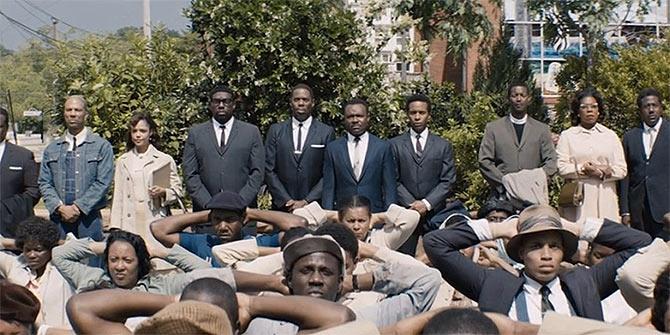 A scene from Selma

Selma released late in the year, on Christmas Day, and so the buzz around it started late, although it has sufficient Golden Globe nominations.
This story about Martin Luther King's struggle to get his supporters to march from Selma to Montgomery, in Alabama, is one of the richest and most important historical documents about America and the civil rights movement.
Selma is not just the story of King and his leadership, but it is also about the time period, the negotiations between King and President Lyndon Johnson, and the doubts, the debates and divisions in the civil rights movements.
It is a film that will haunt the viewer for the power of its storytelling. One will have to be stonehearted not to cry through the film.
At 42, Ava DuVernay is the first African American woman to win the best director award at the Sundance Film Festival for her second feature Middle of Nowhere. And now with Selma, she has become one of the most important contenders of 2014.
Locke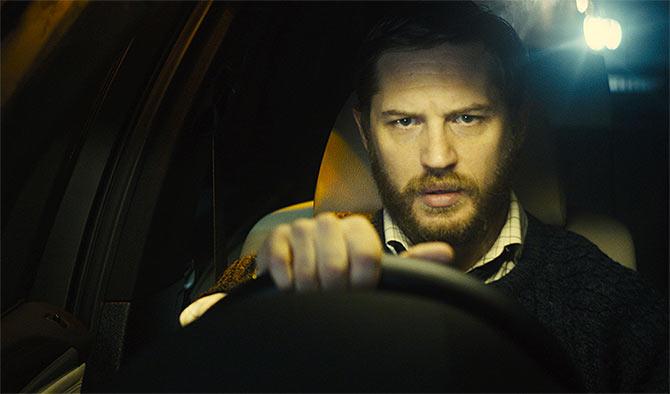 Tom Hardy in Locke
Locke is a brilliant cinematic experiment by director Steven Knight, best known for his screenplays (Eastern Promises and Dirty Pretty Things).
Hardy's Ivan Locke is alone in the film, driving a car while he takes calls from many people -- his colleagues, his wife and children and the hospital where he is heading for a reason I will not reveal here -- and negotiates through a number of complicated life issues, including his marriage and his job.
Locke would not have worked without the tour de force performance by Hardy, who is slowly becoming a major actor of our times.
Hardy's acting apart, Locke is a highly engaging and an emotionally gripping film, sharply written, shot and edited.
The Grand Budapest Hotel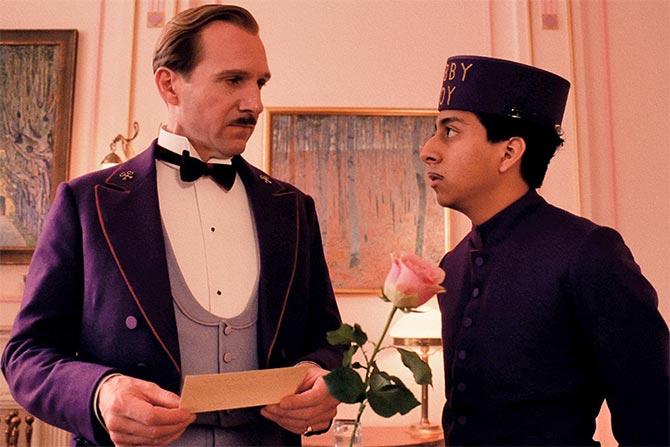 Ralph Fiennes and Tony Revolori in The Grand Budapest Hotel
Wes Anderson has always enthralled us with his quirky, whimsical stories about slightly strange but lovable characters living in dreamlike worlds that the director creates for them.
For The Grand Budapest Hotel, Anderson found an 18th century department store in a small German city, located along the borders with Poland and the Czech Republic.
The hotel resembles a giant wedding cake and the world recreated around the building comes straight out of the pop-up picture books that we used to enjoy as children.
And that is what The Grand Budapest Hotel is all about -- dreaming up our childhood memories, which Anderson seems to live in every day. The film is Anderson's gift to adults who are searching for the child in them.
Beautifully acted, The Grand Budapest Hotel is packed with major actors of our times -- Ralph Fiennes, F Murray Abraham, Adrien Brody, Willem Dafoe, Harvey Keitel, Edward Norton, Tilda Swinton, Jude Law and Anderson's favourite, Bill Murray.
It is a delightful treat for all the senses -- a film that will give joy to viewers whether or not they have seen an Anderson film before.

Read the reviews here and here
Foxcatcher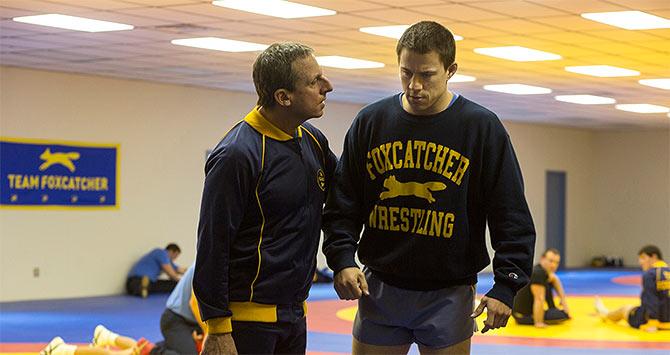 Steve Carell and Channing Tatum in Foxcatcher
A sensation at this year's Cannes Film Festival, director Bennett Miller (Capote and Moneyball) has created a dark film based on a true story about excessive wealth and the macho world of wrestling.
Foxcatcher is about John DuPont (a stellar performance by an unrecognisable Steve Carell), scion of one of America's wealthiest and most eccentric families.
DuPont's obsession and wealth make him a patron of the US Olympic wrestling team. He buys himself the title of the coach of the team.
With his money he recruits promising young wrestlers, including the 2004 Olympic gold medal winner Mark Schultz (Channing Tatum) and later his older brother Dave (Mark Ruffalo) as an assistant coach.
But DuPont's good intentions and his belief that money can buy anything have unexpected and tragic results.

Foxcatcher has a deeply sombre mood. The film grabs viewers, taking them through the world of the uber wealthy and their mad lives.
The Imitation Game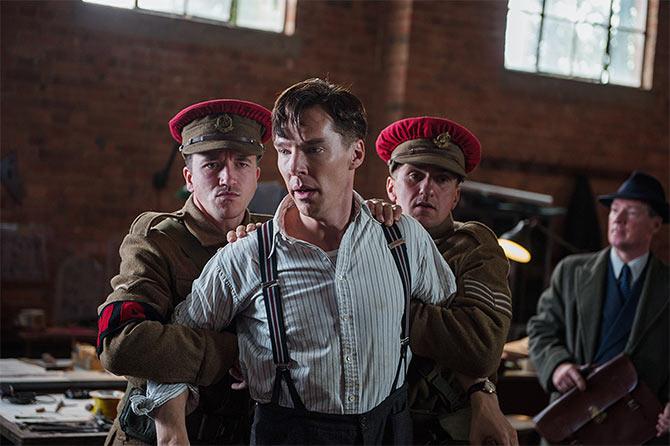 Benedict Cumberbatch in The Imitation Game
An early favourite of the film festival circuit, The Imitation Game won the prestigious audience award at this year's Toronto Film Festival.
This gripping World War 2 drama works almost like a spy thriller. It showcases the talent of the British actor Benedict Cumberbatch, who will surely get an Oscar nomination for his performance.
Cumberbatch plays the British mathematician Alan Turing, an idiosyncratic man who is hired by his government to decode the military messages of the Nazis.
Cumberbatch transforms himself into a loner and a gay man, who struggled his entire life because of his lack of social skills.
The Imitation Game is a wonderful blend of fine performances (including by Keira Knightly), and cinematography and captures all the elements of a period drama.
Whiplash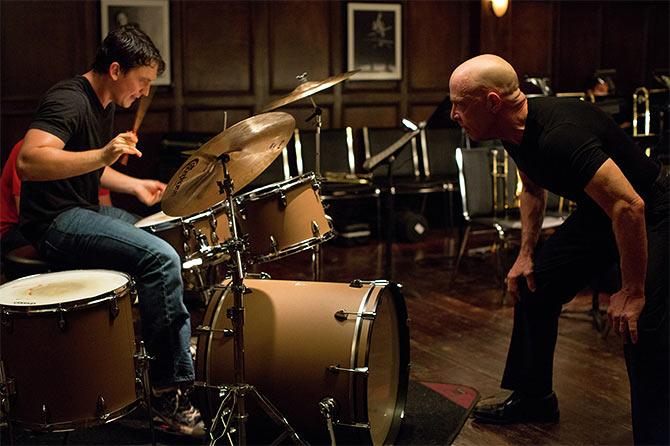 Miles Teller and JK Simmons in Whiplash
Whiplash may feel a tad familiar to anyone who has taken music lessons. But this story of a freshman at a prestigious New York music school, and a teacher from hell, is one of the scariest yet most absorbing films on this subject.
I first discovered J K Simmons as a creepy racist in the HBO prison drama OZ. Over the years, he has played a range of character roles, often comical as in Juno.
But nothing prepares one for his take on Terrance Fletcher, the conductor of the school's jazz band. It is the role of a lifetime for the nearly 60-year-old actor, who is a sure shot for a supporting actor nomination for the Oscars.
Miles Teller (Rabbit Hole) brings a lot of earnestness to the role of Andrew, the drummer trying to get a break in the school band. But for that he would have to take a lot of humiliation from Fletcher.
Whiplash is a devastating story, but one that keeps us totally glued to our seats. The characters are so real, their conflicts so believable, that we are always with them until the very end when they are still engaged in a cat and mouse game.
Starred Up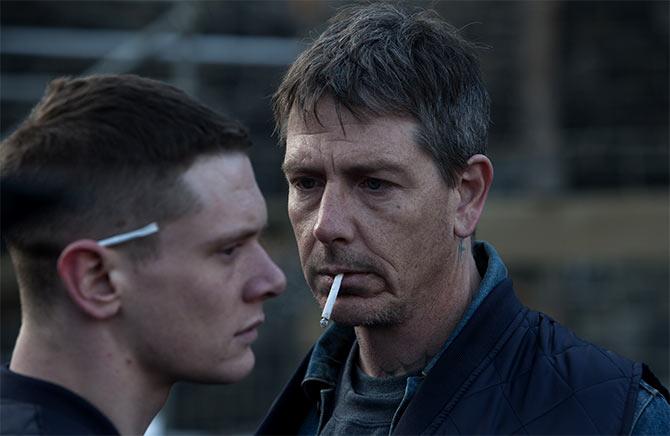 Jack O'Connell and Ben Mendelsohn in Starred Up
A tightly made British prison drama by director David Mackenzie (Young Adam), Starred Up is a difficult film to watch, and yet it was a favourite at the 2013 Telluride and Toronto film festivals.
Starred Up stars Jack O'Connell, one of the most amazing young finds from the UK. He is currently acting in Angelina Jolie's Unbroken and in the Belfast-based political thriller '71.
In the film, O'Connell plays Eric, a troubled teenager with a violent past, who is sent to a prison for adults. He meets an assortment of characters, some of who care for him and others who feel threatened by his presence.
Among the prison inmates is his long-lost father Nev (Ben Mendelsohn). The father and son re-connect under very difficult circumstances.
In a film that often takes violent turns, O'Connell delivers a great performance, in many ways reminiscent of the French actor Tahar Rahim's role in the masterpiece A Prophet.
Snowpiercer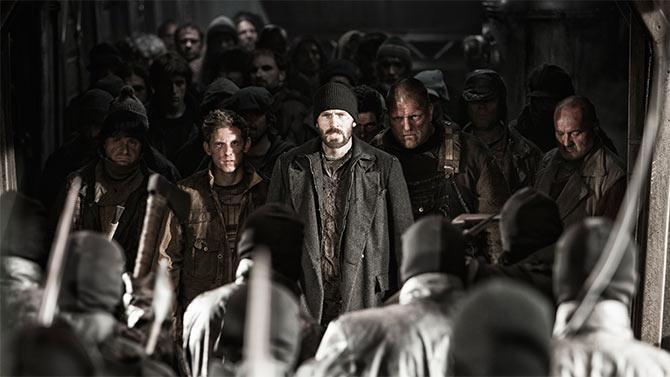 A scene from Snowpiercer
Korean director Bong Joon-ho's (Mother, Memories of Murder) first English drama Snowpiercer almost never made it to American theatres, as its distributor, The Weinstein Company, was keen on editing it and cutting down its length. But after protests by the director's fans and bloggers, some sense prevailed and the film finally opened in its original format.
In this sci-fi drama, the last inhabitants of the earth reside in a train as it circles the globe. Inside the train there is an entrenched class system -- the privileged ones who belong to the front and the less fortunate who live in harsh conditions at the tail. The balance is maintained by brute force until the people in the tail section rebel.
Snowpiercer is a must-see film for fans of this genre. The film's claustrophobic setting is enhanced by a terrific production design.
The film boasts of a strong international cast -- Tilda Swinton, John Hurt and Chris Evans and Joon-ho's favourite actor, Song Kang-ho (Memories of Murder and The Host).
The Disappearance of Eleanor Rigby: Him/Her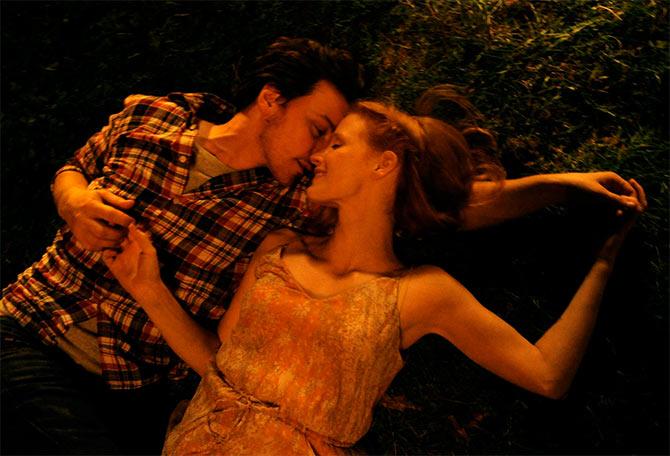 James McAvoy and Jessica Chastain in The Disappearance of Eleanor Rigby: Him/Her

A hit from the 2013 Toronto Film Festival, The Disappearance of Eleanor Rigby: Him/Her is a unique story about a young marriage and how it falls apart because of a tragedy.
The heartbreaking film by a young filmmaker, Ned Benson, is told from the perspective of the wife (Jessica Chastain) and repeated from the point of view of the husband (James McAvoy).
Again, the lords at The Weinstein Company were unhappy with the three-hour length of the film and they cut the film to another version that was shown at Cannes this year -- The Disappearance of Eleanor Rigby: Them. After protests in the press, they decided to release both the versions in theatres.
Good thing the Him/Her version is available, for this masterpiece is a must watch for anyone who has had his or her heart broken. The sadness in the film almost acts as a cathartic exercise.