Shiraz: A Romance of India, a 1928 Indo-British-German silent classic, will tell the epic tale once again. And you're invited.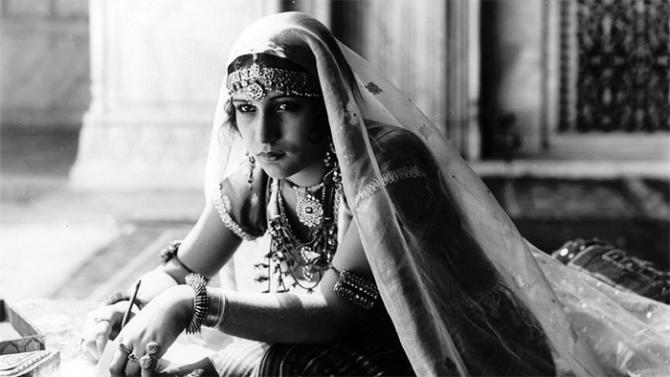 IMAGE: A still from Shiraz: A Romance Of India
At a time when the Taj Mahal has been the target of several misguided and acrimonious statements, a pre-Independence era silent film is coming to India as a reminder of what the mausoleum stands for.
Shiraz: A Romance Of India, a 1928 Indo-British-German silent classic, is a grand fictional account of the timeless love story of the 17th-century princess who inspired one of the world's greatest pieces of architecture.
Based on a play by Niranjan Pal, a founding member of Bombay Talkies and the first Indian playwright to have his work performed in London's West End, Shiraz is a stunning cinematographic achievement -- a breathtaking visualisation of Mughal architecture, palace scenes, the essence of the streets and the shimmer of the costumes of the time.
Directed by German filmmaker Franz Osten, the film is produced by Himanshu Rai, a pioneer of Indian cinema who also plays the lead role of Shiraz, a potter's son who would go on to become the architect of the Taj.
Starting November, the British Council and the British Film Institute National Archive, which restored the film, will screen it in four Indian cities as part of the UK-India Year of Culture.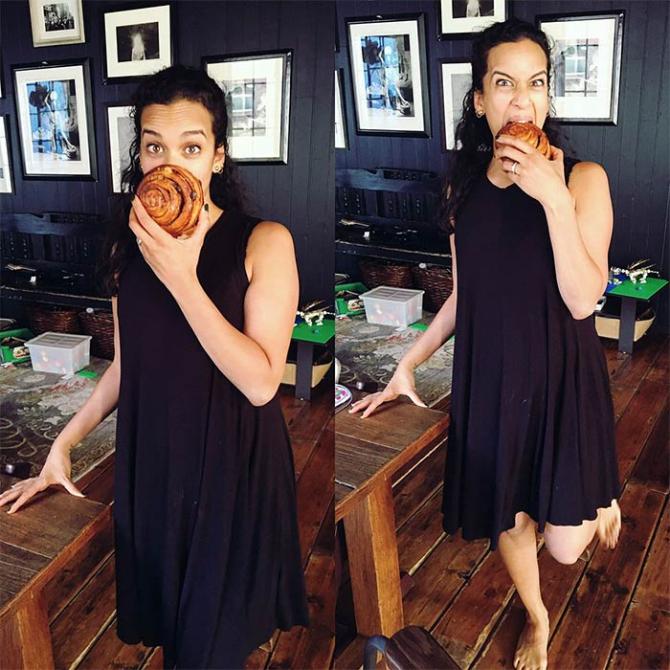 IMAGE: 'Stress-eating makes everything better! Only 8 days til the Gala Premiere of Shiraz at the @BarbicanCentre!!!' Anoushka Shankar captions this picture. Photograph: Kind courtesy Anoushka Shankar/Twitter
Sitar player Anoushka Shankar, who composed a music score specially for the film, will perform live at each of these screenings, lending a concert-like feel to the experience.
The challenges, says Shankar, abounded at multiple levels.
"It is not like scoring a film nowadays where there might be, say, 14 bits of music in a movie. This is a constant background score that needs to connect as a coherent piece of music, while still always being faithful to the emotional content of that moment," she explains.
Shiraz is the first film she has composed music for.
The epic love story comes with many shades -- "from dramatic battle scenes with cavalry and elephants, where I got to really flex my muscles, to the really intimate romantic moments, where the music could be very delicate," says Shankar. "So I got to explore every shade as a composer."
Two extended kissing scenes between Enakshi Rama Rau, who plays Selima (later Queen Mumtaz Mahal), and Charu Roy (Prince Khurram, later Emperor Shah Jahan) in the film that was created nearly 90 years ago are bound to elicit a degree of shock.
"When I watched the movie for the first time, I gasped," says Shankar, "because when you think of a black and white Indian film, you don't quite expect this. To think that way back in the 1920s, there was no fuss. When people kissed, they kissed. It was as simple as that."
Five years after Shiraz, another of Rai's productions, the bilingual Karma, would feature a record-setting, nearly four-minute kiss between him and his lead lady and wife, Devika Rani. It is fascinating that, eight decades later, that record stands, at least in Indian cinema.
For Shankar, the only reference to an earlier such work was the music of Satyajit Ray's Pather Panchali (1955). It was composed by her father, sitar maestro Ravi Shankar.
"I think it is one of the best soundtracks ever made. There is a real marriage between visual and music that happens in that film," she says.
Taking inspiration from it, she set out on her own to explore multiple styles, from "pure classical" to "modern and multicultural" -- the way India is.
For Shiraz, this is an appropriate moment to visit India, now that efforts are on to clean the political muck that has been hurled at the ivory-white marble mausoleum that is a central character in the film.