'Chand Chhupa Badal Mein were originally written for a film that Ram Gopal Varmaji was directing.'
'One day he said, "Mehboob, the lyrics that you have written are really beautiful, but the hero of my film is a goon. He cannot sing such beautiful lyrics".'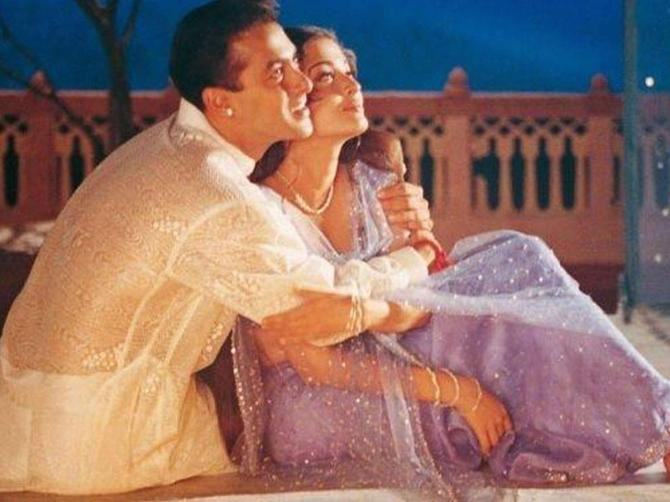 One of Bollywood's notable lyricists Mehboob feels proud that the younger generation still sings his songs.
Mehboob, who is all set to make a comeback in the Tiger Shroff starrer Heropanti 2, looks back at his popular music in a conversation with Rediff.com Contributor Mohnish Singh.
After the huge success of Hum Dil De Chuke Sanam, why did not we see you collaborate with Ismail Darbar and Sanjay Leela Bhansali again on Devdas?
That keeps happening in the industry.
We had created songs like Chand Chhupa Badal Mein and Tadap Tadap Ke several years before Hum Dil De Chuke Sanam was made.
Lyricists and music composers keep creating new songs and adding them to their bank.
I had already written five songs for Devdas, but things did not work out for a variety of reasons.
Something untoward happened and I opted out of the project. Let's not go there.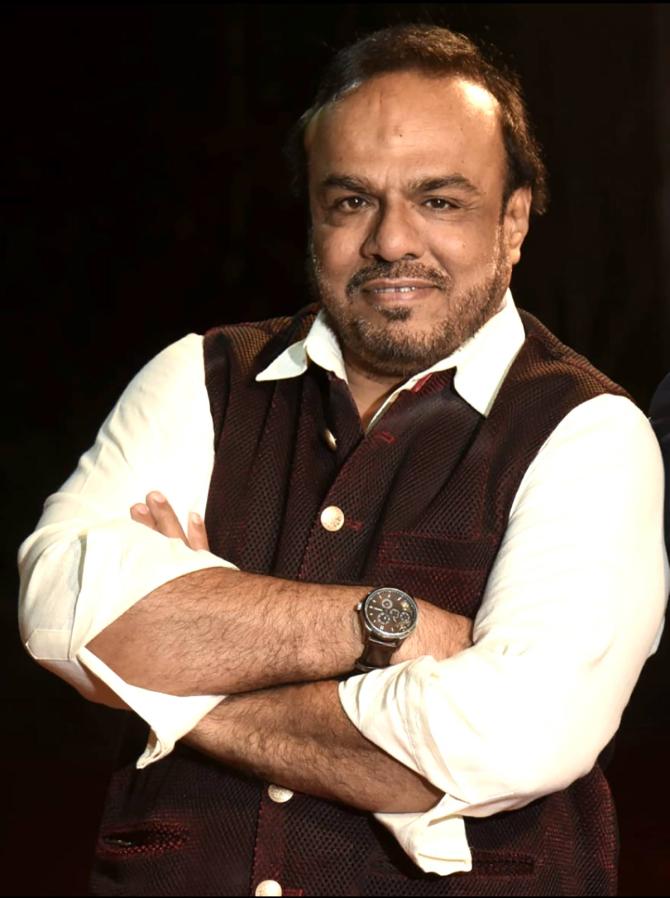 Some of your iconic songs have been remixed in recent years. Did you enjoy them?
I am not at all in favour of remixes and recreations.
It feels like our originality and creativity have taken a backseat. Why else are they remixing every hit song from the past?
Such wonderful songs were written back in the '60s and the '70s. Nobody from my generation recreated them.
We strived to come up with new words, new songs and new melodies.
We did not copy or recreate anything.
When they recreated my song Hamma Hamma, hundreds of people messaged me, saying, "How could they do this?'
Believe me, after the release of the remix, several youngsters came up to me and said, 'Sir, the original song was too good. Why did they remix it for the heck of it?'
Having said that, nothing is in my hand.
The rights lie with producers and I cannot do anything about that.
But my heart knows how much I dislike this trend.
Have we really fallen short of creativity that we rely so much on recreating old songs?
One should keep pushing the envelope.
But I know there is another side to the coin.
We live in such a fast-paced, chaotic and stressful world. Nobody has time.
Producers call the music director at 2 pm and demand a new song at 4 pm.
Everybody is in some sort of a hurry.
Also, anybody can become a music director now, as if it does not require any talent.
I see so many music programmers and arrangers becoming music directors.
Everybody wants to show their 'jalwa', whether they have it in them or not.
Everything is directionless.
But I may be wrong.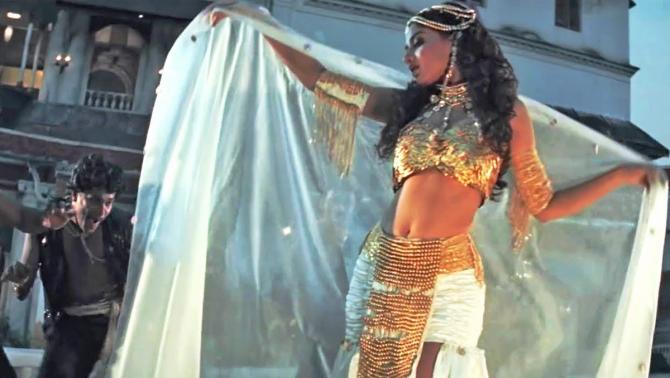 You have worked with several music directors over the years. Who did you enjoy working with the most?
I have worked a lot with A R Rahman.
Besides him, there are several music directors I have worked with on several projects and I thoroughly enjoyed the experience.
I have had a cordial relationship with each one of them. You would have never heard or read about me saying anything against anybody.
I work on a project and then go home.
At times, you learn something from them.
But yes, there has always been a trend of working in a team in Bollywood. There were Shankar-Jaikishansaab and Hasrat Jaipurisaab and Shailendrasaab.
Then there were LP (Laxmikant-Pyarelal) and (Anand) Bakshisaab, Panchamda and Gulzarsaab.
There is always an understanding when you work with your frequent collaborators.
It is like telepathy; you understand things even before the other person utters any words.
That way, yes, I have had a long association with A R Rahman, but that does not mean I did not enjoy working with other music composers.
Has there been any incident where you wrote a song for a particular film but it ended up being used in some other film?
Yes, it happens often.
The lyrics Chand Chhupa Badal Mein were originally written for a film that Ram Gopal Varmaji was directing.
Initially, Ramuji really liked the lyrics.
But one day he said, 'Mehboob, the lyrics that you have written are really beautiful, but the hero of my film is a goon. He cannot sing such beautiful lyrics.'
So I used those lyrics in Hum Dil De Chuke Sanam.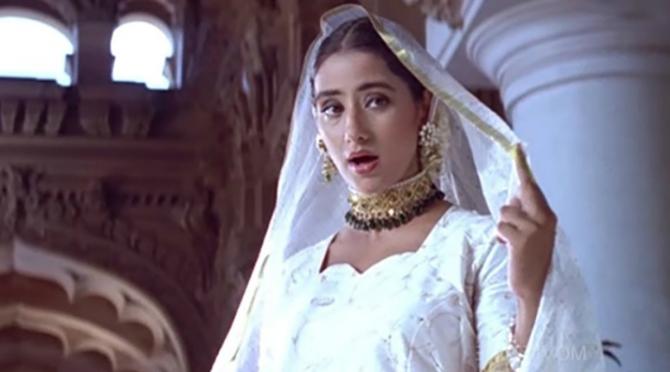 Of all the songs that are there in your wide-ranging oeuvre, my favourite is Kehna Hi Kya. Any anecdotes from the song?
I'll tell you something very interesting.
Mani (Ratnam)saab initially wanted Pakistani singer Reshma to sing this song. He was about to invite her to India to sing the song.
Kehna Hi Kyais set against the backdrop of a wedding where Manisha (Koirala) and Arvind Swami see each other.
It's a love at first sight kind of a situation.
So I had written the song keeping in mind that Reshmaji would sing it.
While sharing the lyrics of the song with Rahman, I asked what was Manisha doing just before the song starts.
He narrated how her burqa lifts in the air and her eyes meet with Arvind Swami and then they meet at this wedding where the song takes place.
I imagined the entire situation and then thought that if Manisha was there, why waste her?
Why not write this song from her perspective?
After that, I went to a hotel and wrote the song in the night.
So in the updated version of the song which Chitraji went on to sing, Manisha's character depicts her condition in love and, at the same songs, it also justifies the feeling of the new bride.
What, according to you, makes A R Rahman so relevant even after so many years?
See, I always believe that destiny plays a vital role in your journey.
What's written there in your fate, it will happen sooner or later.
Having said that, you cannot downplay the hard work you put into something.
Rahman's approach towards every song he creates is fresh. He works on every song as if it's his first.
He always strives to come up with something out-of-the-box.
Nowadays, he also keeps one thing very much in mind and that is our youth.
He always tries to catch the pulse of the audience, especially youngsters.
For your journey to be slightly longer in showbiz, it is important that the films that you do work commercially.
I have written some really good songs in films which fell flat at the audience.
Lastly, Rahman works very hard.
I mean everyone does, but he just goes into overdrive and pulls out all the stops to make sure his work stands out.
At times, he burns the candle at both ends to finish his assignments.
I remember when we were doing Lakeer and Yuva, he used to work 18-20 hours a day!