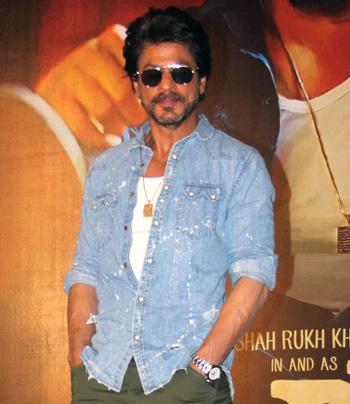 Yes, Shah Rukh Khan likes being "a very bad boy" in real life.
No, he does not "consciously" decide to "play the bad boy" in his reel life.
Yes, he thinks everyone should have a little bit of a "bad boy" in themselves.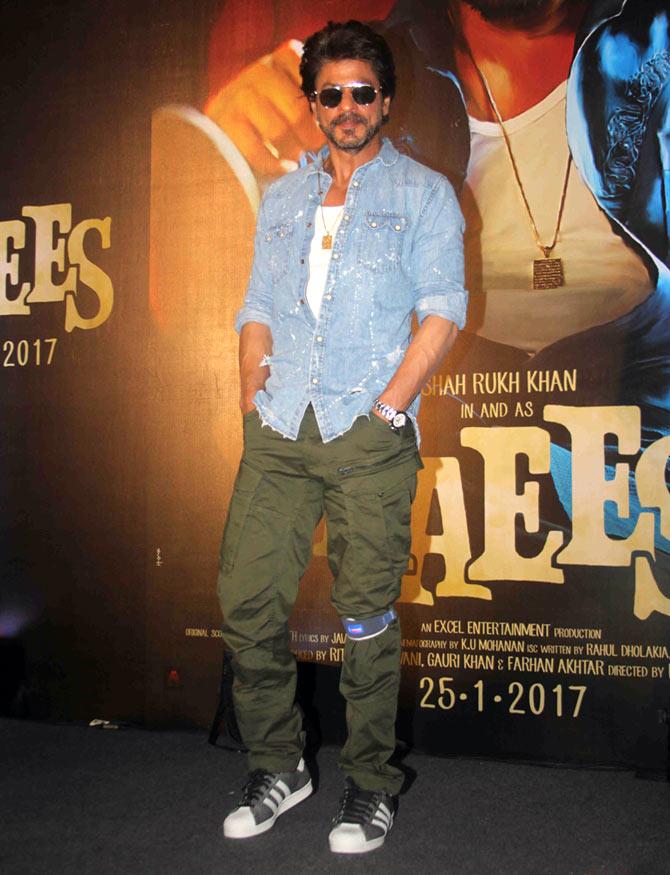 IMAGE: Shah Rukh Khan arrives for the launch of the Raees trailer.
As you can guess, 'being bad' was the overriding theme at the launch of the trailer for SRK's next film, Raees. His role here, as the "bad boy with the good heart" is in complete contrast to the extremely likeable counsellor he played in his previous outing, Dear Zindagi, which released a couple of weeks ago.
"I try to make my next film different from the previous ones. I hope this film is different from Darr, Don and Anjaam (the negative roles he has essayed earlier)," says the Khan as he makes it clear "it's not a conscious decision to play a bad boy role."
For that to happen, the script has to do the talking.
In fact, he seems a wee bit miffed that his Don producers (referring to Ritesh Sidwani, who was sitting beside him) have not yet written the franchise's third installment. "They are busy making others films," he aims a dart at Ritesh Sidhwani, seated besides him, "like Fukrey. When they write (Don 3) and ask me, I will surely do it."
Ouch! We are sure Sidhwani squirmed a little there.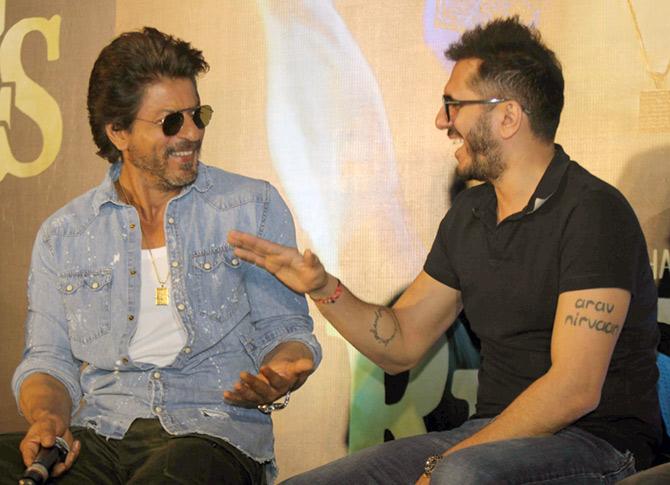 IMAGE: Shah Rukh gets chatty with co-producer Ritesh Sidhwani.
But, adds Shah Rukh, "a bad character shouldn't be justified. This character also has a good heart. The meaning of Raees is benevolent."
But then, can the bad boy resist being bad? "I am a bad boy in the film and I am one in real life as well. It should be there in everyone," says Shah Rukh.
And then, for those who haven't got it yet, explains it a bit further. "I am not arrogant or shoddy in real life but I am a very bad boy. I don't go by the rules and do and say weird things. I am very proud to say that normal is lifeless. You have to be a little mean and, when you are that, you're a little bad too."
We're sure… after all, Sidhwani just had a taste of SRK's bad-boy humour :)
"I am extremely bad," he reiterates, "but my dimples save me." And flashes said dimples. Before adding a dose of reality. And responsibility.
"If we do anything wrong, we should take responsibility for it. In life, whichever situation you are in, where ever you are, you should take responsibility for your actions and God will forgive you."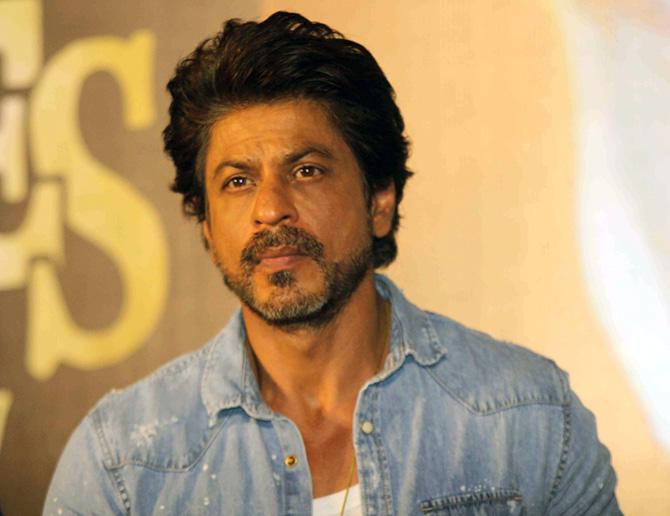 IMAGE: Every question at the launch commanded his complete attention.
Asked whether he feels raees in real life, he says, "When we do good things for others, say charitable things about others I feel raees. I feel good when I spent time with my kids."
Clearly, he also felt pretty raees when, after watching the trailer, his little son AbRam told him, 'Go papa go, go papa go.'
Also seated on the stage is Nawazuddin Siddiqui, the determined cop who proves SRK's nemesis – SRK plays a local don in Raees; the film, set in the 1980s, is reportedly inspired by the life of the late Gujarat don, Abdul Latif, but director Rahul Dholakia says no, "Raees is fictional."
"When good artists work together, it makes everyone emotional," confesses Shah Rukh. "I always say about myself that a star comes in the poster and takes all the credit but actors like Nawazuddin make them look best on the screen."
And, of course, Nawaz -- who has now worked with Shah Rukh, Salman and Aamir -- is asked if he is now a Khan favourite. "I have always been an admirer of the three Khans and can't pick favourites as all three are very good," he says, clearly hoping to deflect the next inevitable question.
But no, there it was: Who's the better actor – Shah Rukh or Salman?
As Nawaz took a breath, Shah Rukh interrupted to point out, "Nawazuddin is talented."
And Nawaz added, "Every actor has his own style and uniqueness. I am fan of both of the Khans so why should I choose between them?"
Well said, Mr Siddiqui.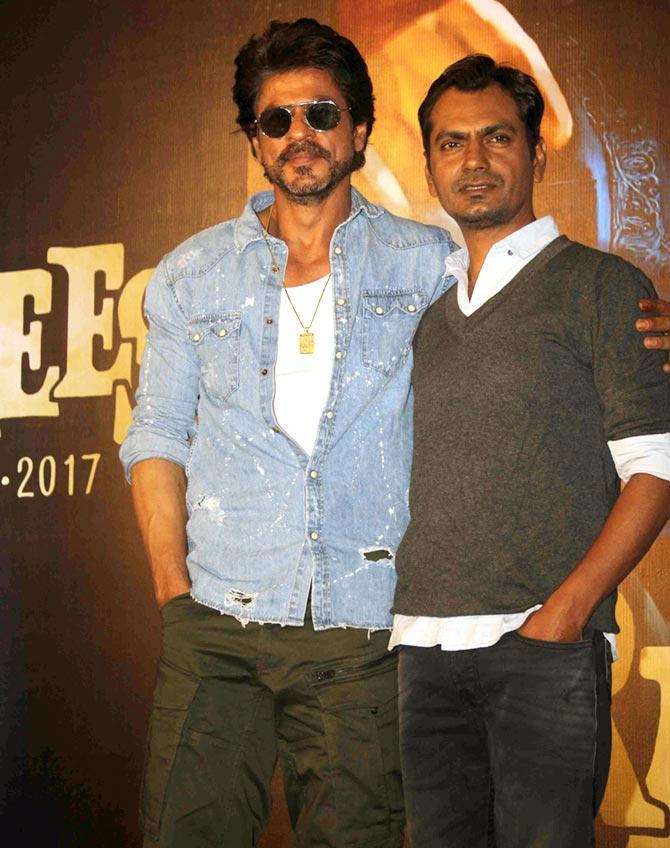 IMAGE: The actor the Khans love -- Nawazuddin Siddiqui.
But can the spotlight stray too far away from Shah Rukh Khan. With the next question, it was back on him again.
Asked about carrying a film on his shoulders, he says, "When people think you are a star, the responsibility is obvious. I don't do it personally thinking I am Shah Rukh. If I get so much love, it's my responsibility to give my best. I am ready for that responsibility."
So he will do everything he needs to, including crying. Asked how he cries so convincingly on-screen, he says, "I usually put a finger in my eye."
In real life, though, he'd like a bit more privacy when he gets teary-eyed. He says, "I usually lock myself in the bathroom jab main rota hoon (when I cry). And during such times, nobody is allowed to entry in there."
Umm… sharing bathrooms, SRK?
We let that thought stay where it is as Shah Rukh tackles yet another question. Did he interfere in the film's creative direction as he aimed to tone down its content?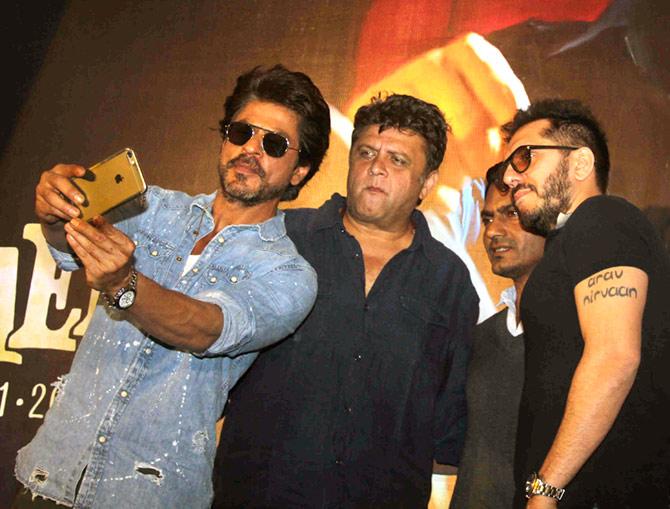 IMAGE: It's selfie time... director Rahul Dholakia steps in as well.
"In my 25 years," growls the Khan, "I have never told a director or producer to cut a scene because that's not what good actors do. I have never ever sat in an editing studio and made changes in any of my films. I do not interfere but, when I am asked, I discuss what I feel with the team. I keep making notes and then write at the end to the director that it is your choice, if you want to consider my suggestions."
Raees hasn't really had an easy pre-release run. "The film got delayed due to unforeseen reasons like an injury to Shah Rukh," says Sidhwani.
Now that the release is scheduled, the demonitisation effect may come into play; it has already impacted the business of Bollywood films released since November 8.
"I think things will genuinely get better. Initially, when there is a cash crunch, luxury takes a backseat. Now, it seems the situation has eased. I've been given to understand that, with Dear Zindagi, people are positive about spending money for entertainment."
Also, given the anti-Pakistan sentiment following the Uri attack -- it impacted the release of Shah Rukh's close friend, Karan Johar's Ae Dil Hai Mushkil, whose cast included the Pakistani actor, Fawad Khan – there was speculation that popular Pakistani actress Mahira Khan, who debuts in Bollywood with Raees, would be replaced.
The actress, who is seen in the trailer, is yet to promote the film in India.
Sidhwani says, "If we think it is necessary to bring her to India for the promotions, we will do so. I don't think there will be any restriction from the government."
SRK limits his comment to saying his experience of working with Mahira was "very good".
It was also "very nice" working with Sunny Leone, says Shah Rukh. The actress twists her shapely hips to the revamped version of Laila mein Laila from 1980s hit, Qurbani.
"We shot for four days," said Shah Rukh. "I found Sunny to be very charming."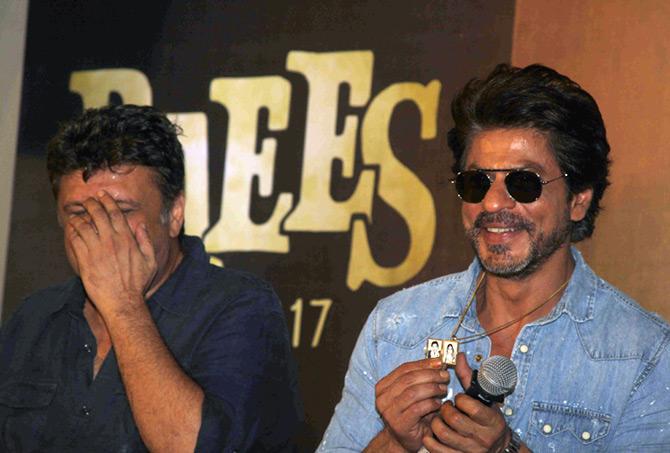 IMAGE: Shah Rukh opens his locket, which holds the images of his parents.
The locket he wore to the press conference -- he wears it in the film too -- was charming as well. Apparently, director Rahul Dholakia suggested Raees Alam should wear an eye-catching locket, so Shah Rukh wore this particular one and went to meet Dholakia.
"He just loved the idea. It's a locket with my parents picture in it and their dua (blessings). Inside, there's a picture of my mom and dad."
What's not so charming is the Raees-Kaabil clash.
SRK says Team Raees had fixed the release date "long back." What's clear, though, is that both had targeted the January 26, 2017, weekend.
"First, both the films were going to release on the 26th, so we had decided with our exhibitor and distributors about coming out on 25th.
"Kaabil, I guess is coming out in with evening shows on 25th and we will be screening regular shows on the same day. It's not like we decided this later; this is a wise decision, knowing that 26th is a holiday."
Shah Rukh feels such clashes are unfortunate. "It is impossible," he says, "to get a solo release with more than 200 films releasing in the industry. We had this strategy that we will announce our date during the trailer launch as it was delayed. We don't believe in releasing a poster two years before the release of the film or releasing the trailer one year in advance and blocking the dates."
Looking a solution to this problem, the star suggests, "I feel we should have good number of screens. Right now, there are limited screens available, especially in small towns, so we face this problem. There are an ample number of screens in the US, so you will never hear of such box office clashes there."
For now, though, Team Raees has reason to rejoice. The trailer, which released yesterday, is raking in the views on YouTube.
Photographs: Pradeep Bandekar