The cinema industry is staring at a loss of at least Rs 5,000 crore at the box office over the next six months if Omicron proves to be a spoiler.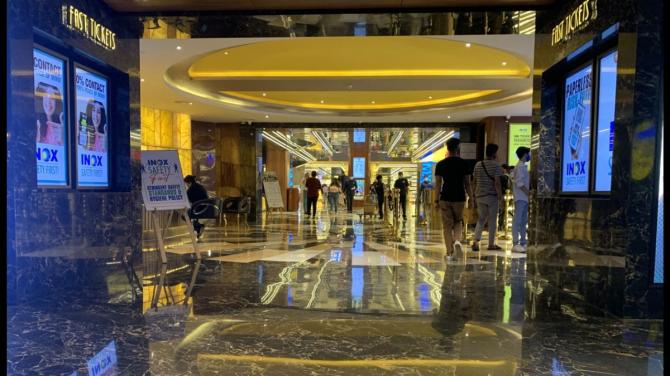 Just as the picture was beginning to get bright, a cloud in the form of the Omicron variant has cast a shadow over the silver screen. With 1,800 movies lined up for a theatrical release, waiting for cinemas to open with 100 per cent capacity, the stakes are high.
The cinema industry, which took a 62 per cent hit in revenue in 2020 because of the pandemic, is staring at a loss of at least Rs 5,000 crore (Rs 50 billion) at the box office over the next six months if Omicron proves to be a spoiler, say those in the movie business.
Some 30 movies in Hindi, 25 in the four South Indian languages and many more in other regional languages have already finalised their release dates.
Several others are currently in the shooting stage.
In regional languages like Marathi, around 150-odd movies are awaiting release.
Industry veterans tell Business Standard that while for now shooting and post-production work are not affected, there is major concern regarding the future of cinemas. Upcoming big nationwide releases include '83, Jersey, Radhe Shyam, Prithviraj, Badhaai Do and Bhool Bhulaiyaa 2.
The next 10-odd days and the way Omicron behaves in India are likely to be crucial for the future of these films and the shootings. Katrina Kaif's next movie Merry Christmas, with Vijay Sethupathi, for instance, is expected to begin shooting on December 15 in Pune.
Bollywood trade analyst Komal Nahta reiterates that the industry may suffer a loss of around Rs 5,000 crore if Omicron affects releases and shootings.
In the event that it triggers another lockdown (though there are no indications of that happening), "it will seriously impact theatre-going habits the pandemic has already altered them and will continue to do so," says Vetrimaaran, five-time National Film Award-winning Tamil director who is in the initial stages of shooting for the Sethupathi-starrer Viduthalai.
"With necessary precautions, the number of movie shootings may even rise but the problem is bringing people back to the theatres," he adds, while reaffirming that necessary precautions are being taken on movie sets.
Film-maker Anik Dutta, who is shooting for Aparajito, a Pather Panchali-inspired tribute to Satyajit Ray, says he does not expect much impact on the industry and that people on shooting locations are taking precautions.
"I have been seeing more masks on the sets in the last few days after the Omicron scare, and we have only 10 days of shooting left," he says, adding, "We haven't thought about Omicron so far. However, from reports coming out of Africa, it appears to be not as dangerous. I believe that shootings will continue to happen."
Aparajito's release is planned for mid-next year.
The Indian film industry was expected to clock a revenue of Rs 15,000-Rs 16,000 crore (Rs 150 billion to Rs 160 billion) in 2022 after the success of Diwali releases like Sooryavanshi and Annaatthe.
Meanwhile, over 25 films in Tamil, Telugu, Kannada and Malayalam are slated for release in the next 45 days, with a budget of over Rs 2,000 crore (Rs 20 billion).
"Because of this new variant, a few overseas distributors who had signed agreements for a specific price earlier have started negotiating to reduce the amount since they think these movies might not do the expected business in their country considering the current situation," says Manobala Vijayabalan, a trade analyst.
"This is for the films that are ready and which have announced their release date."
The January releases include S S Rajamouli's multi-starrer RRR in which N T Rama Rao Jr, Ram Charan, Ajay Devgn and Alia Bhatt have major roles.
Several films have announced their shooting schedule for the next couple of months.
These might also get affected if the situation turns.
"Almost 50 films in the four South Indian languages are in the shooting stage and have a timeline to abide by. They will be answerable to their financiers and the interest amount they are liable to would increase with each passing day if they don't complete and release the film within the designated time," Vijayabalan says.
"All in all, the industry is not mentally or financially prepared to suffer another blow."
Take the case of the Malayalam film industry. After a terrible 2020 and 2021, movies like the Dulquer Salmaan-starrer Kurup and small-budget ones like Jaan-E-Mann had brought the audience back to theatres.
"If the pandemic spreads further, theatres would likely be the first ones to shut and the last to open," says Siddique Ismail, the Malayalam director who made the blockbuster Bodyguard with Salman Khan. "Shooting restrictions, too, may affect a lot of livelihoods, though at present this hasn't happened."
If the industry is to make any profit, "we need 100 per cent capacity in theatres, especially in Maharashtra that contributes over 25 per cent to Bollywood's revenue," says Nitin Datar, president, Cinema Owners and Exhibitors Association of India, praying the Omicron cloud blows over sooner than later.