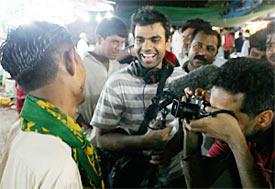 These Birds Walk is on the long list of documentaries to qualify for the Academy Awards. Filmmakers Omar Mullick and Bassam Tariq tell Aseem Chhabra their fascinating story.

Three years ago New York-based Pakistani-American filmmakers Omar Mullick and Bassam Tariq set out to make a short documentary -- what they originally thought would be a love letter to the energy and vibrancy of Karachi. But soon the two realized that the story lay somewhere else.

They discovered the Edhi Foundation, which was a big part of the city's story, providing ambulance services for the poor, collecting the dead from morgues and housing the city's orphans.

The 62-year-old organisation was started by Abdul Sattar Edhi, often called 'the Mother Teresa of Pakistan.' And it was at the Edhi foundation that Mulliick and Tariq spent time following the lives of the city's underprivileged, until they found their story

Mullick's and Tariq's documentary These Birds Walk is a heart-wrenching essay about the lives of Karachi's runaway kids, many of who land at one of the Edhi Foundation homes. Unlike orphans, these children have homes and parents. Some run away because they cannot handle physical abuse at home, while others are sent away by their families.

The film focuses on four boys and then an ambulance driver -- Asad, who is in his early 20s.

Asad is a graduate of Edhi, an orphan who grew up to take a job at the foundation and he is usually handed the unpleasant tasks of picking up dead bodies or more often dropping the runaway children to their parents in remote and sometimes dangerous parts of Karachi. As much as he is the adult male who often assures the kids that all will be well, Asad's own life is fraught with loneliness and sadness.
These Birds Walk made the rounds of festivals and had already garnered rave reviews. One critic compared the film to the power of Francois Truffaut's masterpiece 400 Bows. Variety called it 'Haunting...a rare glimpse into childhood.' And Slant wrote, 'Even though Tariq and Mullick's film takes place halfway around the world from most of the people who will ever see this film, it is a study into the universal need for a home.'
And it has just been announced that the These Birds Walk is part of the 151 documentaries on the long list to qualify for the Oscars.
Making this film was a struggle for the filmmakers. Karachi is often an unsafe city. There were assassinations, suicide bomb blasts and the city would sometimes shut down while the two would sit around not knowing what to do. But the hardest part of making the film was that the people of Karachi were generally skeptical about what the two filmmakers were doing there.
"I think to build that trust was very difficult," Tariq recently told India in New York. "We are from abroad. Whether I am poor in America or not, I would automatically become wealthy for the people in Karachi. It became a challenge that partly we saw ourselves as a part of them and then there is a part that you have to realize that you are not one of them. It was hard to realize that as much as you try, you are not a local."
Tariq and Mullick grew up in the United States. Tariq was born in Pakistan, but he migrated to the US when was very young. Mullick was born in London, and he too arrived in the US at a young age.
Among the two Tariq had spent substantial time traveling in Pakistan and clearly spoke sharper Urdu than his co-director. So while they connected with the boys at the runaway home, Tariq would often find himself speaking for himself and also translating for Mullick.
They bonded well with the kids, but since Mullick was already a father of a child he connected with the children on an emotional level.
"The way Omar talked to the kids was more paternal, more loving and nurturing," Tariq said. "I was different. I wasn't always that empathetic. But now that I am married and I went back to the runway home, I feel that I can understand how difficult it was to be in that situation and it has started to disturb me."
In one important scene in the film the boys break into a fight, but Mullick and Tariq keep the camera rolling. As adults they witness the children fight, but as filmmakers they do not intervene.
"Stuff like that, it was a very tricky place for us," Tariq said. "Because there were a lot of scenes, and there were many times we interfered. In fact, it happened multiple times. We would never say fight and we would shoot you guys. But we were very much involved in their lives from the beginning and they trusted us."
"We did have this understanding about how far these kids could go." he added. "And we did make sure that things didn't go too far. But it was a very difficult situation."
And then there are some remarkable moments in the film when the children speak to each other, but they talk about their lives, their families, and their sadness. Those scenes were natural and not rehearsed, Tariq said.
"I would argue that because the kids haven't seen much television or films, they were very natural," Tariq said. "It was harder with adults who have grown up watching Bollywood films and would become very conscious in the presence of the camera. The kids would forget we were there and could talk about their problems. They didn't think much of us and the camera."
These Birds Walk opens in New York City at the Village East Cinemas November 1. Later in November the film also opens in San Francisco and Los Angeles.