'I toh don't even understand making crores because I have never done such a commercially hit film in my life.'
'It's unbelievable for me.'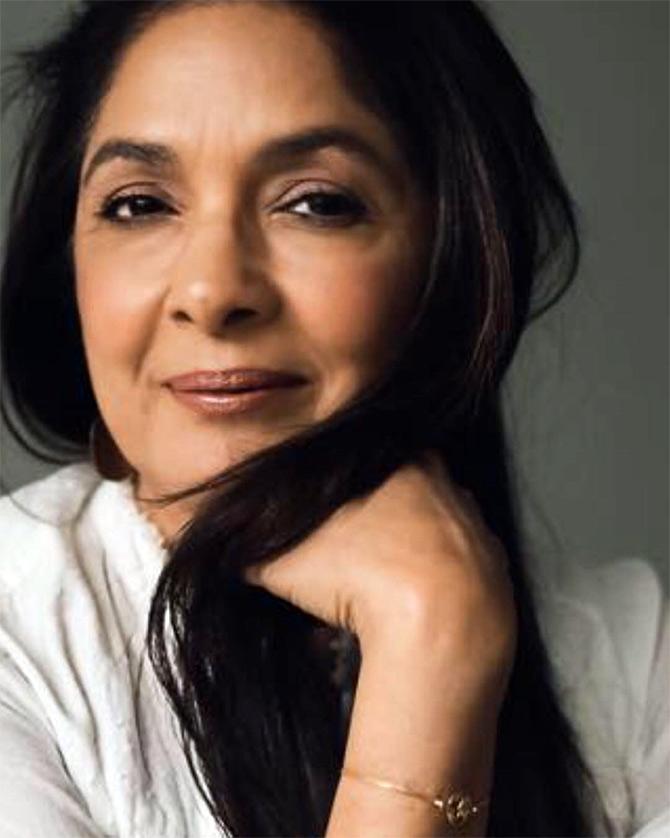 There are two words that have become synonymous with Neena Gupta -- Strong and Vivian Richards.
She dislikes the two words for two different reasons.
Strength, says the actress, writer, director and two-time National Award winner (Bazaar Sitaram, 1993; Woh Chhokri, 1994), has been her undoing professionally.
"Oh, Neena Gupta is a strong woman. Unfortunately, the word 'strong' is used in a negative context. 'Strong woman' ensured I got vampish or single woman roles. Why can'I just play a simple, garib (poor) woman? I am an actress and I believe, without any false humility, that I am a good actress, so why does my 'strength' impinge on the kind of films I get?" she asks.
The other word or words, 'Vivian Richards' is well documented as the West Indies cricket legend Neena had an affair with and chose to have a baby out of wedlock.
In the late 1980s, when it happened, it was not just scandalous, but unheard of.
"I'm sick and tired of being asked of that period in my life. It's been a while, isn't it? I've moved on, isn't it time everyone else does? And it really wasn't unusual," she says.
One of the nicer things that was said to her was that she was brave to choose to keep her baby.
"I don't think there was anything brave or unusual about what I did. A lot of women do it, some have to. I want to be known for my work, not my personal life, which is in the past now. I wish people would put it behind them," she says.
So, the present, for this 59-year-old actress, is a Rs 100 crore (Rs 1 billion) sleeper hit Badhaai Ho, where she plays the pivotal role of a middle-class woman choosing to keep her baby -- the result of an accidental pregnancy -- that leaves her grown sons angry and embarrassed.
She has been keeping abreast with the film's box office collections and says earnestly that in a career spanning 36 years with close to 100 films, this is her first-ever commercial success.
And she is pleased as punch.
"This is the golden period of Indian cinema. Very nice, realistic movies are being made. This is a good time to be in the industry. Every age group is getting more work now," Neena tells Swarupa Dutt/Rediff.com.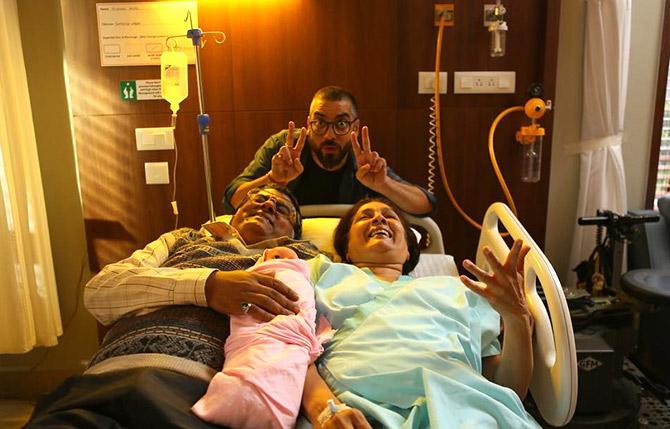 Badhaai Ho has entered the Rs 100 crore club. Did you expect it?
I toh don't even understand making crores because I have never done such a commercially hit film in my life. It's unbelievable for me.
Does this open up more avenues for you?
I can say yes, only if I get more work.
That will be my reward.
Of course, it matters that a film grosses Rs 100 crores or more. It matters to me, it matters to the producer.
It makes me very, very happy looking at the figures.
This is the first time I've got a substantial role in a commercial film. This film was a big deal for me.
Any offers yet?
(Laughs) No, Nothing yet.
Why did you agree to do the film?
When the director narrated the script to me, I thought it was fantastic. I said I want to do it.
I told him, 'Tell me when we are shooting.'
In fact, to be honest, I was very scared that it might go to somebody else.
Ayushmann (Khurrana, who played her son in the film) used to always say, 'Arrey you and Gajrajji (actor Gajraj Rao who played Gupta's husband) are the hero-heroine of the film. We are secondary.'
But yes, it is an ensemble cast, everybody has their own space in the movie and that's the beauty of the film.
I've always believed that the script is the hero of any film.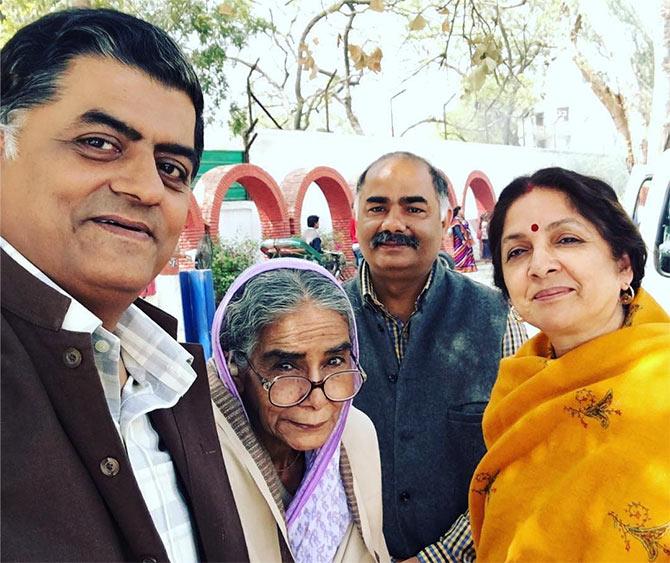 What's your favourite scene in the film?
I love the scene when Ayushmann comes back and I ask him 'Have you eaten?'
It was such an everyday dialogue, but so real.
I love the scene where the dadi supports me at the wedding.
How much of the protagonist, Priyamwada, is Neena Gupta?
Nothing at all!
See, for me, acting means saying your lines and meaning them.
You can't help but focus if the director is very good, like Amit Sharma. He will not accept anything less than 100 per cent. He knows the nuances of that character. So that helped us.
We became a family. Nobody was trying to steal the show.
Whenever I lost my concentration -- even for a fraction of a second -- the director was there.
He used to say, 'C'mon you are not Neena Gupta, you are Priyamwada.'
There are just two things to good acting -- you mean what you say when you say your lines and you hear what the other actor is saying.
How difficult was it to identify with Priyamwada and her family in the film?
My childhood was in Karol Bagh in Delhi and the kind of women you saw in the film were my mumma's friends.
I have not come from an affluent family, I am very middle class.
But I did not think about them and act.
It's just certain mannerisms that suddenly come to you from your past experiences, like maybe holding a spoon or combing your hair. But it's not something you think of and then act.
The perception that you are not doing films is fueled by the fact that there was a gap between 2015 and 2018. Why?
There was no work coming in.
I used to get some TV offers, but they were very bad. I didn't like the scripts.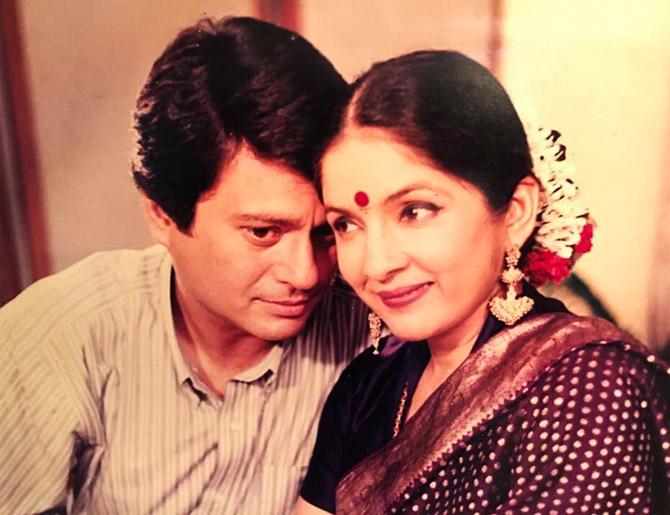 How difficult is it for you to get roles at your age? You are a National Award winner, so talent is not the issue. Why don't more roles come your way?
I made a few mistakes in the beginning of my career.
I didn't have anybody to guide me.
I didn't have a secretary.
I didn't call up directors, or meet people asking for roles.
Number two, because of the media, there is a perception that I am a strong woman.
Unfortunately, in our society, that goes against you. So, I got negative roles only.
Plain and simple female roles never come my way because of my image, which is very wrong.
I am an actor, I can do any role.
After Saans (the 1998 acclaimed television show written and directed by Gupta, where she played the protagonist along with actor Kanwaljit Singh), I made sure I did similar roles.
But I made a mistake by doing (television show) Kamzor Kadi Kaun. People rejected me and the programme as well.
I had worked very hard to get into the character; I rehearsed a whole month.
Thereafter, I began getting vampish roles.
My personal life got typecast into my professional life.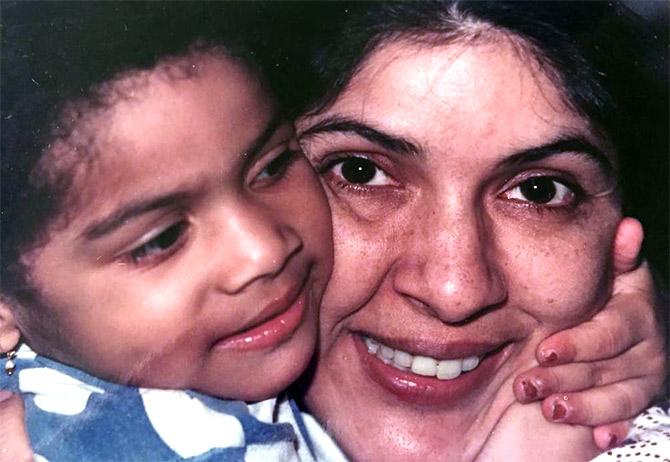 In Badhaai Ho, your character's pregnancy raised eyebrows from her family and society. The pregnancy was unwanted. Did you draw parallels with your own life, your pregnancy, which was scandalous for the time?
No, nothing like that.
It was a new subject to me and I took it as a new subject. There are no parallels at all.
It didn't even occur to me to draw a comparison.
What is your biggest takeaway from that time you were pregnant with Masaba?
I don't want to talk about it anymore. It's gone, over.
I've forgotten what I went through.
I've forgotten that time.
I have a great capacity to move on.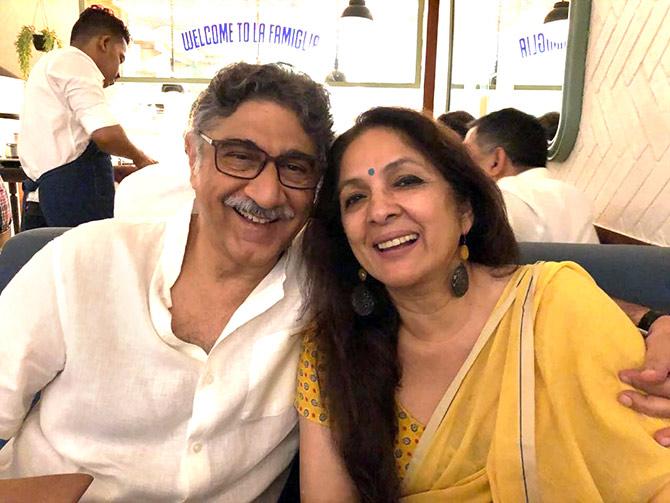 Has your marriage made a difference to the kind of roles you are getting?
No, it has made no difference.
The reason I am getting better roles is because of an Instagram post a year ago where I didn't just ask for a job, but I also said I live in Mumbai, not Delhi.
People assumed that after my marriage (to Vivek Mehra), I would live in Delhi because my husband lived in Delhi.
People started thinking, 'Woh toh nahin karti ab (She doesn't work anymore).' So I started getting very frustrated.
Asking for work was brave. Most actors pass off not having work with, 'taking a sabbatical' or 'waiting for the right script' or 'taking a break to reflect'.
After that Instagram post, I got many offers -- five, in fact, and I accepted all of them.
There is no shame in saying you don't have work.
I am by and large an honest person, I have nothing to hide.
I know I do good work.
There were some offers for TV, but I didn't accept them.
You began your career in films, went on to TV, now you are back in films. Would you return to TV?
If the role is good and it excites me, I will do it.
The script is the deciding factor.
There were two very good roles offered to me for TV, but they didn't happen.
Has the character of cinema changed? Earlier, there was mainstream and art films. You have done both. Now they seem to have dovetailed with films like Badhaai Ho, Mulk, Dear Zindagi -- which are neither mainstream nor art. Is that good?
I think this is the golden period of Indian cinema.
Very nice, realistic movies are being made.
Good scripts are being written and producers are willing to back these kinds of films, which is very important.
This is a good time to be in the industry. Every age group is getting more work now.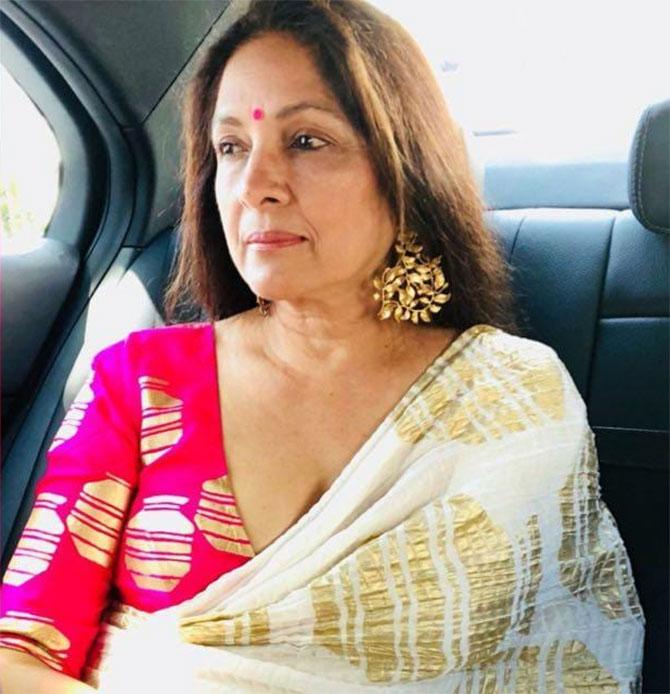 Is there good work happening in TV now?
When I did Khandaan (1985), Saans (1998) and Siski (2000), that was the golden period of TV, I think. Not anymore.
I hardly watch any Indian TV because I don't relate to it. The roles are regressive.
What is your take on the #MeToo movement? You have worked with Alok Nath, who has been named by several women for sexual assault and rape. What is your experience of working with him?
Actually, if you think about it, I've never worked with Alok Nath. In Buniyaad (Ramesh Sippy's critically acclaimed soap on Doordarshan, 1986), I had no scenes with him.
I had scenes with Mazhar Khan.
I don't know who's right or who's wrong (in the Alok Nath case) but I'm happy to see the film industry stand by the victims.
The movement is very good, but I also say it is very difficult to prove these kinds of allegations.
It can be misused also.
We have to be very careful. We have to find out before casting aspersions.
Because of this movement, tomorrow someone will think a hundred times before they misbehave. There will be fear of being outed. That's a very big step in the right direction.