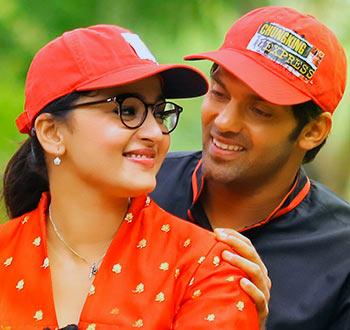 Prakash Kovelamudi's bi-lingual in Telugu and Tamil, titled Size Zero with Anushka Shetty and Arya is releasing this Friday, November 27.
In this interview to Radhika Rajamani amidst his hectic schedule, Prakash, who turned director with Bommalata (A Belly full of Dreams) and later directed a spectacle called Anaganaga O Dheerudu for Disney World Cinema, talks about Size Zero.
The story of Size Zero is written by your wife Kanika Dhillon and the film is based on an interesting concept of an obese woman grappling with her weight issues. Were these the reasons why you decided to direct the film?
The main reason was because of the story. Incidentally, it was written by Kanika. I was looking for a material to direct. What I had written was not suitable.
Kanika's story was written in Hindi, but it is identifiable across cultures. So we adapted it here.
How did you tweak it for the Telugu and Tamil audience?
The core is there. Only 20 to 30 per cent of the cultural nuances had to be changed. It is a strong human story.
I am influenced by fantasy, but the human element in the story made me direct the film.
In the last few years, we have been influenced by the western media on how women look.
Earlier women were looked at differently, if you see in art or paintings. The story of Size Zero is drawn from real life. The need to lose weight affects women.
So it is topical and identifiable.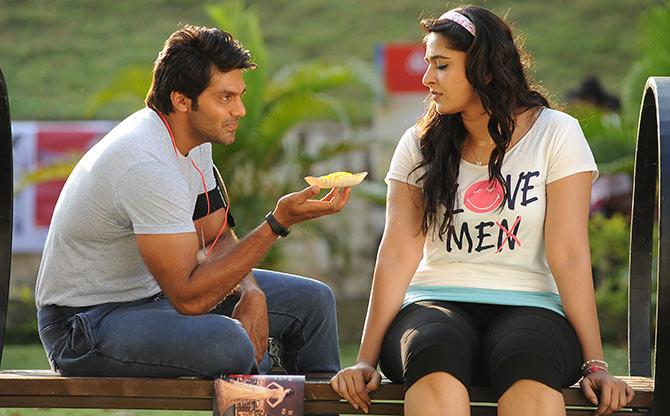 Image: Arya and Anushka Shetty in Size Zero
Is it a film catering primarily to young women on account of the subject?
It is a complete family entertainer. Somebody or the other in the family has weight problems. Basically it is a love story against the backdrop of weight issues.
There is a relationship with the mother; and the aspirational quality to marry an NRI will be identifiable by all. So, the film has more to offer.
What prompted you to cast Anushka Shetty and Arya in the lead roles?
The girl needed to be large with 'punk' attitude. Anushka's physical attributes are such that even if she puts on weight she would look adorable. Also, she has done a wide variety of roles as an actor.
Arya plays an NRI documentary filmmaker who is into fitness and is socially-conscious. Arya is a fit choice. I needed that impact. His role is subtle and has to be underplayed with sincerity.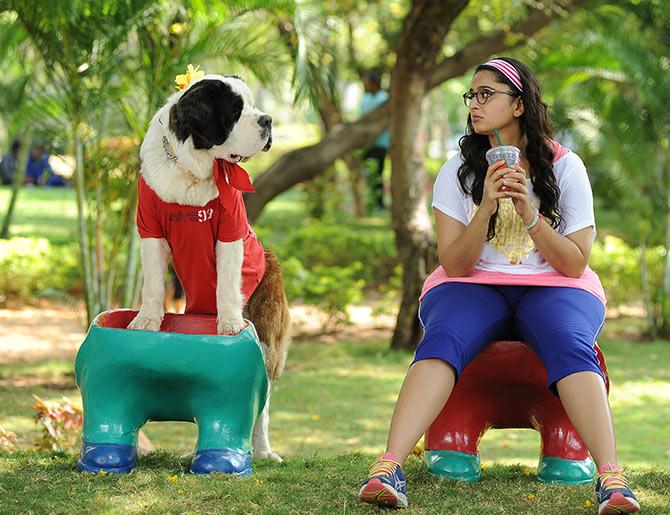 Image: Arya in Size Zero
Why did you make the film bi-lingual (in Telugu and Tamil)? Was it because you wanted to reach a wider market?
Primarily yes. Cultural nuances in Tamil are not that different from Telugu. So there is wider reach.
It was an enjoyable experience directing the film. The cast was one of the best. So it was a lot of fun.
Since there was a lot of comedy, we enjoyed it. It was a departure from what I had done before.
You seem to be doing innovative promotions, especially the one on trains...
The train idea was entirely the producer's. He wanted the film to reach out to a larger audience.
He wanted it to appeal to the rural audience too and trains were a good way of generating interest in the films.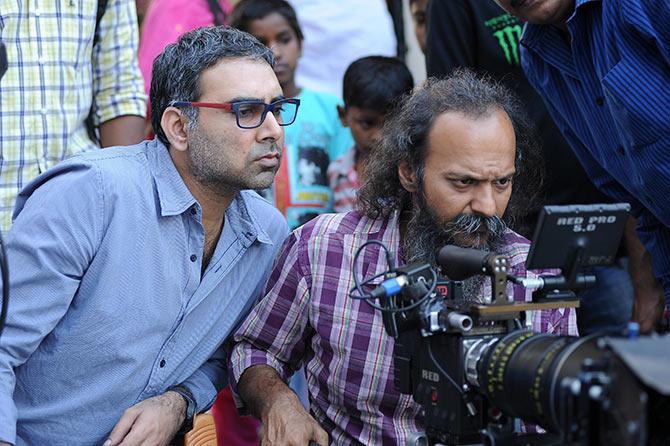 Image: Director

P

rakash Kovelamudi of Size Zero on the left
Why did it take you a while to direct this film after Anaganaga O Dheerudu?
The stories I had didn't seem to interest actors -- maybe they were those that were suitable for Hindi or were big budget ones. In between I produced a supernatural thriller (like the X files) called Daanav Hunters.
After that I read this story. I wanted to consciously do something different. So I chose this human story.
Anaganaga O Dheerudu was a spectacle, but many said there was no story in it.
Were you disappointed that Anaganaga O Dheerudu didn't fare as well as you expected it to?
Yes, I was disappointed but it was a learning lesson too. Though we broke new ground, we missed out on storytelling.
What are the films you would like to do? Can we see them more regularly?
I personally like to explore different genres. I would like to do whatever story that has a strong human element and at the same time new kinds of genres.