'If I were to live a thousand years, I could not repay the gratitude I feel.'
'To receive love is the greatest thing.'
'What more in life could you wish for?'
February 6, 2022, is a day India will never forget.
Like it will never forget September 28, 1929.
On the latter, a prodigy was born; a genius who would walk into billions of hearts with her dulcet notes.
Her songs would make people laugh.
Cry (including the prime minister of a nation).
Sing (even if they could not).
Dance.
Blush with romance.
Send a patriotic rush of blood surging through one's body.
Bring God into one's heart with her bhajans.
And then, on February 6, at the age of 92, that beautiful voice was stilled forever.
Shocking India into silence. Into mouring.
Goodbye, Lata Mangeshkar. Thank you for your music. Thank you for the joy you brought us. Thank you for everything.
In this excerpt from Lata Mangeshkar... In Her Own Voice, the Nightingale of India has a very personal conversation with the author, Nasreen Munni Kabir.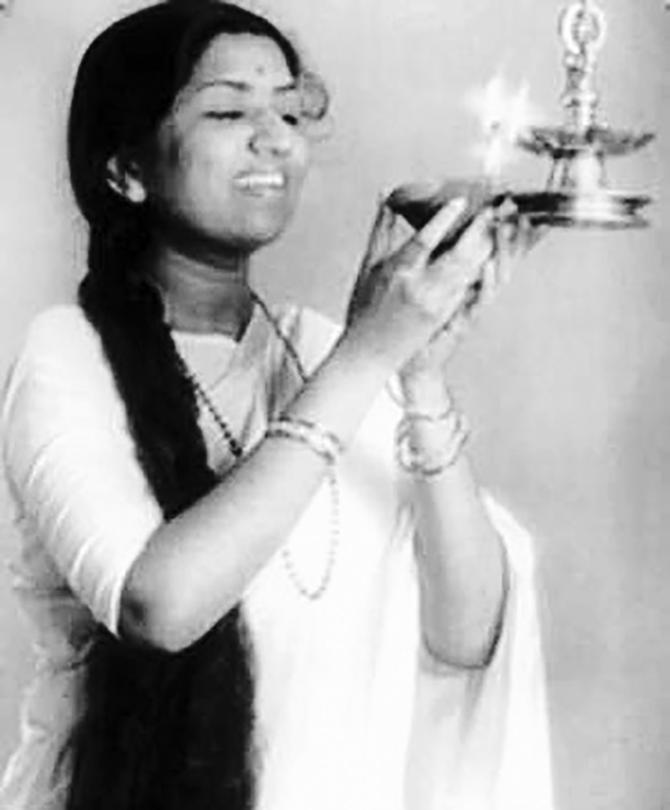 Nasreen Munni Kabir: Do you regret not marrying or do you think -- well, that's life?
It is life. Marriage is predestined. You have no control over three things: Birth, death and marriage. It's all in His hands. God decides. Perhaps if I had married, my life would have been completely different.
Thanks to the blessings of my parents, gurus and above all, thanks to God, I am where I am today.
I had the good fortune, since the late '40s, of becoming more and more well known. I have received so many awards, including the highest civilian honour in our country, the Bharat Ratna. I am deeply grateful for all this.
But, ultimately, none of it has affected me. I consider myself an ordinary person. The only thing I now wish is never to harm or hurt anyone.
The older I get, I find living a peaceful and quiet life has greater appeal for me. I prefer to stay at home rather than go out.
If you had married, you might have led a very different life. I wonder if music would have so consumed you. Do you ever feel lonely?
No, not really. I never feel lonely. Remember I have always lived with my family.
I grew up in my family. When I was young, I had many responsibilities, but I was always made to feel like a protected child.
It was Mai who was the eldest in the family and it was she who looked after us all. She was only 36 or 37 when my father died. She was a very peaceful person, tolerant and patient.
When she passed away in 1995, I felt her loss deeply. It was then that I became the head of the family. I had to grow up.
Do you resemble your mother?
I think I look like her. Perhaps I'm close to her in temperament. But definitely not in singing. Mai couldn't sing at all (laughs).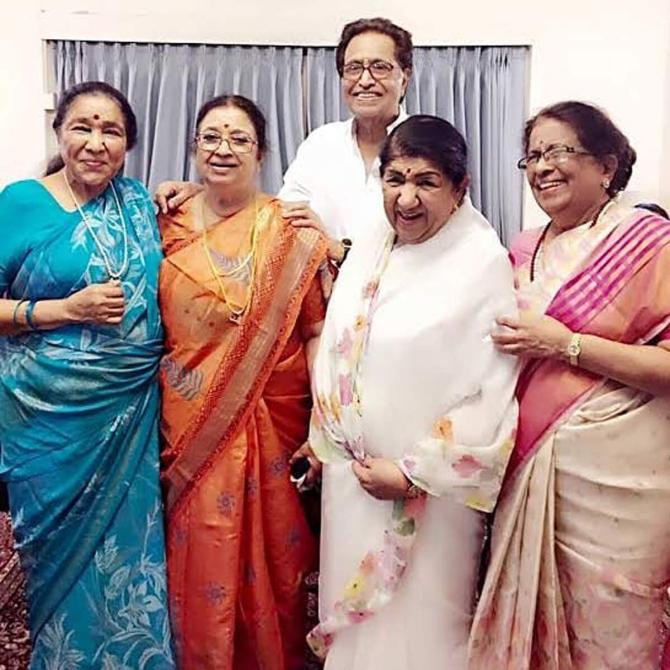 I wonder whether your parents ever appear to you in your dreams?
Sometimes they do. But they don't say anything.
My father passed away in 1942 and I came to Bombay for the first time in 1943 to sing on stage. I was staying at the home of my paternal aunt and her husband. Another uncle was there too.
Sometime in the afternoon I started rehearsing for the next day's performance when both my uncles scolded me harshly saying I didn't sing well and what did I think I was doing by performing in public.
I listened to them ,but said nothing.
I went inside my room and cried and cried. I fell asleep with tears in my eyes and dreamt my father was standing on the stage singing 'Shura mi vandile.'
I woke up later at 5 that evening and told my aunt about the dream. She said: 'Your music programme will go well. Your father has blessed you.'
At 9 the next morning, I went to the Opera House (in south Mumbai) where the music programme was held.
I sang two songs.
The audience was thrilled and clapped loudly. I was forced to sing an encore.
The actress Lalitha Pawar was there too and she gave me Rs 25 in appreciation. Someone else gave me gold earrings and said they were so moved.
What kind of dreams do you have?
Vivid dreams. I remember some but not all. Some dreams are abstract and unclear. I have never for instance dreamt of recording a song!
When I was about 20 or 21, I used to have a recurring dream, in which I would see a temple made of black stone.
I don't know which God was associated with the temple, but it was by the sea.
It is early morning in the dream and I am alone. I enter the temple and open the door at the back of the temple. I see a few steps leading to the sea. I sit on the steps and the waves gently wash over my feet.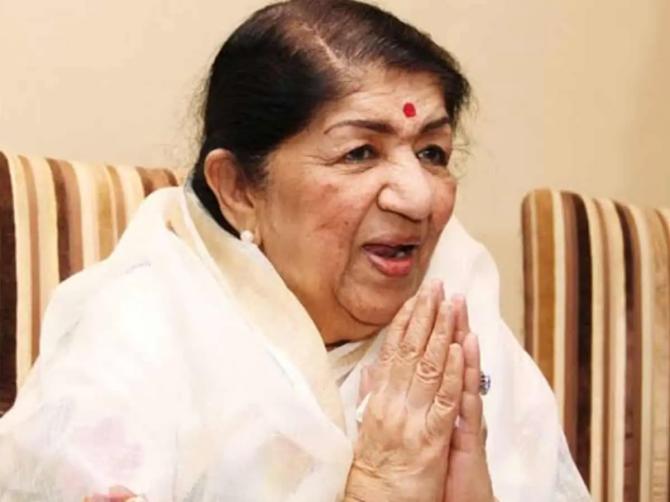 What a beautiful and amazing dream! It is so symbolic.
When I told Mai about the dream and how it kept coming back again and again, she said: 'God has blessed you. One day you will be very famous.'
And the dream came true thanks to your talent and hard work. You are clearly a self-made person.
I have always depended on myself. In that sense, I am a self-made person.
I have learned how to fight. I have never been scared of anyone. I am quite fearless.
But I never imagined I would get as much as I have. There aren't many people still alive whom I am close to and can talk with -- people who are older to me have passed away.
I used to discuss things with (director) Bhalji Pendharkar and then with Pandit Narendra Sharma. Now they are gone.
Sometimes I talk to Sai Baba of Shirdi. I stand before his photograph and speak to him. I believe in Sai Baba.
For many years, I regarded Shri Krishna Sharma who was known as the Jammu Maharaj, as my guru.
He was a famous man. I met Maharajji in 1974. He gave me a blue sapphire to wear round my neck. I wore it at my first international concert at the Royal Albert Hall in 1974.
He did a lot for me.
I was once in Hong Kong rehearsing for a concert and there were people smoking in the hall. The air conditioning was on full blast. I fell very ill with a terrible throat infection.
A Chinese doctor came to see me and said my voice had been badly affected. In fact, I lost my voice and could hardly speak.
I kept calling Maharajji all day long but could not get through. When I finally got through to him on the telephone, I explained the situation.
Maharajji said there was nothing to worry about and I should just keep sipping some honey mixed in warm water and a clove. Then I went onto the stage and thanks to his advice, I managed to sing.
How important is religion to you?
I believe in God and everyone in the family does too. Whatever we have is thanks to His benevolence.
No matter what you choose to call Him: Allah, Ishwar or God. He gives everything to us.
I always bow before God and say: 'You have granted me everything.' I can never forget this. I pray in the morning and at night before I sleep.
I prefer silence nowadays to talking a lot. I'm not always in a mood to talk. I am at home most of the time. I listen to music and read. If I feel like talking to someone, I telephone a friend.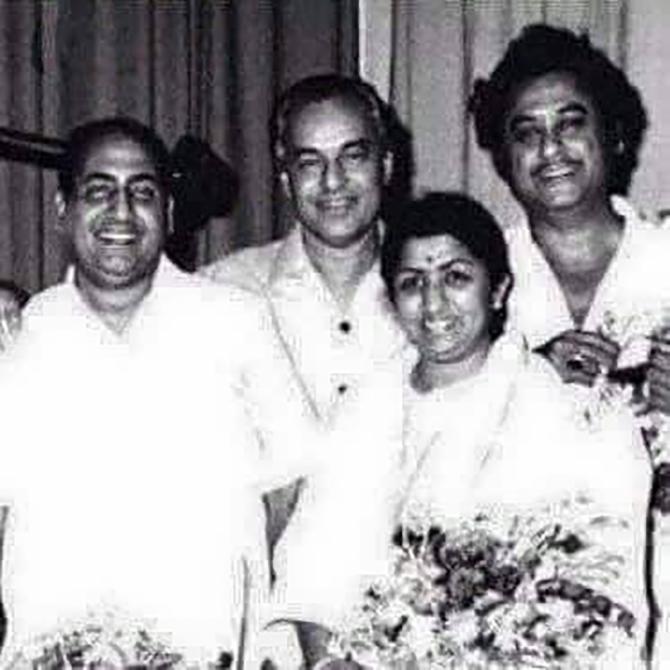 You must hear your voice nearly everywhere you go. Does it still make an impression on you?
LM: I feel nothing now.
When I first started singing, I would get excited hearing my songs on the radio. I listened to people talking about them and used to find out how many of my records had sold.
But as time passed, I lost interest.
Now when I hear my songs, I think I could have sung them better. I didn't sing them well enough. I should have added something that isn't there.
How has success impacted on your thinking? Do you think it is bad for creativity?
LM: No. You must not let success go to your head.
I am very grateful to God that my success hasn't had a detrimental effect on me. My head could have turned; I could have thought no end of myself. But I consider myself to be nothing.
I believe whatever has happened is His will. And the day He believes it should not be so, everything can turn to dust.
If I am gifted, it is by the grace of God. Who could have imagined I would be so famous?
All right, I can sing but my singing wasn't some sort of miracle. My singing is nothing extraordinary. Many have sung better than me, but perhaps they didn't get as much as I did.
It is His kindness alone. So how could I lose my head?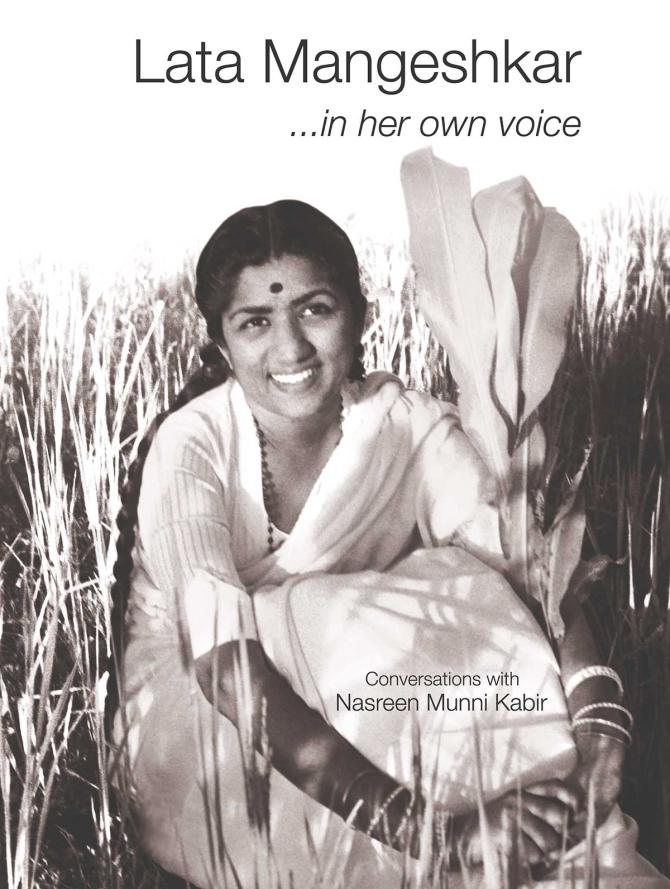 What does music mean to you?
It is my life and God. My prayer is music -- it is like a father and mother to me. And thanks to music I am who I am today.
People recognise me everywhere because of music. But the greatest thing I have received -- whether from king or pauper -- is love.
People send me many letters asking: 'Can we meet you? We listen to your singing. We want to pay our respects.'
The love I have received is a great thing. No one has ever said: 'When we hear you sing, we feel like hitting you.' (laughs) No one has said that.
If I were to live a thousand years, I could not repay the gratitude I feel. People have showered me with love and prayers -- and thanks to them I am still here with you.
To receive love is the greatest thing. What more in life could you wish for?
This edited excerpt from Lata Mangeshkar... In Her Own Voice by Nasreen Munni Kabir has been published with the kind permission of the publishers, Niyogi Books.