If it wasn't for Netflix, we'd never have seen The Meyerowitz Stories in India.
J Jagannath is captivated by this film about three disconnected siblings and their even more disconnected father.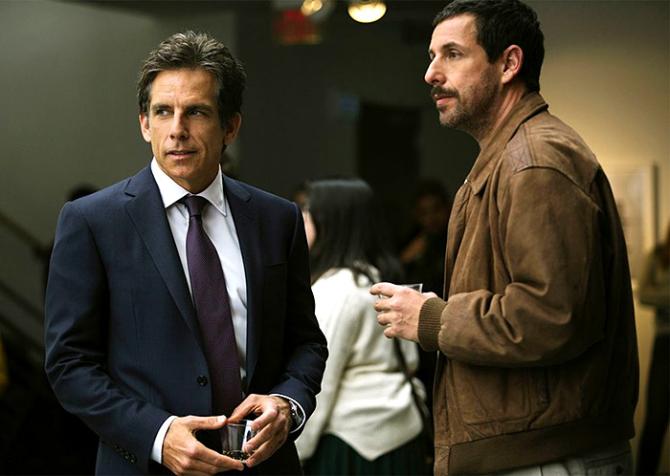 IMAGE: Adam Sandler and Ben Stiller play brothers in The Meyerowitz Stories.
I don't care much for mainstream Hollywood fare and the umpteen millions of dollars they earn or the box office records they break. What I do care for is movies like The Meyerowitz Stories that still somehow get made.
And, thank Christ for Netflix, which picked up the distribution rights and made such an off-kilter movie available in India, where it would never get a theatrical release.
Director Noah Baumbach is America's closest answer to the South Korean auteur Hong Sang-soo. Both of them have characters that are super divisive -- either extremely likeable or simply loathsome.
Watching their well-etched characters reminds me of a Eudora Welty quote: 'People are mostly layers of violence and tenderness wrapped like bulbs and it is difficult to say what makes them onions or hyacinths.'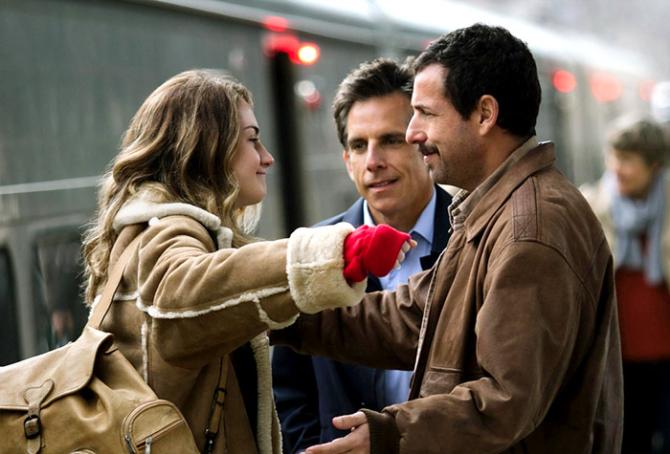 IMAGE: Sandler, Stiller and Grace van Patten, who plays Sandler's daughter, in The Meyerowitz Stories.
Baumbach's latest is about three bickering siblings (Adam Sandler, Ben Stiller and Elizabeth Marvel) setting aside their differences and getting together to care for their father who is an ageing, self-absorbed artist manqué (Dustin Hoffman in a barnstorming performance as Harold Meyerowitz).
Like Hong, Baumbach is a one-trick pony who truculently keeps mining his Manhattan upbringing in each of his movies, but I keep my eyes peeled every 18 months or so for that solitary trick to turn up.
A few years ago, Baumbach was supposed to adapt Jonathan Franzen's savagely brilliant novel, Corrections for HBO, but pulled out as he had second thoughts about his ability to do justice to probably one of the five best novels published after 2000.
The Meyerowitz Stories is the closest he'll ever come to paying homage to the Franzen novel.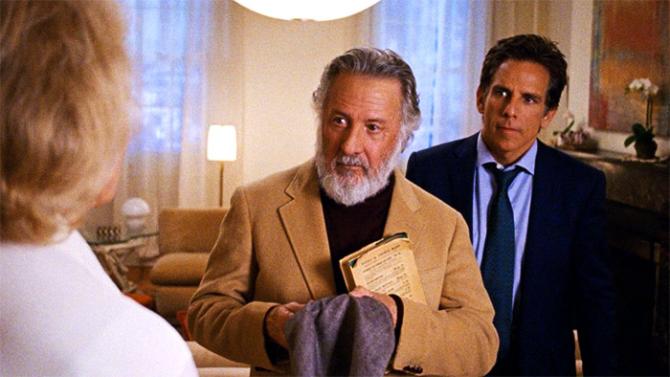 IMAGE: Dustin Hoffman is astonishing in The Meyerowitz Stories.
This has to be the most personal Baumbach after his 2005 release, The Squid and the Whale. There is an overabundance of the stiff upper lip of the upper-crusty Manhattan, and I couldn't get enough of it.
There are Jewish references strewn around the movie like confetti and they never disappoint. Early in the movie, a spaced-out Harold asks his alcoholic wife (Emma Thompson as her sinuous self) for 'gourmet hummus'.
The movie starts with the aimless Sandler's character dropping his young daughter off in the city for her college and ending up moving back to his dad's house. This is probably the only Sandler movie where I could stand him after Punch-Drunk Love.
His arrested development character would almost inspire Hong to make a foray into Hollywood. The movie starts hitting its stride when Ben Stiller, a wealth management expert living in Los Angeles, decides to hang out with his father again to mend their relationship.
Their first meeting is howlingly funny with Hoffman taking umbrage at the behaviour of a restaurant manager, and their collective scoffing at the tourist menace is charming. There's even a The Fault in Our Stars reference, which is perfect.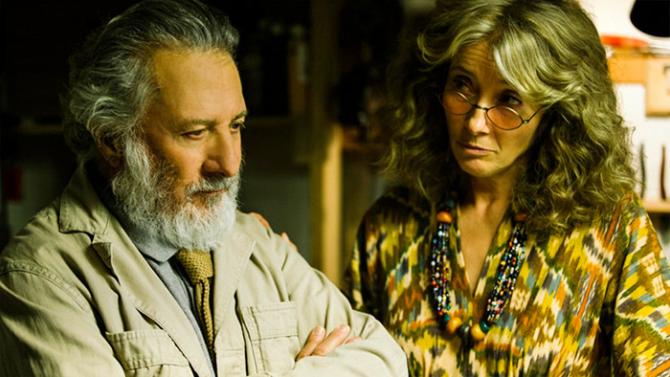 IMAGE: Hoffman and Emma Thomson play a bizarre couple in The Meyerowitz Stories.
Baumbach has the knack of putting his characters in extremely embarrassing situations that would make the viewer want to yank the person off the screen. Greta Gerwig made the most of it in Frances Ha. Sandler makes the most of it in The Meyerowitz Stories.
At the opening of the retrospective of an artist who is his father's contemporary, he lands up in a tuxedo with no one else dressed like that, and a limp to put him further in the spot.
Later in the movie, he keeps rambling incessantly at Bard College about his father, a former faculty member who is now admitted in hospital, in front of the audience who can be seen squirming.
Form wise, Baumbach has outdone himself here. There are sudden cuts and beautiful fade-ins throughout the movie, and Robbie Ryan's masterful camerawork produces stunning visuals with a sepia tone that harks back to those quintessential New York movies such as Whit Stillman's Metropolitan.
Hoffman is, however, to quote Ginsberg, the centre of this flesh.
Watching him on screen reminded me of what Roger Ebert wrote about Marlon Brando in On The Waterfront: 'He has cut through years of screen mechanisms and provided a fresh, alert, quirky acting style that was not realism so much as a heightened riff on reality.'
His child-like glee when describing his meeting with Sigourney Weaver at the Whitney made me chuckle hard.
Here's a man who thought he had figured life out, but he never really did.